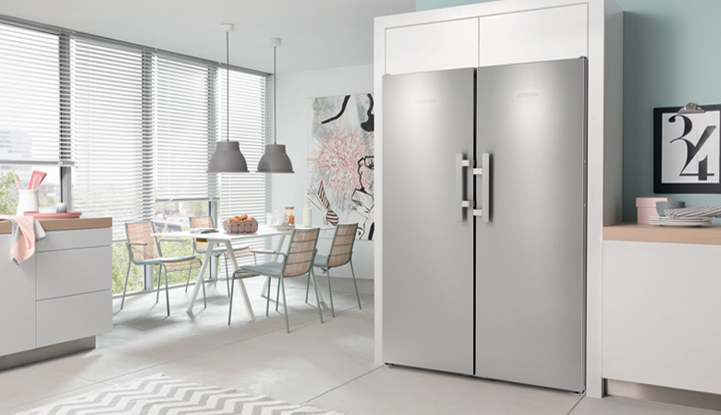 Exclusively for you.
Save up to 10% when you purchase 2 Side-by-Side Cooling Appliances
Terms and conditions apply
Overview
Save up to 10% when you purchase 2 Side-by-Side Cooling Appliances
Campaign period
This promotion runs from 1st March 2018 until 31st December 2018.
About this campaign
With the purchase of 2 selected Refrigeration or Freezer models, you have the opportunity to save up to 10%. The below models are valid for this promotion.
Save up to 10% on the following models of Under counter Cooling appliances
K12010, K12012, K12020, F12011 & F12020
And Side By Side cooling appliances
K28202, FN28262 ws, FN28262 clean steel, K14820 & FN14827
Simply add two appliances from the above list to your basket, and use the voucher code SBS10 at checkout to redeem offer.
How to claim
Simply add two models (one fridge, one freezer) fromm the above list to your basket, type the voucher code into the coupon box and the discount will be applied at checkout.
Having problems redeeming your promotional offer?
- Click here to send us a message
- Call our customer services on 0330 160 6600
Discover our Kitchen Inspiration blog Der Kern
We believe that a kitchen is never more beautiful than when it is being used. Discover inspiration from the world of kitchen design and cuisine.
Products
Conditions
Terms and Conditions for Promotional Offer
TERMS AND CONDITIONS
PARTICIPANTS
1.1. This promotion is only open to Residents in the United Kingdom ("UK"). A Participant ("Participant") is a person or a legal entity (company) who is resident in the UK. Employees of Miele, its subsidiary companies, their families, agents and other parties directly involved with this promotion are not eligible to enter. The promotion is only open to participants purchasing for their own use i.e. end users. Miele reserves the right to verify the eligibility of Participants and/or to exclude Participants at its sole discretion at any time for any reason.
HOW TO PARTICIPATE
2.1. This promotion is only available through Miele online shop and Miele UK direct.
2.2. To take advantage of this promotion, purchases must be made between 1st March 2018 and 31st December 2018 (inclusive). This offer can only be redeemed through the Miele Online shop and through Miele direct.
2.3. A maximum of 1 claim per qualifying product can be made during the promotion. The Promotion is not available on any second hand, refurbished or reconditioned stock.
2.4. Each promotional claim is limited to a single use and cannot be used in conjunction with any other promotional voucher or cash back offer against the promotional product, as stated in Article 3.1.
PROMOTIONAL OFFER
3.1. The promotional offer is as listed below against the applicable products:
K12010, K12012, K12020, F12011, F12020
K28202, FN28262 ws, FN28262 clst
K14820, FN14827
3.2. The promotional offer cannot be exchanged for cash.
3.3. Where the promotional payment constitutes a taxable benefit, the tax liability lies with the recipient.
3.4. In the event that the Customer returns either the promotional product to the seller, the Participant will not be entitled to claim promotional offer and any claim will be thereafter dismissed. For the avoidance of doubt this clause does not prohibit in any way the customer's right to exercise their applicable statutory or warranty rights.
THE PROMOTER
4.1. The promoter is Miele UK: Fairacres, Marcham Road, Abingdon OX14 1TW. The Promoters reserve the right to withdraw the promotion at any time.
DATA
5.1. Where applicable any data captured during the course of the promotion will be collated, accessed, processed and stored wholly in accordance with applicable local Data Protection Laws and Regulations. Miele will not transmit data to unauthorised third parties or outside the EU.
5.2. Upon registration, the participant will have provided their personal data to Miele UK and to Interpay Sales Promotions, and to its agents, to carry out the promotion and to conduct marketing and quality control analysis. Interpay Sales Promotions and its agents are responsible for securely storing, processing and transferring the participant's personal data wholly in accordance with applicable local Data Protection Laws and Regulations. By registering, the participant consents to these terms and conditions. Should the participant tick the opt-in box on the online registration form, the participant also consents that the promoter, other Interpay Sales Promotions entities and/or their agents can process their data for the purposes of advising participants of other promotions, new products and services, and/or for future marketing and quality control analysis. Participants have the right to consult and request rectification of their information as held by the promoter.
DISCLAIMER
6.1. No responsibility will be accepted for claims lost, delayed or for those claims not received by the closing date.
6.2. Claims will be disqualified if incomplete or illegible. It is the Participant's responsibility to ensure that sufficient details are provided for claims to be processed.
6.3. Miele is not liable for any costs incurred by the participant relating to the promotion.
6.4. Miele shall not be liable for any delayed claims of any nature with regard to this promotion. However, nothing in these rules shall have the effect of excluding or restricting the customer's liability for personal injury or death caused by the proven negligence of Customer.
6.5. Miele shall not be liable for any failure to fulfil this offer where such failure is caused by any supervening circumstances amounting to force majeure (meaning: beyond Miele's reasonable control) and/or events which, without the fault of either party, render performance impossible or incapable of satisfactory execution.
6.6. Miele reserves the right to withdraw this promotion at any time and/or to unilaterally change the terms and conditions without incurring any liability.
JURISDICTION
7.1. These terms and conditions are governed by the laws of the country in which you have purchased the promotional product and come under the exclusive jurisdiction of the competent courts of that country.