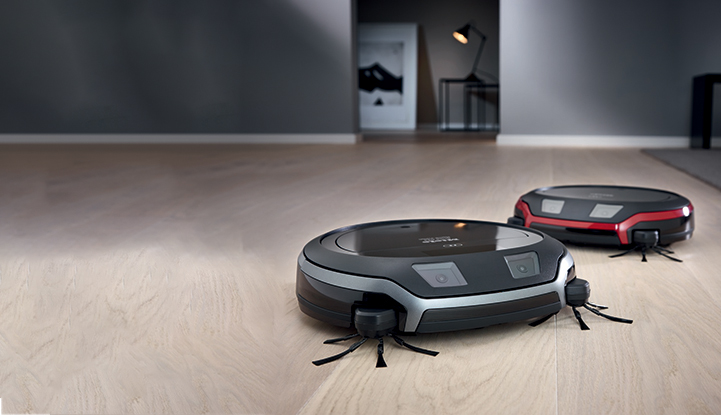 RX2 Robot Vacuum
These new models' significantly improved suction performance on all types of flooring is the result of a newly developed four-stage cleaning system, referred to by Miele as 'Quattro Cleaning Power.
The robotic vacuum cleaners also feature improved navigation thanks to 3D Smart Navigation.
Two front cameras produce images in stereo for space and objects to be seen in 3D.

Highlights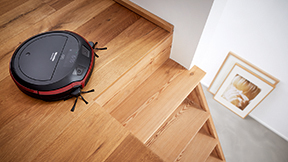 Quattro Cleaning Power
• Corner brushes
The side brushes sweep dust reliably towards the centre of the unit. The fan-shaped form of the brushes makes them particularly effective and visualise powerful cleaning
• Front suction aperture with beater bar
Specially developed beater bars above all sweep coarse dirt towards the wide front suction aperture.
• Rear suction aperture
The remaining fine dirt is drawn in by a strong current of air through the narrow, rear suction aperture.
• High speed brushless motor
the brushless motor ensures strong suction, is particularly energy-efficient and durable.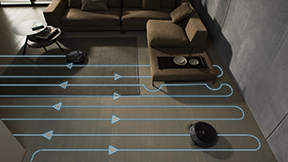 3D Smart Navigation
Three dimensional room mapping for reliable, systematic navigation
10 infrared sensors and electronic controls
Two visible front cameras
Stereo Camera System
The left and right hand cameras each take photographs of the room. Both angles show the same view, but from a slightly different perspective. 3D image is created by merging both photographs.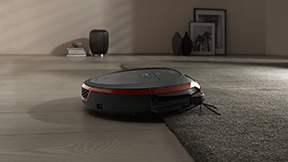 Furniture protection
Together with Furniture Protection Technology, consisting of 7 infrared sensors in the front of the unit and 3 infrared sensors below the unit, this allows obstacles to be recognised and negotiated. The interplay of both systems significantly reduces the collision rate with items of furniture in comparison with the Scout RX1.
The 3 infrared sensors below the unit reliably prevent falls from heights of more than 4cm.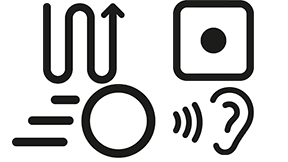 Operating Modes
| | | |
| --- | --- | --- |
| Auto mode | | In Auto mode, the Scout RX2 cleans completely independently. It leaves its charging station and cleans all areas systematically, returning it necessary for recharging in-between times. |
| Spot mode | | The Spot mode is ideal for the targeted cleaning of small areas, e.g. the floor under the dining table after breakfast. In Spot mode, the robovac cleans a defined area measuring 1.80 x 1.80 m. |
| App mode | | The App mode allows the robovac to be controlled conveniently from a smartphone or tablet. This requires the installation of the Miele Scout RX2 app. A wide range of options including the definition of out-of-bounds areas allows the cleaning mode to be customised to suit individual needs. |
| Turbo mode | | Turbo mode is ideal for fast cleaning in-between times. This results in time savings of about 30% in comparison with Auto mode. Cleaning speed and blower performance remain unchanged. |
| Silence mode | | The silence mode allows extremely quiet vacuum cleaning |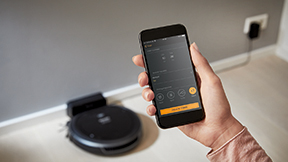 Mobile Control
-Rapid start
-Timer programming up to 7 individual times can be set
-Manual controls
-Mapping/Tracking of cleaning progress
-Room designation
-Out of bound areas
-Alternative Controls – Remote Control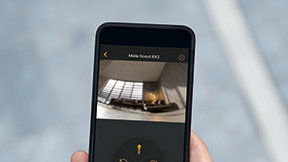 Home Vision Exclusive Feature
The Scout RX2 Home Vision model features the function with which images taken by the robovac's cameras are transmitted to the customer's mobile device. This allows customers to check up at any time and from any place on what is happening at home. Navigation within Scout RX2 Home View is convenient thanks to the arrow keys.
The camera images are not recorded as a video stream but are transferred individually in real time. Images are naturally transmitted in encrypted form. Secure end-to-end encryption encodes data on transmission and decodes it on arrival at the mobile device.
Products