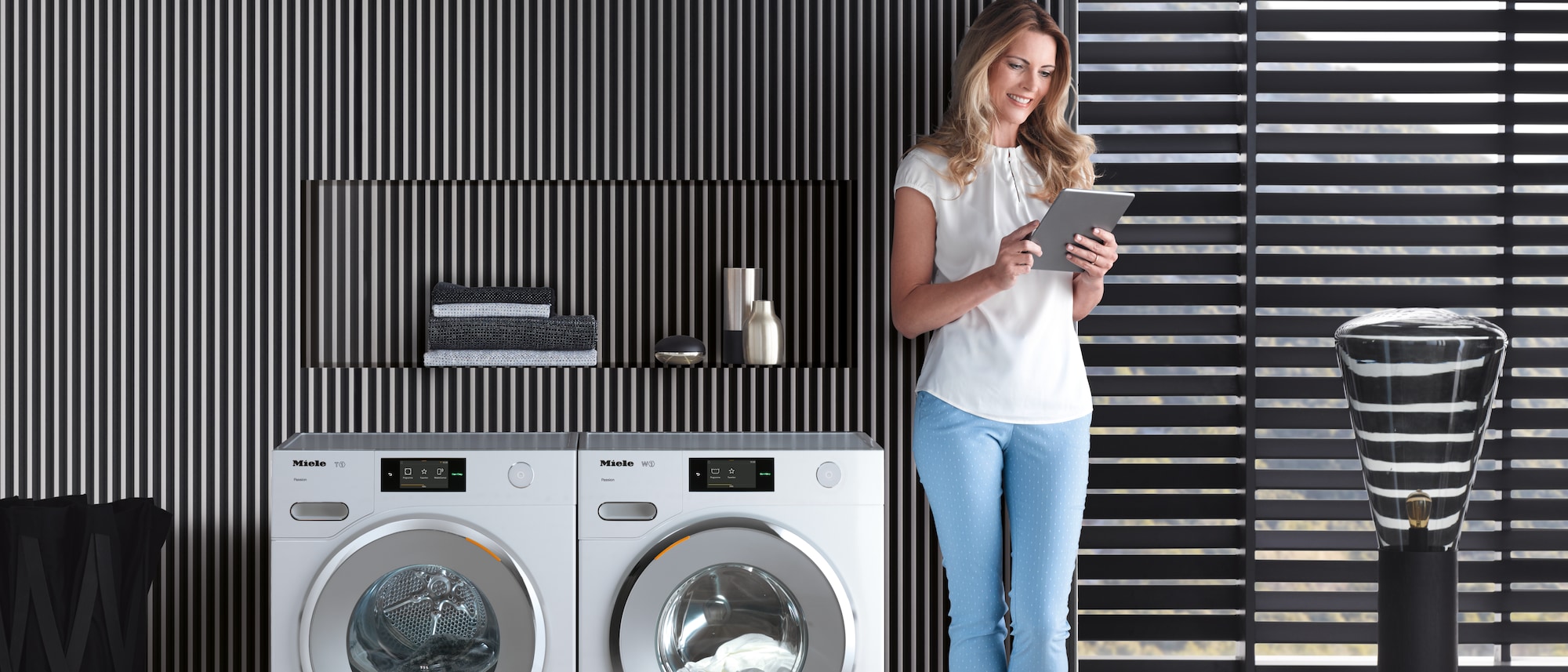 Miele@home Networked Appliances
Networking your appliances offers new possibilities which create more convenience, quality of life and safety in your dynamic daily life.
Inspiration for cooking and baking
Creative and easy cooking with the successful "Kitchen Stories" cooking app – with many recipes, descriptive videos, and tips. Miele is your partner and with Kitchen Stories will help you create your personal cooking experience.
You do not have to look up special preparation methods or every step when following a recipe – the integrated how-to videos show and explain tips and tricks to inexperienced and experienced cooks in an easy-to-understand way. For example how to skilfully peel and chop an onion or how to perfectly sauté scallops.
If you like a particular dish, simply save it as a favourite programme. Or compile your personal shopping list for a specific recipe.
Shop Conn@ct
Do you like shopping online because it is convenient and saves you time? With ShopConn@ct you can order supplies for your appliances conveniently via the internet.
With your smartphone you can conveniently order dishwasher tabs and other supplies with just a few clicks.
In addition, ShopConn@ct conveniently informs you about the fill levels of washing machines (Features vary depending on model) with TwinDos - the world's first networked dispensing system. Detergent can be reordered conveniently according to the same principle.
The interactive Miele assistant
The interactive Miele assistant will recommend the most suitable wash programme. Whether coloureds or whites, cotton or silk, heavily or lightly soiled - with the Miele assistant you always achieve perfect laundry results.
Network-enabled household appliances by Miele are not only intelligent, but also conserve resources thanks to SmartStart.
WiFiConn@ct
Your entry into the world of household appliance networking is effortless - the Miele@home system is as easy as it is convenient. Individual Miele household appliances are networked via WiFiConn@ct - in other words, they are directly linked to your WiFi router at home.
Once linked, you can monitor and operate (dependent on appliance and model) your networked appliances conveniently from your smartphone or tablet via the Miele@mobile app.
XKM 3100 W
Communication module
for easy transmission of appliance data using WiFi.
XKM 3000 Z
Communication module
For easy transfer of appliance data wirelessly.
Subject to technical changes; no liability accepted for the accuracy of the information given