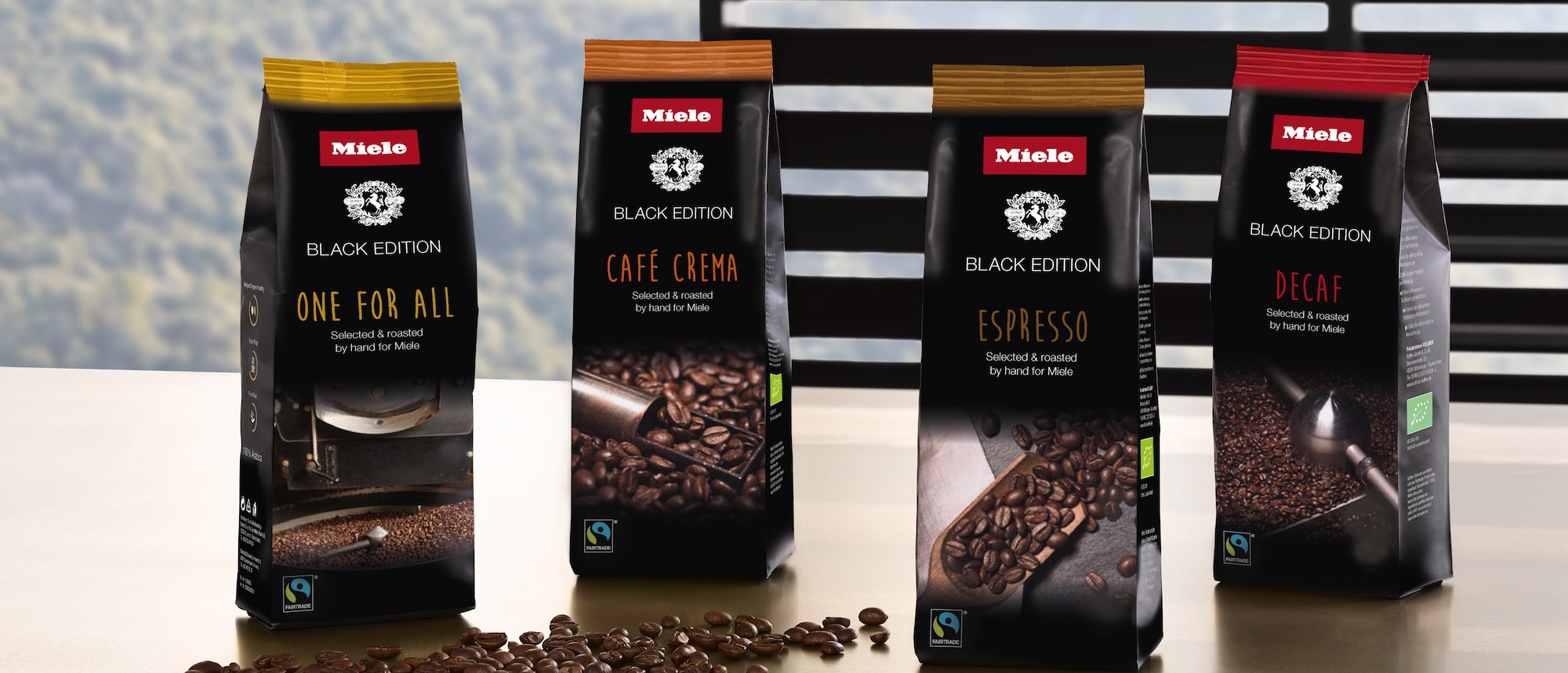 Miele Black Edition: Pure coffee enjoyment
Prepare enchanting and perfect coffee specialities with Miele coffee.
Black Edition: Enjoy coffee with all your senses
For perfect coffee enjoyment, we have introduced four Miele coffee varieties: the Miele Black Edition. With them you can always prepare your coffee specialities with the right coffee beans.
The result is typical Miele: simply unique!
The perfect blend is the key to a perfect coffee
The composition of different types of beans, their quality and the right blend ratio are the basis for excellently tasting coffee. Four fine types of beans were selected exclusively for the Miele Black Edition coffee blends.
Only ripe cherries are harvested and sorted by hand. The result: A harmonious and tangible aromatic coffee that creates amazing culinary enjoyment. All our coffee products are Fairtrade and organic certified* and can be ordered from the Miele online shop.
18-month freshness guarantee
Good flavour is very dependent on the storage conditions of the coffee. To achieve the full aroma of Miele's Black Edition, the coffee comes in aroma-proof 250 g bags made from composite aluminium foil. An aroma valve allows gases released from the coffee to escape to prevent the bag from overinflating. As aroma may also escape from the bag over a longer period of storage time, our coffee roastery recommends using the coffee within 18 months to experience perfect and truly delicious coffee. Of course, the coffee can still be used after that time frame.
Fairtrade: fair trade guaranteed
For us, fairness goes without saying. For that reason, all Miele Black Edition coffees are certified as Fairtrade products. As a pioneer amongst fair-trade products, coffee is making a valuable contribution towards improving the living and working conditions of coffee growers and their families in under-developed countries. Buying Fairtrade products also contributes to the protection of the environment. Our Miele coffee can be traced back and is to 100% from Fairtrade coffee cooperatives.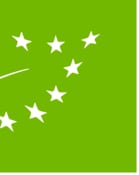 * in accordance with DE-ÖKO-001 ** Miele cert. no. DE-NW-001-25390-BD
Coffee enjoyment with organic certification*
Every company producing or distributing ecologically grown produce must be certified according to EU rules on organic farming in order to market products within the EU. This certification covers the entire organic production chain – including growing, processing, transportation, warehousing, and trading. In accordance with these rules not only our partner, Vollmer private roastery, is organic certified, but Miele, for the first time as warehousing agent and dealer of organic coffee with organic certification**, too.
Coffee blends
Experience coffee with all your senses and Miele's Black Edition with four different flavours
The Miele Black Edition: discover the world of Miele's coffee range.
Allow a perfect coffee to create a delightful moment for you. This is possible with Miele's special coffee: the Black Edition. The coffee blends consist of hand-picked Arabica and Robusta beans from South America, specifically selected with our coffee machines in mind. All our coffee products are Fairtrade and can be ordered from the Miele online shop.
Miele Black Edition One for all
Full-bodied and aromatic: That's how the Miele Black Edition One for All tastes. The roast also surprises with a subtle fruity note - for a very special flavour. The 100% Arabica One for All bean blend is particularly versatile thanks to its balanced aroma: It is ideal for a delicious Café Crema or Espresso and all coffee specialities with milk.
Miele Black Edition Café Crema
An excellent crema gives a good Café Crema the perfect finishing touch - as here the aroma reaches its peak. Our Café Crema blend with its light and balanced flavour provides the perfect coffee enjoyment - accompanied by a floral and fruity character that gives this beverage that certain something. The Miele Black Edition Café Crema is made with 100% Arabica beans.
Miele Black Edition Espresso
For a classic coffee, Miele offers Black Edition Espresso. The blend has a particularly intensive taste and a spicy, chocolaty aroma - allowing you to create zestful and particularly aromatic espressos. Perfect at the end of a delicious meal. The first-class blend consists of high-quality Robusta and Arabica beans.
Miele Black Edition Decaf
With the Miele Black Edition Decaf you can enjoy all coffee specialities completely caffeine-free - and at the highest level. The coffee blend is gently decaffeinated using a special organic process - the intensive aroma is retained to 100% for incomparable coffee enjoyment. The blend was created with high-quality Arabica beans. Just like all our coffees, the Miele Black Edition Decaf is certified organic and Fairtrade.
Our partner: private coffee-roasting company Vollmer
With the private coffee-roasting company Vollmer, Miele has a partner at its side with a tradition and values that match our own. Vollmer private roasting company was founded in 1936 as a general colonial goods store with attached roasting facility, and can look back over 80 years of experience in roasting and creating unusual coffee blends. As Miele, Vollmer also places great store by highest quality and is Fairtrade certified as well as organic certified since 1996.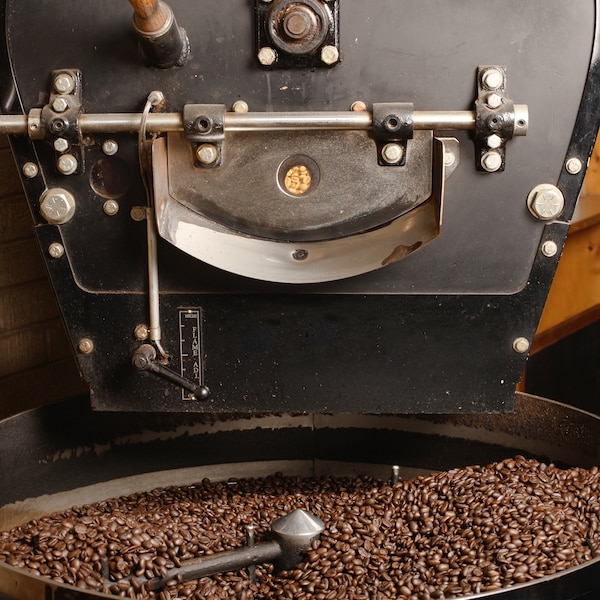 The right roasting process is key
The unique aroma and the flavour of each bean typical for this type of coffee is the result of the roasting process and chemical reactions that occur during this process. During the grease-free and dry roasting process up to 800 aromatic substances contained in the coffee beans are revitalised.
Roasting time influences the moisture as well as the acidity of the beans. The darker the roast, the less acidity, but the more bitterness and sweetness is released. Temperature development and roasting time therefore influence the aroma and flavour of the beans. This means that the same type of bean can taste differently depending on the parameters of the roasting process. As only flavour substances that are present in the untreated bean can be released during the roasting process, every roasting process must be perfect for the blend of beans. Only then can the whole flavour pallet of a bean develop and unfold.
As the moisture in the bean evaporates during the roasting process, its water content reduces from originally approx. 12% to only 5%. The bean's weight also reduces. But those who now think that this would result in the bean shrinking, are mistaken: Its size doubles during the roasting process as the evaporating water increases the pressure inside the bean.
During the roasting process of Miele's Black Edition, untreated coffee beans are poured into a pre-heated roasting container. This dries the beans and pre-warms them. Then they are roasted during which the first aromas develop from approx. 150°C. At the end of the roasting process the coffee is at least 180°C before it is cooled down.
Appliances and accessories
Miele coffee machines: pure enjoyment
For all who love perfectly prepared coffee specialities, Miele offers a wide range of outstanding coffee machines. Whether you are an ambitious hobby barista, fan of milk froth or lover of exclusive coffee specialities: finally you can enjoy your favourite beverage not only in a café, but at home too.
Anytime and with ease – with Miele
More information
Accessories and cleaning for long-lasting enjoyment
The coffee machine is only one of the many prerequisites for the perfect preparation of your favourite coffee speciality. Apart from the right type of coffee, the matching accessory such as a high-quality milk frother – the Cappuccinatore – is also very important.
Cleaning your Miele appliance regularly and correctly is also relevant. We make this as easy as possible for you: for example with an automatic cleaning programme or the easily removable brew unit. By treating and maintaining the appliance correctly, you ensure that your Miele appliance functions perfectly its whole life long: for long lasting and delicious coffee.
More information
With Miele you can prepare any type of coffee speciality
To prepare a perfect coffee speciality of your choice with a Miele coffee machine so that you can enjoy its full aroma, you need dexterity and enjoy experimenting. By trying out a little you can easily select the right settings that suit the type of coffee of your choice perfectly.
For best results the following settings are important: portion size, amount of ground coffee, brewing temperature, pre-brewing and grinder setting.
How to set these parameters with ease is explained in the operating instructions of your appliance.
It is all about the settings
Italian barista master the art of coffee preparation almost perfectly. Their secret is the great care and exactness they apply when making coffee as well as a coffee grinder that matches the coffee machine perfectly in terms of the high-quality coffee they use. For that reason, the grinder is reset every morning to take the weather conditions (particularly the humidity in the air) into account. To ensure that the perfect settings have been selected, test espressos are brewed until the perfect crema is produced.
To guarantee that you, as an owner of a Miele coffee machine, achieve such perfect results without great difficulty, we have established the perfect settings for our Black Edition N°1 on our Miele coffee machine:
Black Edition - CAFÉ CREMA
| | |
| --- | --- |
| Amount of coffee: | 4th position from left |
| Brewing temperature: | low |
| Pre-brewing: | short |
| Grinder setting: | 4th position from left |
For espresso, cappuccino and latte macchiato
| | |
| --- | --- |
| Portion size: | 30 ml |
| Amount of coffee: | Third position from left |
| Brewing temperature: | Medium |
| Pre-brewing: | Long |
| Grinder setting: | Fourth position |
For coffee
| | |
| --- | --- |
| Portion size: | 140 ml |
| Amount of coffee: | Fourth position from left |
| Brewing temperature: | Low |
| Pre-brewing: | Off |
| Grinder setting: | Fourth position from left |
Black Edition - ESPRESSO
| | |
| --- | --- |
| Amount of coffee: | 3rd position from left |
| Brewing temperature: | medium |
| Pre-brewing: | long |
| Grinder setting: | 4th position from left |
Black Edition - ONE FOR ALL
For espresso
| | |
| --- | --- |
| Amount of coffee: | 3rd position from left |
| Brewing temperature: | medium |
| Pre-brewing: | long |
| Grinder setting | 4th position from left |
For coffee
| | |
| --- | --- |
| Amount of coffee: | 4th position from left |
| Brewing temperature: | low |
| Pre-brewing: | off |
| Grinder setting | 4th position from left |
Black Edition - DECAF
For espresso
| | |
| --- | --- |
| Amount of coffee: | 3rd position from left |
| Brewing temperature: | medium |
| Pre-brewing: | long |
| Grinder setting: | 4th position from left |
For coffee
| | |
| --- | --- |
| Amount of coffee: | 4th position from left |
| Brewing temperature: | low |
| Pre-brewing: | off |
| Grinder setting | 4th position from left |