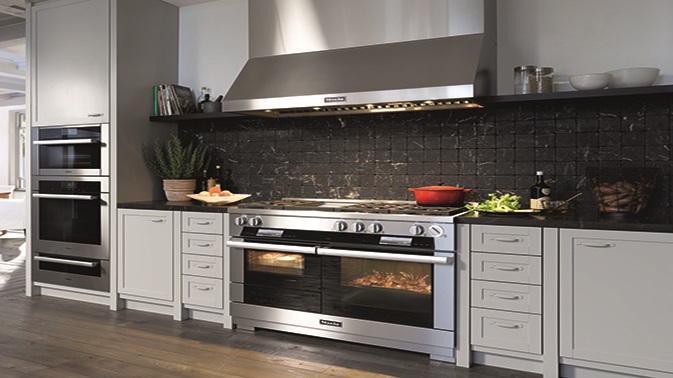 The design of Miele Range appliances was developed with the PureLine and ContourLine built-in Generation 6000
appliances in mind. Materials, colours and user interfaces excellently complement each other. The New Miele Range cooker comprises of many great features and benefits.
Innovative M Touch Design
The innovative M touch display is quick and easy to use, clear and self-explanatory. An intuitive swipe of the screen will quickly take you to the option you want. Whether Fan plus or one of your favourite programmes, regardless of which setting you choose, the display and sensors are well-organised and easy to use.
Illuminated dials
The elegant dials light up to let you know when they are active and are an attractive Miele design feature. They also act as a safety feature - a glance at the controls tells you whether the burners were all switched off when you finished cooking.
The versatile dual fuel Range Cookers
The combination of power output and fine tuning characterise the heating technology of Miele's Range Cookers. With a gas hob the flame is easily controlled to suit individual cooking habits.
Pyrolytic cleaning and PyroFit
Little manual cleaning required: in this automatic process residue in the oven and on accessories is incinerated to ash at a very high temperature. After pyrolytic cleaning all you have to do is wipe the inside of the oven with a damp cloth! No need for scrubbing or aggressive oven-cleaners.
Discover more about Miele Ranges here
Discover the Miele Blog: Der Kern