The Exclusive Collection: Laundry Appliances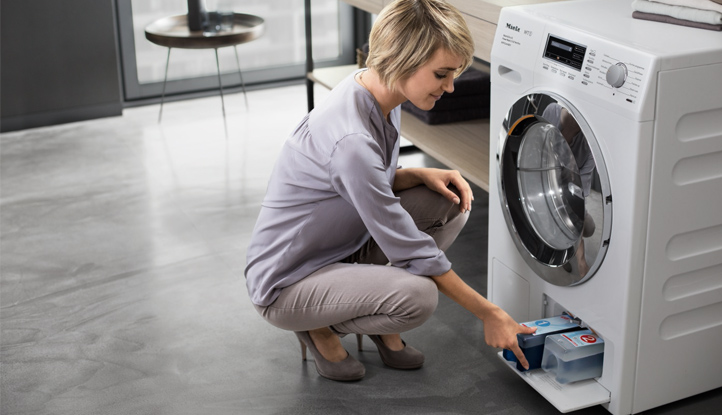 The Exclusive Collection: Laundry Appliances
Discover a selection of exclusive appliances and benefits when you buy direct from Miele
Discover the collection now
Overview
The Exclusive Laundry Collection
We know that when it comes to choosing the appliances to compliment your dream home you're only interested in the best. That's why you can trust Miele to look after the things you love. Featuring the WCR870 & WWV980 front-loading washing machines, the TWV680 heat-pump tumble dryer, and the WTZH130 washer-dryer,
Our exclusive collection is a selection of our finest appliances with exclusive offers only available when you buy direct from Miele. The exclusive products in Laundry are the WCR870 & WWV980 front-loading washing machines which both come with a 10 year warranty, TwinDos Washing machine with Wifi capabilitly.
The collection also includes the WTZH130 washer dryer, which has many great features including with TwinDos automatic detergent dispensing and a large 8kg drum capacity for washing and 5kg capacity for drying.
You will get perfect results with the FashionMaster B3826 Iron. Featuring the Honeycomb structure sole plate and an active ironing table.
What's more, these products come with free delivery, installation and we will even recycle your old appliance, at no additional cost.
To learn more about the appliances that are offered in The Exclusive Collection, please click the product names or products tab above.
Discover our Kitchen Inspiration blog Der Kern
We believe that a kitchen is never more beautiful than when it is being used. Discover inspiration from the world of kitchen design and cuisine.
Products
Conditions
Laundry promotions
This applies to the WDB030, WCE670, the WMV960 WPS, WTZH130 and the TMV840 WP only.
The promotion will run from the 1st February 2017 to the 31st December 2019.
This promotion is only available when the qualifying products are purchased directly from Miele UK.
Purchases made in other retailers and the Republic of Ireland are not included in this promotion.
This promotion is a consumer promotion and is not available to the staff or family of any Miele retailer or Miele employee.
This promotion only applies to new stock and does not include Grade B and C.