Full-surface induction
Unrivalled flexibility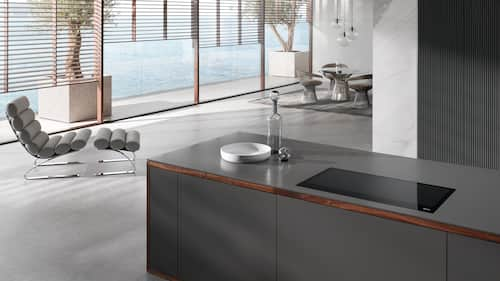 No predefined cooking zones 
Enjoy the ultimate in freedom: you can use the entire surface of your hob without predefined cooking zones for maximum flexibility. You can position the pans wherever you want to suit any situation. Up to six pans can be positioned anywhere on the hob. Our full-surface hobs are available in various appliance widths.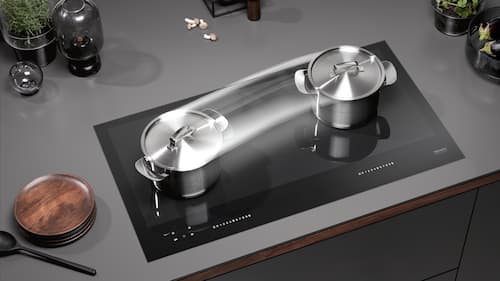 Intelligent pan detection 
Flexible hob, flexible operation: with the intelligent pan detection function, the control elements always appear in the right position – regardless of where the pans are on the hob. The controls are only visible when there is a pan in position, ensuring an elegant appearance. They are always clearly assigned to the pan in question and if it is moved, they will follow. All of our full-surface hobs feature intelligent pan detection.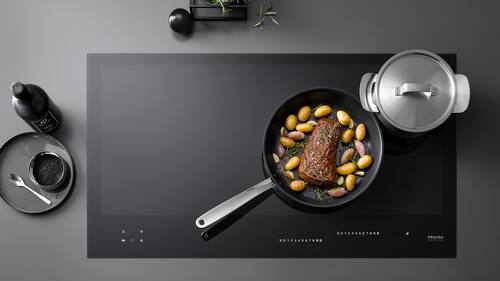 Positioning aid 
Put your pans in pole position: this feature ensures that your pans are placed in the ideal position. And it optimises your cooking process by preventing you from putting your pan in the wrong place and using the wrong power setting. The optimum position is indicated acoustically and visually in an intuitive manner – simply move the pan accordingly.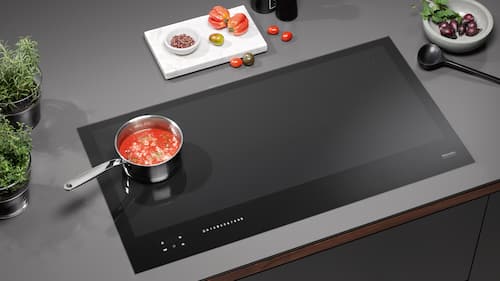 SilentMove 
Thanks to the special printing underneath the ceramic glass, there are no unpleasant noises when you move pans around. Printing on the underside creates not only an elegant design but also an extremely smooth surface which is particularly easy to clean. 
Features depend on model. Images are only examples and used for explanation purposes