Miele cooker hoods in motion
The ideal position for every work situation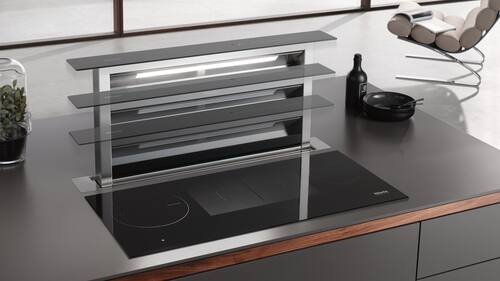 DA 6890 Levantar
In terms of style and function, this appliance is a highlight amongst cooker hoods and can be built into any kitchen. At the touch of a button, the downdraft extractor is raised and activated ready for use. Cooking vapours and odours are removed immediately by the downdraft system. When the extractor is no longer needed, it simply disappears into the worktop again at the light touch of a button.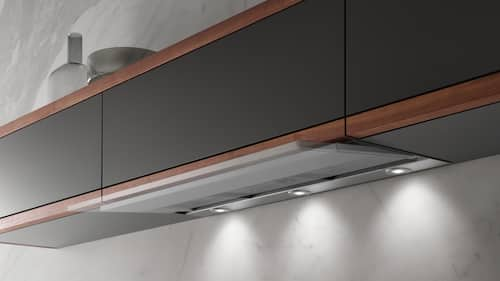 DA 3668 / DA 3698
The crowning glory for your kitchen – the Miele DA 36x0 slimline cooker hood. Its unusual design will give your kitchen a unique feel. The extremely slim cooker hood body can be extended manually or via remote control; cooking vapours are removed by powerful extraction. Once the cooking process is finished, the canopy retracts softly and quietly into the wall unit. When switched off the canopy is no longer visible.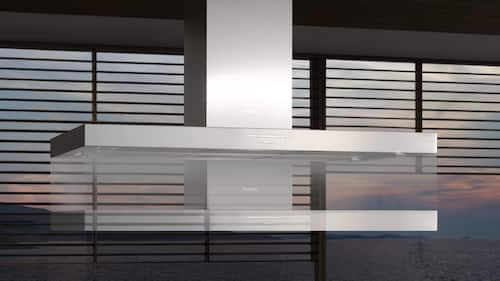 DA 4208 V D / DA 4248 V D Puristic Varia
Miele's height adjustable "Varia" cooker hood solves an age-old problem: install the cooker hood too high and it will not extract vapours effectively; install it too low and you will not see the hob properly and the kitchen will look out of proportion. A "Varia" model cooker hood from Miele glides up and down by up to 30 cm at the push of a button. This allows the cooker hood to be set to the ergonomically right height for any user. And you can see what you are doing whilst still being able to see around the kitchen.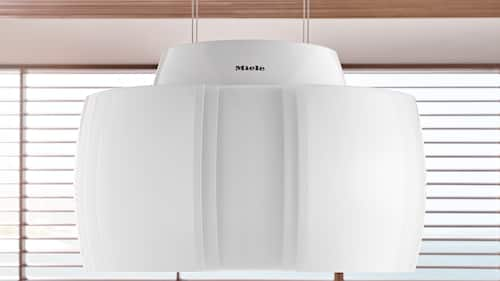 DA 7378 D Aura 4.0 Ambient
When the Miele Aura 4.0 Ambient island cooker hood is switched off, the wings wrap snuggly around the round canopy. As soon as you switch on the cooker hood, a motor opens the wings to create an elegant oval shape. This transformation increases the size of the vapour chamber on the inside – so that even more cooking vapours can be captured. The integrated vapour guides in the wings help to ensure optimum extraction. 
Features depend on model. Images are only examples and used for explanation purposes
Subject to technical changes; no liability accepted for the accuracy of the information given. See General Terms and Conditions in footer for additional details.