Product Detail
GBP
Free and fast delivery on all orders over £15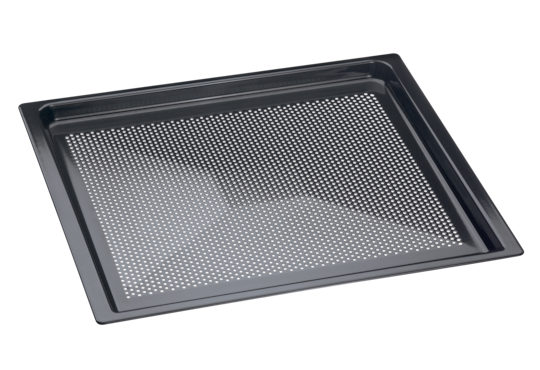 HBBL 60 P
Gourmet perforated baking tray for everything that is crunchy and crisp.
For crunchy baked goods, bread, crisp pizzas and French fries
Ideal for baking in Moisture Plus
Fit onto FlexiClips or directly into side racks
Especially easy cleaning thanks to PerfectClean finish
For 60 cm wide ovens, 76 l, with pyrolytic cleaning
---
Your exclusive advantages
Features (1)
Perforated baking trays
For baked goods and pizzas
Perforated baking trays are perfect for baking crisp baked goods and crispy pizzas.
User convenience (1)
Optimum interaction of appliance and accessories
For perfect results
Original Miele accessories were developed especially for Miele kitchen appliances to guarantee perfect results.
Maintenance (1)
Exclusive to Miele
PerfectClean finish
Unique non-stick finish
The exclusive PerfectClean finish prevents food from sticking and makes cleaning much easier