Product Detail
GBP
SYSTEM MAINTENANCE: Due to system maintenance, transactions and bookings will not be possible on October 19th from 4:00 am CET – 10:00 CET.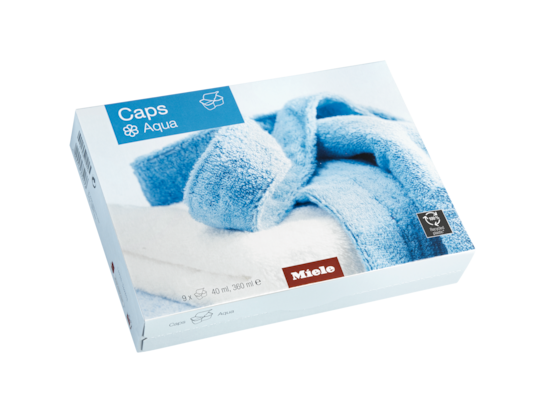 WA CSOA 0902 L
Aqua caps 9-pack fabric conditioner for freshly scented laundry. EasyOpen. 
---
Your exclusive advantages
Capsules – material cycle
Protecting resources with Miele
The source material of Miele capsules consists of 100 % used plastic and is recyclable.
Capsules – for optimum dispensing
Wash with the ideal dispensed quantity
The quantity of detergent in a Miele capsule is perfect for a single wash cycle.
Capsules with pull-tag lid
Suitable for all Miele washing machines
Easy to open: Miele capsules can be used in all washing machines thanks to the practical pull-tag lid. 
Capsule pods – 100 % recycled plastic
Environmentally friendly and recyclable
Resource-friendly: our Miele capsules are made from 100 % used plastic. 
Features depend on model – images are only examples and used for explanation purposes