10 Year Parts and Labour Warranty Included on Selected Washing Machines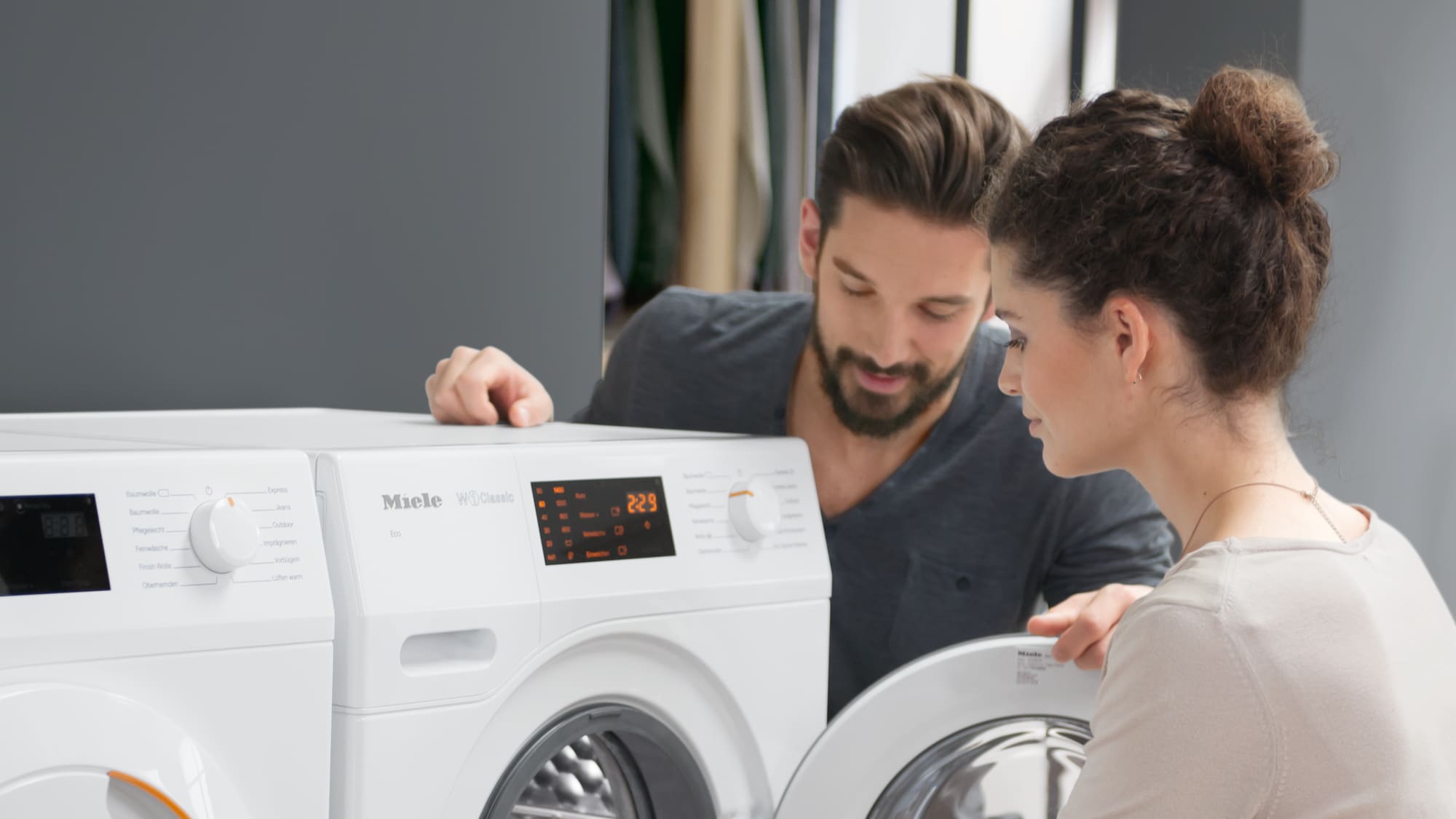 10 year parts and labour warranty on Selected Washing Machines
Terms and conditions apply
10 year parts and labour warranty included on Selected Washing Machines
All Miele domestic appliances come with a free 2 year guarantee as standard which covers parts and labour. However, to stand by the commitment we make to superior product quality, from time to time and on limited products we extend the standard warranty by a further 8 years and offer a 10 year promotional warranty.
You have 28 days from your purchase date to claim for this extended warranty.
Promotional period for the below models: 1st October 2019 to 28th February 2021. Applications must be received by 31st March 2021.
WCG360
WCI860
WCR860 WPS
WWG360
WWI860
WWR860 WPS
WSG363
WSI863
WSR863 WPS
WEG365
WEI865
WER865 WPS
WWV980
Promotional period for the below models: 1st January 2019 to 28th February 2021. Applications must be received by 31st March 2021.
WCE670
WCE320
WCR870
Promotional period for the below models: 8th March 2019 to 28th February 2021. Applications must be received by 31st March 2021.
WWE760
Promotional period for the below models: 1st October 2019 to 30th April 2020. Applications must be received by 31st May 2020.
WWR860
WCR860
If you have purchased one of the above models, please register for your warranty here.
To activate the 10 year warranty, please register your appliance here following these steps.
1. Please enter your details on the 'Register Here' button next to the applicable model.
2. You will then receive an automated email once to confirm we have received your application. Miele will then process, produce and send your warranty certificate.
A certificate will be sent out to you within 28 days outlining your warranty period. Please keep your proof of purchase safe; as you will be required to show this to a technician should a need for a visit occur.
Discover our Kitchen Inspiration blog Der Kern
We believe that a kitchen is never more beautiful than when it is being used. Discover inspiration from the world of kitchen design and cuisine.
Subject to technical changes; no liability accepted for the accuracy of the information given
Terms and Conditions for Warranty
You have 28 days from your purchase date to claim for this extended warranty.

Please allow up to 60 days for your certificate to arrive before contacting us.

If you have applied for this warranty online, you will be covered by this warranty once you have received the 'claim approval' email approving your claim. If you have any queries in the meantime, please contact Miele for further assistance.

The appliance that you have bought is of excellent quality and construction. However, we will correct, free of charge, any defects in material or workmanship for a period of two years (the Guarantee), subject to the terms and conditions.

From time to time, for certain products bought during limited periods, Miele offer to extend the standard 2 year Guarantee on your appliance for an additional 8 years free of charge increasing the period of Guarantee to a total of 10 years. To qualify for the promotional warranty you must register your appliance within 28 days of purchase using the online form at www.miele.co.uk/promotions. You will be requested to complete your details and to send us a copy of your proof of purchase.

On receipt of your proof of purchase we will check the details you have provided including that your product is eligible for the promotional warranty you have applied for as shown at www.miele.co.uk/promotions and that it has been purchased within the promotional period. You will then be issued with a Miele Service Certificate in your name. This may take up to 28 days from the point that we receive your proof of purchase.
1. The Miele Product Guarantee
- This promotion is only available through Miele retailers in England, Scotland, Wales and Currys Northern Ireland. Purchases made in other retailers in Northern Ireland and the Republic of Ireland are not included in this promotion and also excludes appliances sold as part of contract developments, auctions or rental agreements.
- is non-transferable and in the event of a change of ownership will not be valid unless Miele has provided its written approval.
- cover services performed only within GB excluding ROI and Northern Ireland.
- requires proof of purchase with application and for redemption of services under the guarantee.
- is offered as an extra benefit and does not affect your statutory rights.
- is governed by and in accordance with the laws of England and Wales and each party submits to the jurisdiction of the English Courts.

2. Duration
The Miele Product Guarantee is effective from the purchase date. Our standard 2 year Guarantee is available on all domestic appliances and vacuum cleaners. Where a 5 or 10 year warranty is offered this extends the standard period of cover by 3 and 8 years respectively. Extended warranties must be registered within the standard 2 year Guarantee period and extend the period of cover from the purchase date of the product and not from the warranty registration date.

3. Services
In addition to the correction of defects in material or workmanship during the contract period and subject to exclusions, Miele agrees to bear the cost the complete cost of repair including parts and labour. Any parts replaced during repair become the property of Miele.

If in the opinion of Miele an appliance is beyond economic repair, Miele reserves the right at its sole discretion to provide customers with a new appliance of equivalent specification. If Miele replaces the appliance, the Guarantee will become invalid.


4. Exclusions
Miele will not bear costs for repairs where appliance breakdown is due to the following: Non-compliance with safety regulations and warnings given in the operating instructions.
- Faults caused by the user through operating errors or lack of care and maintenance.
- Non-domestic or commercial use.
- Use that extends 10,000 operating hours for appliances or 1,000 hours for vacuum cleaners
- Intentional damage by the owner or third parties.
- Incorrect installation.
- Faulty repairs or repairs carried out by parties other than Miele or an authorised agent;
- External influences (e.g. weather, transit damage)
- Replacement parts subject to wear and tear e.g. filters.
- Glass breakage and defective light bulbs.
- Visual blemishes such as marks and dents.
- Use of non-approved accessories, care products, dust bags or spare parts.
- Damage to accessories.
- Accidental damage.
Miele will only bear repair costs carried out by Miele's network of service technicians or an authorised agent. If, during a service visit, no fault can be found for which Miele is responsible according to this Certificate, customers will be invoiced with call-out charges, and labour costs of 60 minutes in accordance with Miele standard rates for the time being.


5. Liability
Miele shall not be liable for loss of goods, loss of use, or any special, indirect, or pure economic loss, costs, damages, charges or expenses except for liability that Miele are not allowed to exclude by law such as death resulting from negligence by Miele or damage incurred as a result of fraud or fraudulent misrepresentation by Miele.


6. Cancellation
You may cancel your extended warranty at any time by giving notice in writing to the address shown on our contact us page.

To receive a full refund on warranties which have been purchased you must cancel within 14 days of receiving your service certificate. A full refund will only be given where no claim has been made under the warranty


7. Contact
For queries relating to warranty and guarantee or service please visit our contact us page.