Miele steam systems and technologies
Innovative and sophisticated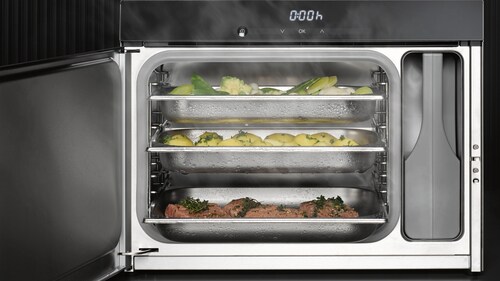 Small appliance, big flavour
The best technology for smaller oven compartments: MonoSteam was specially developed to meet the requirements of our space-saving countertop steam ovens to ensure delicious dishes, every time. The steam generator is located inside the water container and the steam is pumped into the oven compartment quickly via a steam inlet port. This technology guarantees perfectly cooked meals from our more compact appliances.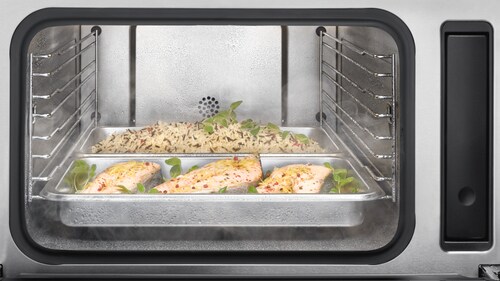 Lots of steam for large compartments 
Taking external steam generation to the next level, the innovative DualSteam technology is specially designed for large oven compartments – and is used in all 45 cm high steam ovens from Miele. Thanks to the powerful steam generator (3.3 kW), the oven compartment heats up in next to no time so you don't have to wait long to put your food in. The special arrangement and alignment of the two DualSteam nozzles ensures that the steam flows into the oven compartment at high speed and spreads around the cooking containers particularly quickly and evenly – so your food is cooked evenly for perfect results.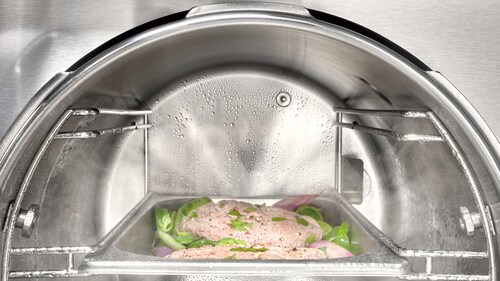 The original 
The original steam technology still excels, even after 35 years, through its ability to generate steam fast. The appliance heats up extremely quickly thanks to the small oven compartment and powerful 5.0 kW steam generator – so you don't have to wait long to put your food in. As an additional benefit, cooking with pressure at up to 120 °C achieves the shortest cooking durations possible with a steam oven. As a result, meals are cooked evenly and professionally in next to no time. 
Features depend on model. Images are only examples and used for explanation purposes