Exclusive coffee blends
For the most enjoyable experience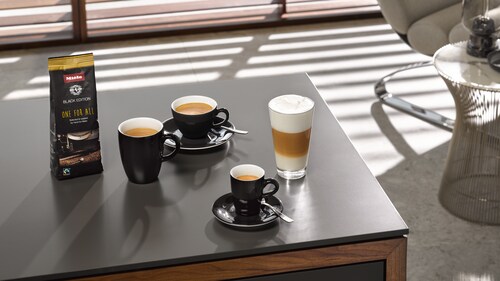 Particularly versatile
Miele's Black Edition One for all is full-bodied and aromatic with a subtle fruity note – for a unique flavour experience. With its balanced aroma, the One for all blend – made from 100 % arabica beans – is particularly versatile: it is ideal for a delicious café crema or espresso, or any type of coffee speciality with milk.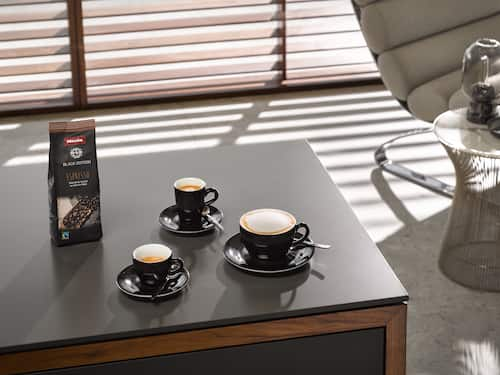 A fresh take on a classic
Miele Black Edition Espresso is the perfect choice for the classic short coffee. The blend has a particularly intense flavour with hints of spice and chocolate, allowing you to create lively and particularly aromatic espressos – the perfect way to round off a delicious meal. The premium blend is made from high-quality robusta and arabica beans.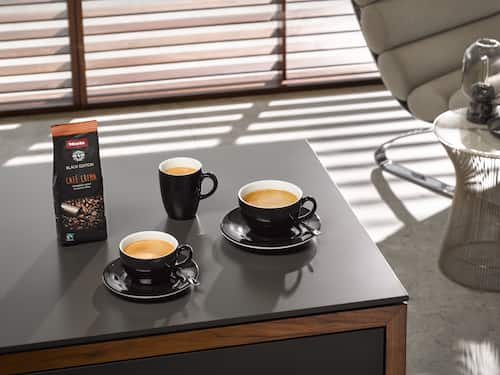 Intense enjoyment
The crema of a good café crema allows the aroma to fully unfold and provides the perfect finishing touch. With its light and balanced aroma, our Café Crema blend creates the perfect coffee experience – with a floral and fruity nuance that rounds out the flavour beautifully. Miele Black Edition Café Crema is made from 100 % arabica beans.
Features depend on model. Images are only examples and used for explanation purposes