Ventilation technology
Expertise in the field of ventilation technology
Roof vent
If the extracted air is to be vented externally through the roof, a roof vent kit is required. Miele offers various models (DDF 125/150 or DDF 200) which are suitable for use with all roof pitches from 22° and all types of roof tiles. The high-quality stainless steel housing is secured with weatherproof lead flashing.
Ventilation technology
All Miele cooker hoods are tested in accordance with current European standards. The air throughput and sound performance data given in this brochure are representative and comparative. Miele has been a member of CECED* (European Association of Household Appliance Manufacturers) since 2009. All members have signed a voluntary agreement to measure air throughput and sound performance values in accordance with the relevant European standards and to publish only these figures in their sales literature. This transparency ensures that customers receive reliable performance data.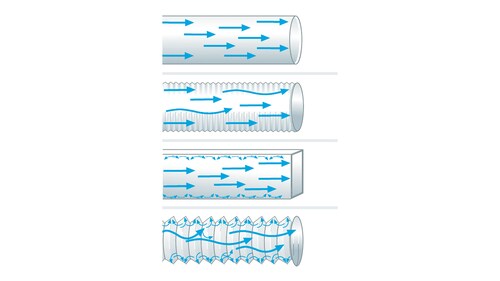 Flexible vent ducting
Vent ducting transports odours, moisture and heat outside the home. The extraction performance and noise levels of the cooker hood depend greatly on the geometry and properties of the ducting system. Smooth round ducting or special ducting with a rectangular cross-section where the diameter is not reduced, is most suitable. Miele generally recommends a diameter of 150 mm. For hoods with a high extraction performance, a diameter of 200 mm is customary. Miele offers a comprehensive range of flat ducting components. Please refer to the accessories catalogue for further information.
External fans
Fitting an external motor in the extraction system will help keep noise levels in the kitchen to a minimum. Here, the motor is installed externally, for instance on an outside wall, instead of in the hood. For a significant reduction in noise levels, the ducting system should be at least 5–7 m long. The motor and cooker hood are connected by a control cable. To implement this solution, Miele offers external motors for exterior walls (AWG 102), roof installation (DGG 102) and internal installation (ABLG 202).
Wall box
A wall vent kit can be installed in an outside wall so that the air can be ducted to the outside. Thermal bridges may occur in conventional wall vents, causing energy losses. In winter for example, cold air can enter the ventilation system. The Miele DMK 150 or DMK 150-1 wall vent will avoid this because it includes a tightly fitting non-return flap. A magnetic catch prevents cold or warm outside air from entering the building – this conserves energy. It also prevents debris, such as leaves or dirt from entering the ducting system. The louvred grille on the wall vent directs the airflow. This prevents loss of performance and the air flow is directed away from the outside wall.
Silencers - for extra quietness
Many Miele cooker hoods have highly efficient sound proofing as a standard feature, which makes them very quiet during operation. Should you wish to have an even quieter working environment, the Miele DASD 150 silencer is available as an option It will reduce noise levels by up to 4.5 dB(A) re1pW. It even provides versatile options. It is suitable for use with extraction as well as recirculation mode cooker hoods.
Features depend on model. Images are only examples and used for explanation purposes