SYSTEM MAINTENANCE: Due to system maintenance, transactions and bookings will not be possible 09/24-09/25.
Front loaders
Front loaders can be conveniently filled and operated from the front and can be arranged in lots of different ways; for example, in a stack.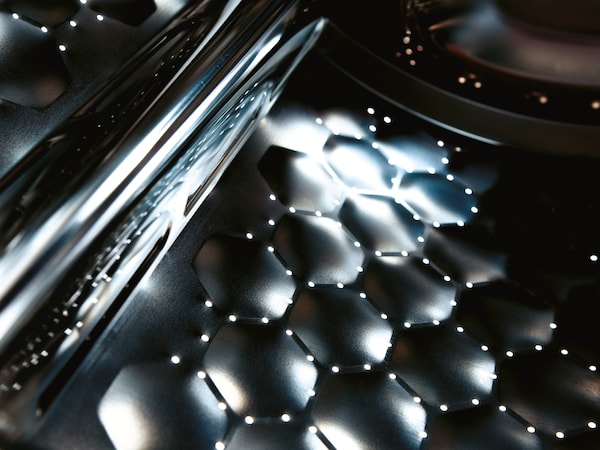 Exclusive to Miele
Honeycomb drum
Perfect laundry care
Gentle care: the hexagonal sculptured surface of the drum allows garments to glide on a thin film of water.
Exclusive to Miele
CapDosing*
Convenient and eco-friendly dispensing
Easy & sustainable: optimum dispensing of special detergents, fabric conditioners & additives with CapDosing.
Exclusive to Miele
PowerWash
Revolutionary economy with every load
Clean, quick and especially energy-efficient for small loads.
Exclusive to Miele
TwinDos® automatic detergent dispensing*
Best liquid detergent system with push of a button
Cleaner than ever: automatic dispensing with a revolutionary 2-phase system.
Domestic appliance networking with Miele@home*
Cleverly networked
Make your life smart: thanks to Miele@home, you can cleverly network your domestic appliances – for more options.
Exclusive to Miele
SingleWash
Wash single items – but quickly and economically!
Efficient solution for individual items: wash a favourite blouse faster, more economically and gently than ever.
Gold standard for virus hygiene 
Effective against viruses – scientifically proven 
Hygienically clean: TwinDos® and PowerWash reliably remove over 99.9 %
*
of viruses such as coronavirus.
SteamCare*
The extra-fresh fast alternative to ironing
Maximum variety of applications: SteamCare freshens up and smoothes your favourite clothes.
Features depend on model – images are only examples and used for explanation purposes
TwinDos®* automatic detergent dispensing
The innovation for perfect results
Achieve perfect results every time: thanks to the innovative TwinDos® dispensing system, the integrated UltraPhase 1 and 2 detergent is dispensed automatically allowing you to save up to 30 % on detergent compared to manual dispensing.
Go to products
Efficiency and sustainability 
 Environmentally compatible laundry care
Sustainability and the development of efficient products have been a key part of Miele's ethos for over 120 years. The careful selection of materials ensures that Miele appliances are long-lasting and highly recyclable.br
Go to products
1 .

Confirmed by the Household Technology Department of the Institute for Agricultural Technology, University of Bonn.

6 .

An UltraPhase 1 cartridge and an UltraPhase 2 cartridge are provided with the appliance. You can obtain additional cartridges by redeeming the enclosed voucher.

7 .

Additional digital offer from Miele & Cie. KG. All smart applications are made possible with the Miele@home system. The range of functions can vary depending on the model and the country.

8 .

Tested by Albstadt-Sigmaringen University and awarded the gold label by the Institute for Integrative Hygiene and Virology (InFluenc_H). Applies to all models with TwinDossup®/sup and PowerWash in the Cottons hygiene 60 °C programme with the AllergoWash option. A description of the relevant methodology can be found at the following link: a href="https://www.miele.com/wa-c"https://www.miele.com/wa-c/a
Subject to technical changes; no liability accepted for the accuracy of the information given. See General Terms and Conditions in footer for additional details.