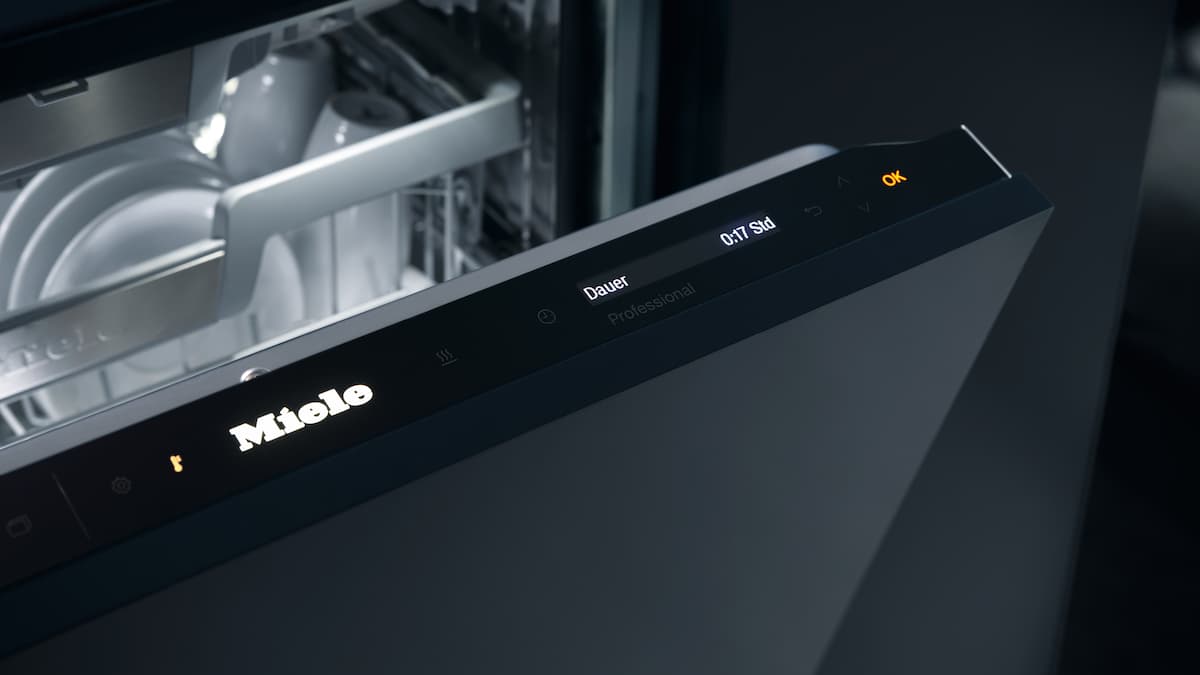 New products and features
Dishwashing technology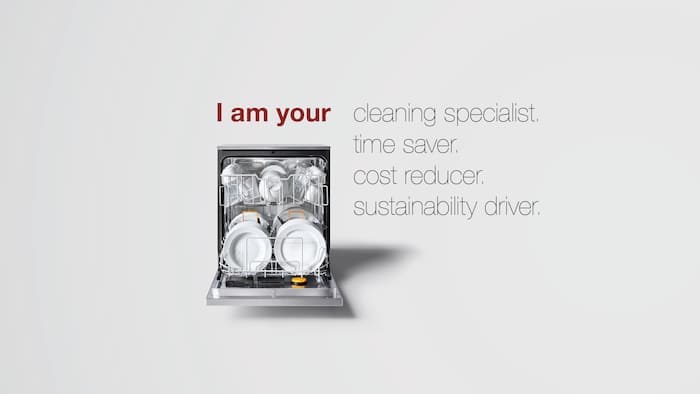 Your new dishwasher for first class hygiene and improved care in your everyday working life.
MasterLine
I am MasterLine, your powerful, durable and efficient dishwasher. I am designed to rise to the challenges of commercial dishwashing and promise to reduce your workload in the hustle and bustle of everyday life. Modern Miele technologies, intuitive touch controls and cycle times of only 5 minutes¹ produce outstanding results, streamline proces­ses and, with each wash cycle, leave you more time for what really counts: Working with the people you are there for.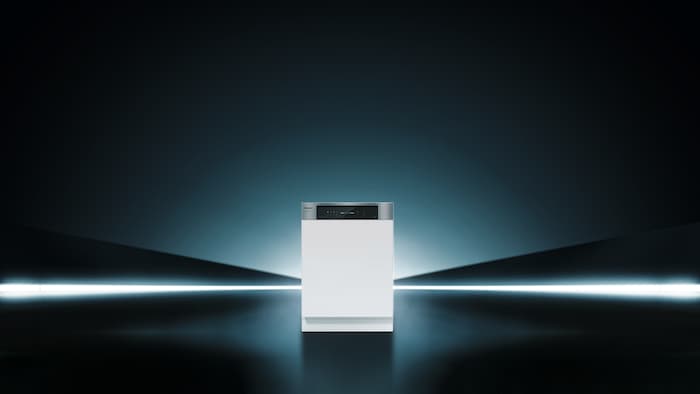 Glasses, plates and cutlery – clean in just 17 minutes
ProfiLine
Our world is turning ever faster – making one resource increasingly valuable: time. Our diary is full, daily schedules are tightly packed, our demands on ourselves are enormous. There simply isn't the time to idle around.
The new ProfiLine dishwashers were developed to meet the challenges of commercial use – and combine technology from the latest Miele Professional machines with the convenience and design of our flagship domestic models.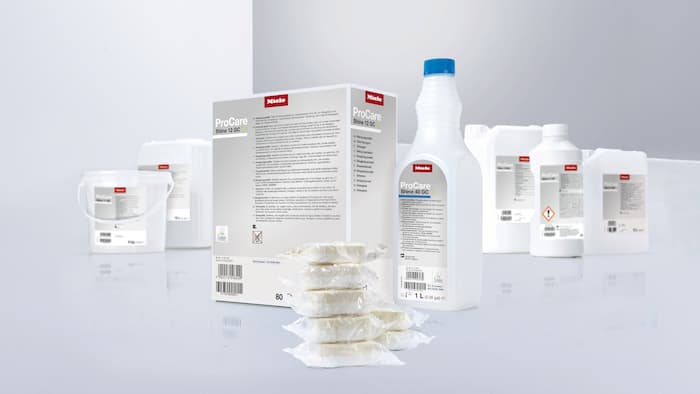 Extremely easy to use with the best results: the new ProCare Shine 12 GC dishwasher tablet
ProCare Shine
The new ProCare Shine 12 GC dishwasher tab is yet another environmentally friendly addition to the ProCare Shine series from Miele Professional. The water-soluble wrapping makes it incredibly easy to use. And the tablet's short dissolving time means impressive cleaning performance even with short programme running times. Why not give it a try!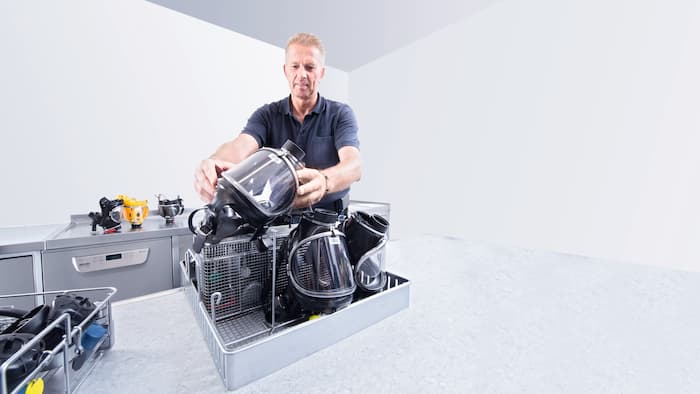 PG 8063 Safety fresh water dishwasher
Perfect reprocessing of breathing apparatus
Each fire incident exposes fire-fighters to numerous potential risks. All the more reason to take good care of personal protective equipment. The machine-based reprocessing of apparatus contaminated with harmful substances and secretion offers key benefits – alongside reliability, what counts is the minimisation of potential exposure risks.
With Miele Professional, the reprocessing of breathing apparatus is both thorough and gentle on materials.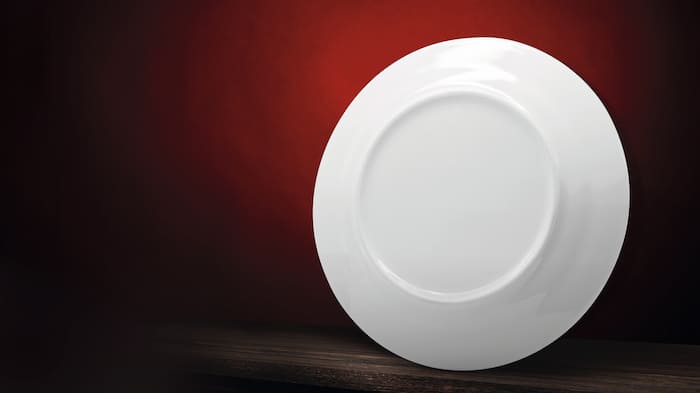 SmartBiz
The dishwasher that thinks outside the box.
The professional solution that adds value has your business in mind.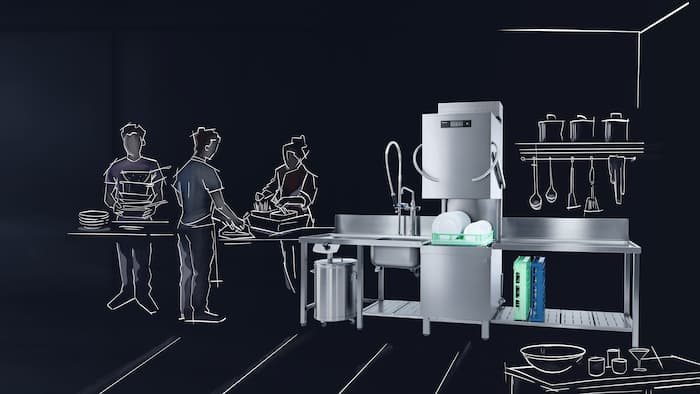 Built for rush hours
The new throughfeed dishwashers with a cycle time of just 50 seconds
Breakfast, lunch, dinner: during peak periods, the dishwashing team has its work cut out. Thanks to the latest technology and finely tuned components, our new throughfeed dishwashers are able to keep up the pace and perform perfectly under constant strain. A well-conceived, all-round solution to meet the highest demands and ensure a fast turnaround of load items. Reliable, economical and, above all, fast. Effectively avoid crockery piling up in the kitchen
Laundry technology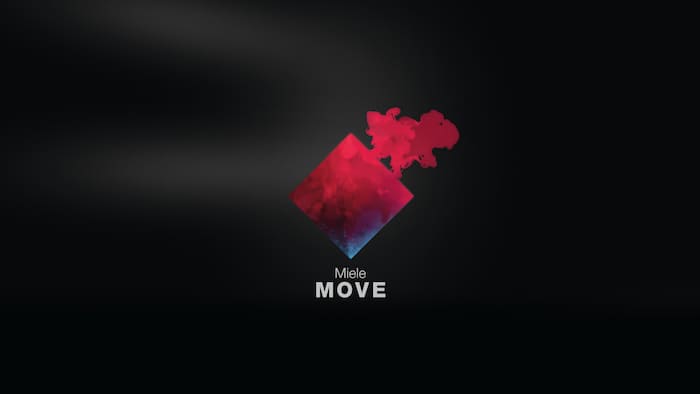 Miele MOVE. The digital platform for professional laundry management.
Move your business.
The next logical step in machine and data management. Intuitive, transparent, efficient: Miele MOVE connects commercial machines, improves processes and helps to cut running costs. The platform combines convenient user interfaces with intelligent assistance tools and removes limits from your laundry management. Why wait?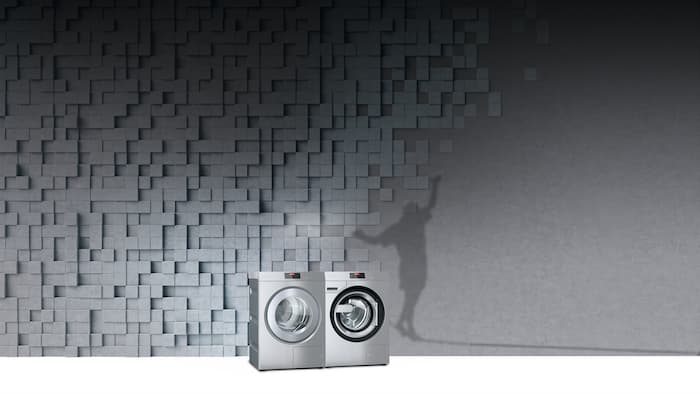 Washing machines and tumble dryers from the new Benchmark generation.
Perfect balance
The heart is pounding. The senses are in overdrive. From now on, only the next step counts. Slacklining strikes a perfect balance between burning ambition, technology and intuition to stretch the envelope of what is possible. Your urge to aspire to ever new heights is an expression of absolute trust in your own ability – and the result of maximum precision. Each movement has been internalised, each scenario rehearsed. Materials, settings, sequences: every detail has been honed to perfection. The only focus of your concentration is a perfect balance.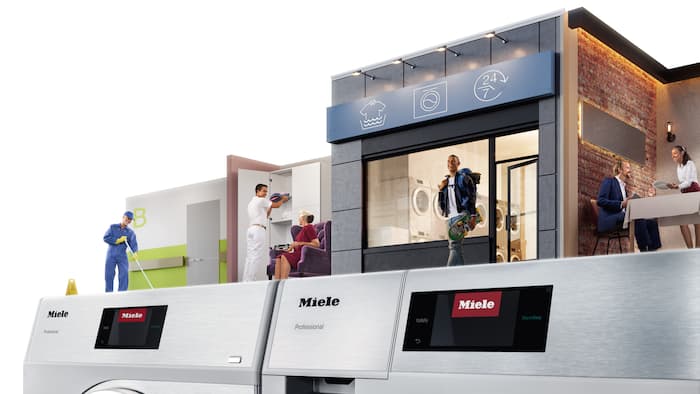 The new Little Giants
A solid foundation for your success
Discover the compact Miele washing machines and tumble dryers for commercial use – and discover innovative technologies for even greater cleaning performance, economy, user convenience and flexibility.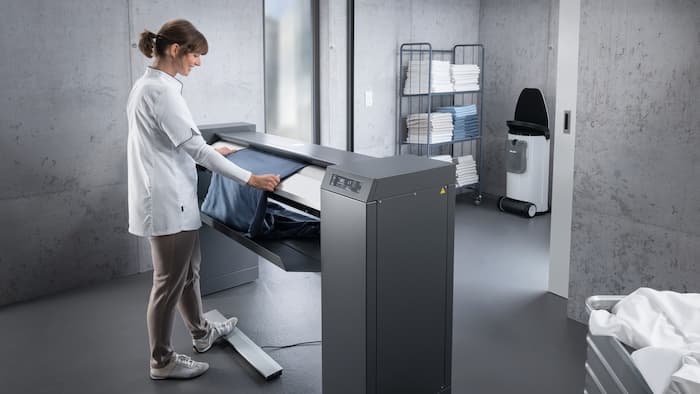 PRI 318, 418, 421
New flatwork ironers for a superb laundry finish
Discover the new ironers from Miele Professional. With their exclusive and innovative features, top quality and simplicity of use, these ironers ensure a perfect finish to meet the most exacting standards.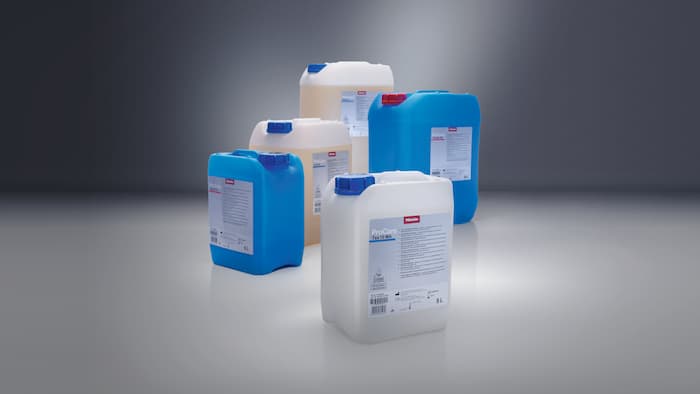 Detergents and care products for commercial laundries
ProCare Tex
Based on years of experience and in collaboration with application specialists, the ProCare Tex detergents and care products were specifically developed for use in Miele's commercial machines. The result is a particularly gentle, seamless and cost-effective reprocessing process for all kinds of different textiles.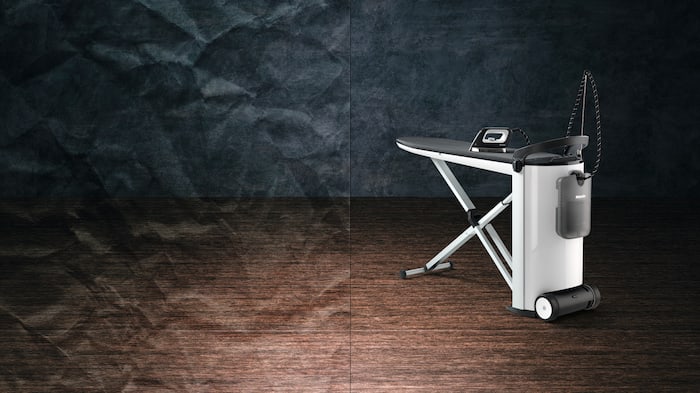 Makes ironing a pleasure
The PIB 100 professional steam ironing system
Is laundry care and, in particular, ironing part of your daily work, but not your core business? To make sure it stays that way and that you can concentrate on your key tasks, Miele is now offering a professional solution in the form of the MIELE PIB 100.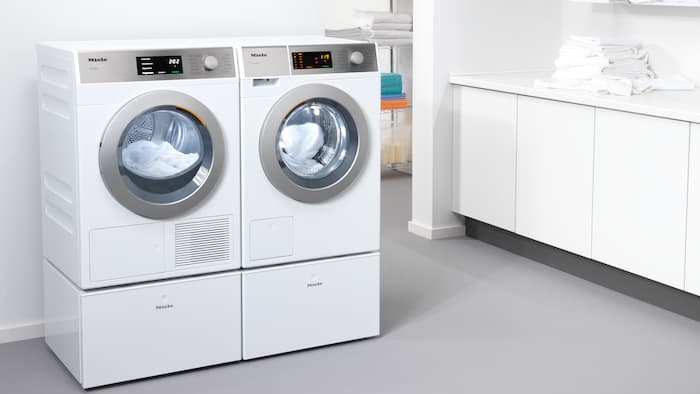 The new entry range into the world of professional laundry care
SmartBiz
The new washing machine and heat-pump dryer from the SmartBiz series are the efficient solution for applications running up to 3 wash cycles a day.
Air purification technology
Fewer viruses. More us.
Miele AirControl
The new Miele AirControl makes living and working together a more pleasant experience. The high-performance air purifier affords the best possible protection against viruses, bacteria, mould and other air-borne particles thanks to its 5-stage filtration, which includes a highly efficient H14 HEPA filter. Simple, quiet and reliable.
Dental, laboratory and medical technology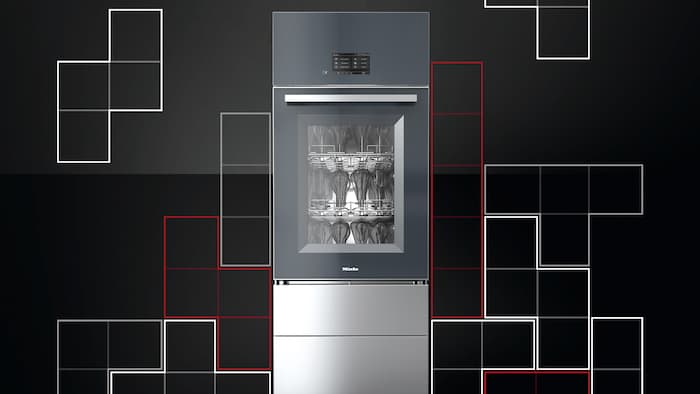 The perfect fit
PLW 7111 SlimLine
Always a perfect fit: even if space is at a premium, reprocessing laboratory glassware can still be done efficiently. The new PLW 7111 SlimLine laboratory washer offers a large load capacity. Thanks to the modular EasyLoad system, maximum throughput is guaranteed.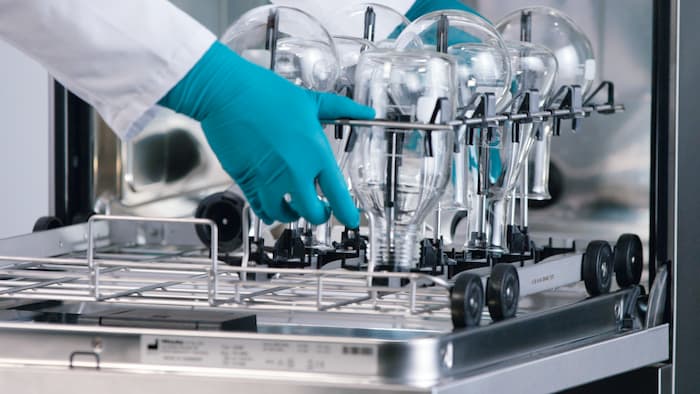 EasyLoad – new, fast, highly efficient.
The new loading system for Miele laboratory washers.
The EasyLoad system is flexible and intuitive and guarantees a clear productivity gain in the reprocessing of laboratory glassware.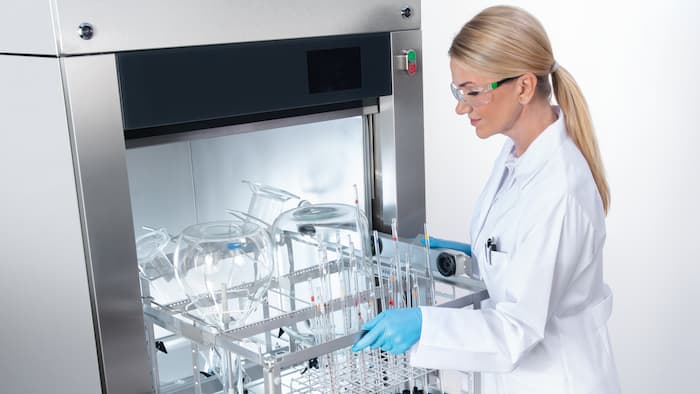 Strong and flexible:
The new Miele PLW 86 large-chamber laboratory washer
The new PLW 86 model series is setting new standards in terms of performance and user-friendliness. This entirely redesigned washing system boasts considerably better performance compared with the previous model series and, thanks to a variable-speed pump, is able to adjust circulation pressure and water consumption to each load.
1.

Cycle time dependent on on-site connection. 5 minutes when connected to 3N AC 400 V 50 Hz and 65 °C hot water.