EasyLoad – Miele reinvents loading
The EasyLoad system makes the reprocessing of laboratory glassware considerably faster, simpler and more efficient. It presents a whole host of user benefits. The EasyLoad system is flexible and intuitive and guarantees a clear productivity gain in the reprocessing of laboratory glassware.
System components
New injector nozzles, new plastic holders and supports, new injector modules, new holder racks. The use of the new injector nozzles and supports without holding frames is possible in combination with virtually all Miele laboratory load carrier systems. You can find the compatibility table below.
Modules
The EasyLoad system ensures highly efficient use of the space in the wash cabinet. There is a new injector system for all common injector modules and a large number of further load carriers. Different modules are available for different machines.
Injector nozzles
Even if a nozzle tip rests against the base of a glass, the new injector nozzles still guarantee thorough cleaning. The new support surrounds the injector manifold in the module or basket, preventing lateral movement of the load items without wasting valuable height. A variety of injector nozzles can be placed on the different mobile units or modules.
Holding rack
The new holding rack provides additional stability. As and when required, it is placed on top of the injector module, providing a secure hold to even large items of laboratory glassware in a vertical position in which materials are protected.
EasyLoad equates to efficiency and convenience:
Compatibility with entire product range.
The nozzles of the EasyLoad system in particular can be fitted on virtually all Miele laboratory washers.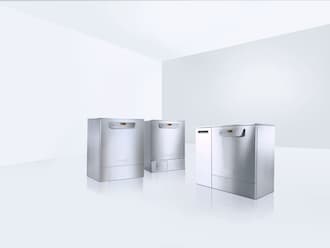 Modules
PG 8583
PG 8593
PG 8583 CD
Nozzles
PG 8583
PG 8593
PG 8583 CD
Holding rack
PG 8583
PG 8593
PG 8583 CD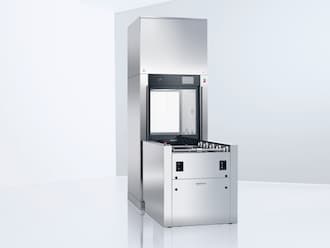 Modules
PLW 8615
PLW 8616
PLW 8617
Nozzles
PLW 8615
PLW 8616
PLW 8617
Holding rack
PLW 8615
PLW 8616
PLW 8617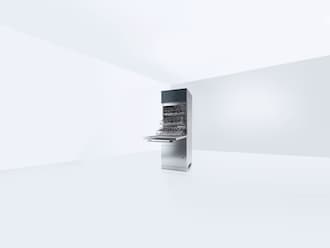 Modules
Nozzles
Holding rack
Modules
Not compatible
Nozzles
Holding rack
Not compatible