HOTEL 360°
Miele will be with you through each stage of planning a new-build or refurbishment project: from total cost of ownership, to on-site planning, the integration of sub-contractors, right through to installation and maintenance.
Miele Professional has developed its comprehensive system for hotels and restaurants based on many years of experience. Thanks to this approach, 70% of all hotels with an in-house laundry are more satisfied now than they were previously. By adopting this approach they have direct influence over the quality of their laundry and the wash process, ensuring they have full control over their guests laundry experience.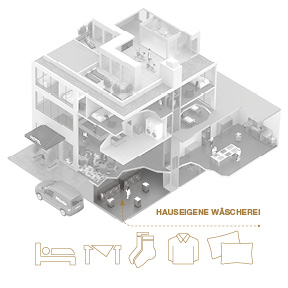 Clean bed linen, spotlessly white table cloths and quality towelling with a thread count among the feel-good factors for hotel guests. Miele's systematic solutions are ideally geared to the individual needs of hoteliers and ensure effective and gentle laundry care.
Immaculately cleaned laundry is a hotel's calling card. Alongside the appeal of soft, well-laundered textiles, thorough and hygienic cleaning plays a significant role. Often, investments in textile care consume a considerable part of a hotel's budget. It is all the more important, therefore, that hotel laundry is long-lasting and reflects the standards of hospitality the hotel commands.
Miele laundry machines represent the professional solution to textile care in a hotel's on-site laundry. From small set-ups to reprocess fewer items through to comprehensive solutions to cover the entire range of hotel laundry including washing machines, tumble dryers, ironers and WetCare.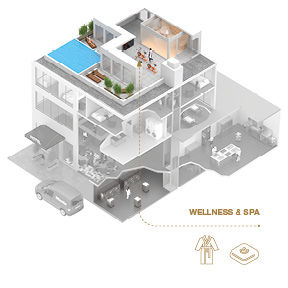 Sauna, beauty salon, gym – visitors to spas expect to be spoiled. Soft, quality bathrobes, slippers and towels have a significant role to play here and Miele Professional is able to guarantee the very highest of standards.
Spa guests soon sense whether the towelling provided is made from high-quality material, is gentle to the skin and smells fresh. To ensure guests have this experience, textiles must be professionally laundered.
In the spa, towels are provided often for hygienic purposes. To remove soiling without leaving any traces and to give the fabric its feel and bounce back again, Miele Professional washing machines offer tailored solutions. Multiple programmes designed for this purpose provide the very best quality.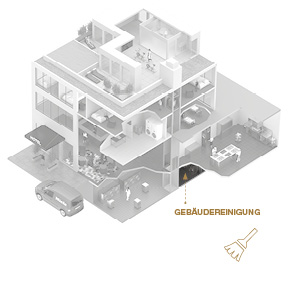 For the efficient cleaning of corridors, reception areas and rooms, materials must always be on hand and in perfect condition. Miele's Mopstar washing machines were specifically designed for the reprocessing of mops, cleaning cloths and other textiles.
They tackle the job of washing and treating cleaning cloths with disinfectants or cleaning agents in one single process, offering considerable time savings and speeding up the cleaning process.
This innovative wash programme is divided into three distinct stages: at the start of the programme, textiles are 'dewatered' in a patented process in order to remove dirty water.
In the wash and disinfection cycle that follows, the textiles can now be reliably and thoroughly wetted. After washing and spinning, the load is automatically conditioned using the required detergent or disinfectant.
The mops and cleaning cloths come out ready to use and can be deployed immediately or stored unfolded on the cleaning trolley.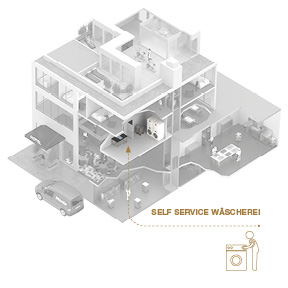 Many hotels offer their guests the opportunity to wash their own laundry on site. Guests place their trust in the ability of self-service launderettes to produce spotlessly clean laundry. A fast and thorough solution is provided by Miele Little Giants.
Washing machines open to use by guests of a hotel must offer top performance, a wide range of programmes and an uncomplicated user interface. Miele Professional washing machines are specifically designed to rise to these challenges.
Short programme times allow frequent usage and avoid long waiting times. With Miele self-service appliances, users can be flexible as far as times are concerned and can benefit from an uncomplicated approach to laundry care.
Together with tumble dryers from Miele Professional, laundry care subscribes to the highest of standards whilst at the same time being energy-efficient.

With Miele payment systems, each washing and drying process can be individually recorded and billed.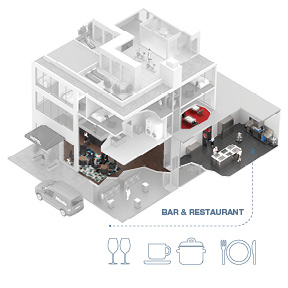 In hotels and restaurants, spotless crockery and glassware and sparkling clean cutlery is important. Besides that, the highest of economic and hygienic standards should be met. The ideal solution is called System4Shine from Miele.
Demands on standards of cleaning differ enormously, depending on the size of a hotel. Irrespective of the quantity of crockery requiring cleaning per day or per hour, Miele's System4Shine offers right-sized dishwashers ranging from high-throughput glassware and bistro washers right through to high-performance passthrough models which ensure spotless loads in only 50 seconds.
This individually configurable system can be integrated into daily work routines in accordance with specific requirements. Numerous baskets and inserts ensure the safe and proper cleaning of various loads – including even the smallest of utensils.
Various plinths facilitate ergonomic loading and unloading, reducing levels of physical strain in the hustle and bustle of everyday working life. The use of the newly developed ProCare Shine range of cleaning agents and rinsing agent further guarantees effective and sustainable dishwashing.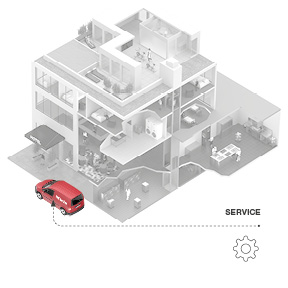 True to the 'Immer Besser' ('Forever better') principle, ensuring the highest of quality and production standards has pride of place at Miele. This is clearly evidenced throughout the entire process chain from the delivery of products to maintenance and repairs.
Miele's service network means that help is available fast and without fuss. It even starts with delivery as Miele's team of experts provides support in commissioning appliances.
Regular maintenance and inspections as well as professional care also ensure maximum safety in operation. Thanks to the quality of Miele products 'Made in Germany', clients profit from extreme longevity and the availability of spare parts for up to 15 years – even if an appliance is no longer listed.