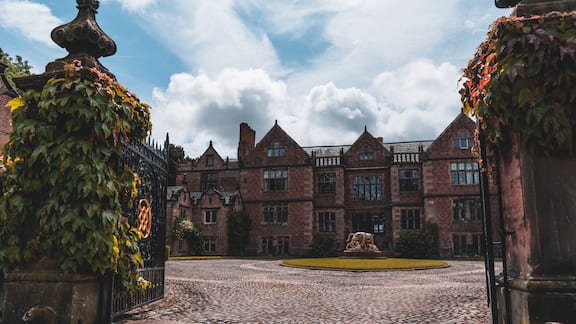 Dorfold Hall
Customer Stories
Luxury wedding venue, Dorfold Hall, is a Grade I listed mansion in Cheshire that offers clients and their guests a premium experience, from meals served on the finest of crockery to a wonderful night's sleep in deluxe bed linen. Built 400 years ago, the mansion has been passed down through generations. Two years current owners Charles and Candice Roundell developed it into a venue for civil ceremonies. Now, around two weddings take place each week between May and October, so it's a busy and long summer for the family!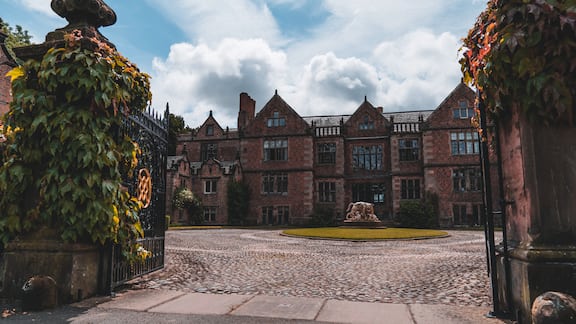 Dorfold Hall has 10 bedrooms available to wedding guests. As a result the housekeeper has to deal with keeping top class bed linen, towels, tablecloths and napkins in peak condition and ready for the next party.
The Hall outsourced these items to a laundry service provider. After a couple of wedding seasons they realised that standards would improve if the laundry was taken in house, as they could avoid stains and ensure crisp, perfectly ironed sheets themselves. This would allow the Hall to provide the standards expected in a high end venue. With Dorfold Hall's bed linen being delicate 600 thread cotton and sateen sheets, it needs careful washing to prolong its life and quality, which many laundry service providers can't promise.
Outsourcing laundry was also creating slow laundry turnaround for Dorfold Hall. Bed linen and towels would spend up to three days at the laundry service provider, with the time spent dropping off and picking up the items added to this. The laundry manager struggled to line up clean items in plenty of time for the next wedding party.
Dr Candice Roundell realised that the time had come to introduce an on-premise laundry (OPL). After refurbishing a room dedicated to laundry, the next challenge was deciding on the best possible equipment for the job. Due to their positive personal experiences with Miele's domestic appliances, Miele soon became the brand of choice for their business' commercial needs.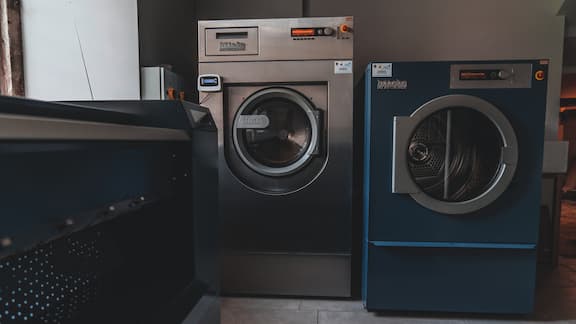 Liver Laundry, a Miele professional partner was appointed to assess equipment needs based on Dorfold Hall's requirements and space. An initial site survey was conducted and a proposed specification of equipment and layout drawing was presented for approval. The proposal included the Miele PW 818 washing machine and the PT 8407 tumble dryer for high quality laundry, and the PM 1217 rotary ironer to provide a crisp finish to the bed linen after being laundered.
Dr Candice Roundell was very pleased with the proposal and placed an order for all the equipment. Following additional surveys and liaisons with contractors, the Hall turned an unused basement room into a fully functioning laundry room with all the required services.
Following a quick and smooth installation, Dorfold Hall went from being reliant on a laundry service to having a working on-premise facility in just one day. Liver Laundry also provided a thorough training briefing, which meant that the housekeeper could press on with realising the benefits of OPL straight away, with Liver on-hand for support if required.
The effective and efficient on-site laundry is now helping Dorfold Hall live up to its reputation as a luxury wedding venue, and deliver on clients' high expectations every time. Having complete control over laundry processes, the housekeeper can ensure that all items are washed and dried thoroughly, and that the bed linen, tablecloths and napkins are ironed to perfection. Guests are also guaranteed a great night's sleep in quality and immaculate bed linen.
Instead of waiting days for laundry to be cleaned, the housekeeper can now wash, dry and iron items within hours, speeding up room preparation. This means that when the next wedding party arrives, Dorfold Hall is well prepared to deliver the deluxe experience it promises.
Dr Candice Roundell, said: "Few occasions are more important to someone than their own wedding, and when it's held at a luxury venue like Dorfold Hall, the standards that the bride, groom and guests expect are even higher.
"We realised that, given the turnaround speed and level of cleanliness that we needed, outsourcing laundry simply wasn't feasible in the long-term. We were very keen to take complete control of our own laundry. Using Miele machines that promise quality, and with support from Liver Laundry at our fingertips, we benefit from smooth and effective processes that contribute hugely to the venue's level of service."