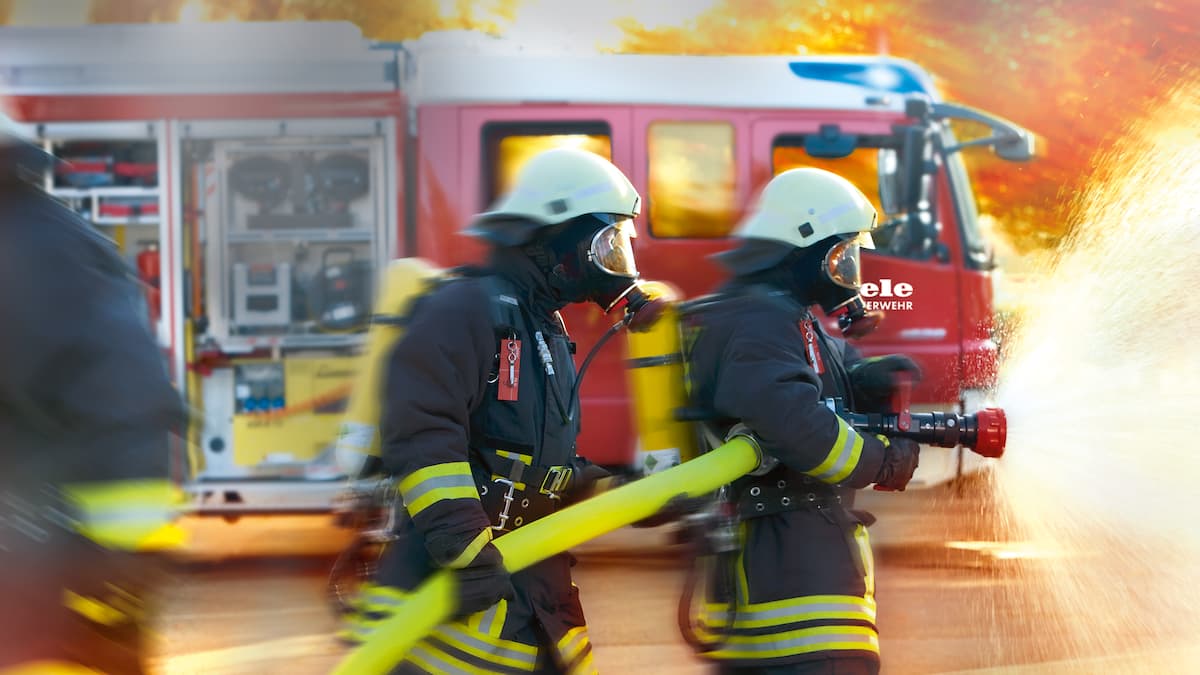 Recommended solutions for fire brigades and emergency services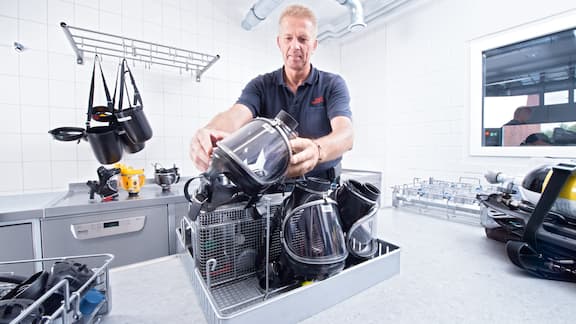 Dishwashing technology solutions for fire brigades and emergency services
With Miele Professional, the reprocessing of breathing apparatus is both thorough and gentle on materials. This systematic solution comprises a fresh water dishwasher with carefully compiled programmes for cleaning and disinfection as well as baskets for positioning and securing masks and air regulators in the chamber. During reprocessing, air regulators can be charged with compressed air in order to prevent the ingress of fluids. Features such as a compressed air indicator and password protection for programme settings further increase process security, ensuring very short turnaround times and the rapid availability of equipment.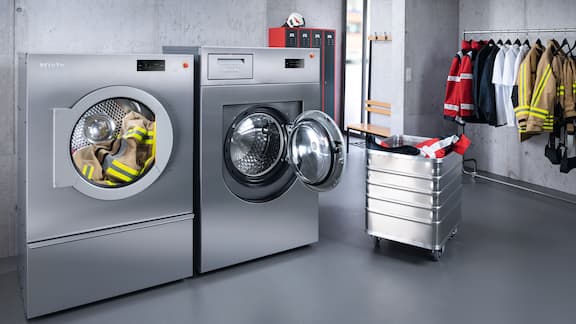 Laundry technology solutions for fire brigades and emergency services
The Miele laundry machines relevant to this application come as standard with programme packages covering personal protective apparel, breathing masks and chemical protection suits. Further special-cleaning and maintenance programmes, for example for woollen blankets, leisure wear or uniforms, complete the range of possible uses for machines in an on-site laundry. Machine operation is simplified by a clear text display.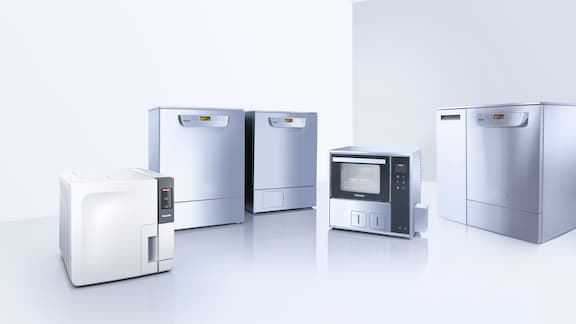 Medical technology solutions for fire brigades and emergency services
In order to ensure that anaesthesia instruments are reprocessed safely and in a manner which retains their value, Miele Professional offers a wide range of accessories. With the introduction of the PG 85 series of washer-disinfectors, the entire load carrier system has undergone a thorough reappraisal. The new load carriers make even better use of the space available in the wash cabinet, allowing more anaesthesia instruments to be processed in each cycle. Another benefit can be seen in the redesigned water and air circuit: wash liquor and drying air are fed more efficiently along a shorter and streamlined circuit with minimal pressure losses on their way to the spray arms and injector nozzles. Optimum pressure conditions are also created by the automatically self-sealing docking valves when not occupied. The modular nature of the new load carriers represents a further product benefit.
Find out more about our system concept for this industry
The personal protective equipment used by fire brigades and the emergency services is often highly contaminated. Following use, the protective function of clothing, breathing masks, air regulators and other equipment must be quickly and properly restored. Depending on the range of tasks with which a rescue service is commissioned and the space and facilities available at a fire or ambulance station, machines with various load capacities can be networked to form a system solution.