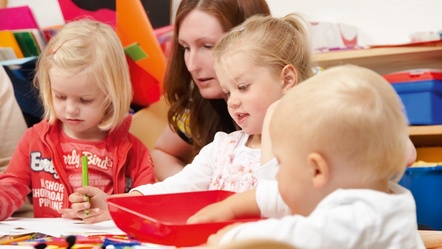 When it's a question of hygiene
Comprehensive hygiene management is particularly important in nurseries. Not only do Miele Professional dishwashers and washing machines clean crockery and textiles to the highest of standards, they also make them hygienically clean. For carefree playtime every day.
Learn more
Upgrade for Happy Jays
Happy Jays nursery first opened its doors in Boroughbridge in 1996, but quickly expanded across North Yorkshire – it now has five sites. A registered daycare provider by Ofsted, the business's core aim is to provide the best quality childcare possible for children, from three months old up to eight years old.
Find out more about "Upgrade for Happy Jays"
Subject to technical changes; no liability accepted for the accuracy of the information given!