Consider using a commercial washing machine to improve hygiene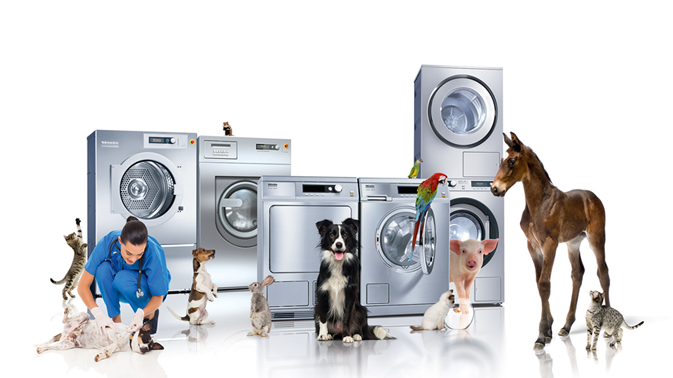 With cleanliness and hygiene coming in at second place in our research into the top five things that matter most to customers, it might be time to consider reviewing your laundry processes. Customers expect to see staff in clean uniforms and for the bedding and towels their pets use to be clean, stain and infection free. For most practices that have heavy-duty washing to do on a frequent basis, it's likely that their domestic machine won't be up to the job. Our research showed that half of vets are using domestic washing machines to launder items and are not realising the benefits a commercial machine offers e.g. compliance with the Water Regulations Advisory Scheme (WRAS). Commercial machines are also more durable and robust than domestic appliances and come with a servicing package to ensure any breakdown issues are handled quickly and efficiently.
What are the factors to consider when looking at laundry design?
When looking at designing a laundry system for a veterinary practice, many factors should be considered. The primary factor is your workflow. You should consider how often and how much will need to be washed, and how much space you have. Decide where the laundry will go in the practice and make sure there is adequate room so the position of the working machines, room entrances and exit sites work efficiently for the staff. The good news is commercial machines don't need as much space as you think – potentially as little as 1m². Finally, what is being washed should be taken into account. It is important to invest in high-quality, reliable and robust machines that can handle the workload as using unreliable machines could result in expensive repairs and early replacement.
Why do I need a commercial machine?
Any water fitting that will carry or receive water from the public mains water supply in the UK must comply with the Water Supply (Water Fittings) Regulations and Scottish Water Byelaws. Different categories of WRAS approval exist depending on the business type. In veterinary practices all machines have to be compliant with WRAS category five due to potential animal waste contamination in the laundry. All Miele Professional washing machines are WRAS category five approved, so you can be sure they are meeting all relevant legal requirements. Commercial filters will capture any animal hair during washing and large drum sizes mean the equipment can handle any laundry requirement you may have, including bulkier items such as horse blankets. Reliability is also key and a Miele Professional machine is tested to 30,000 cycles, meaning it will last a lot longer than a domestic machine can, reducing life cycle costs and the potential pain of replacing machines regularly.
What should I look for?
When choosing laundry equipment it's important to look for efficient, reliable machines that are easy to use and have fast cycles. With an industry-leading Miele Professional washing machine, a quick wash can be completed in just 53 minutes. Couple this with a Miele Professional tumble dryer and a wash and dry load can be completed in just 90 minutes. Miele Professional equipment is quick, efficient and capable of supporting surgeries even at the busiest times – that's why 97 per cent of Miele customers would choose a Miele again.