Hofburg Palace
Living history of the monarchy: The Hofburg Imperial Palace is also home to the Burgkapelle, where the Vienna Boys' Choir sings Sunday mass. The famous Lipizzan horses are stabled in the Stallburg, and perform in the nearby Winter Riding School to the delight of the spectators. The National Library houses the priceless Hapsburg book collection and one of the most beautiful library halls in the world.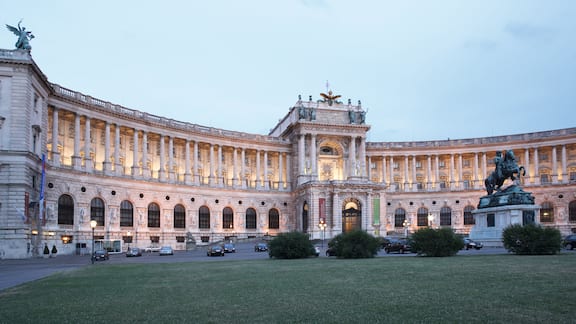 A centre of power and elegance
The Hofburg Palace was the residence of the Hapsburg dynasty for more than 600 years, and they reigned from here from the 13th century until the end of the monarchy in 1918. During, and even after this time, the Hofburg Palace evolved into a major exponent of European history. Since every regent wished to extend the residence with a new wing or section, the Hofburg gradually expanded to become a "city within a city".
Nowadays the complex covers a total of some 240,000 m² and is made up of 18 sections, 19 courtyards and 2,600 rooms, in which some 5,000 people live and work. If the Hofburg Palace hosts a state banquet or even a slightly smaller event, the original imperial silverware is set out, thoroughly and gently washed in Miele Professional cutlery washers. Both appliances provide results that are just as outstanding as the meticulous and time-consuming manual cleaning that was previously carried out by specially trained silver polishers. Nowadays, it is not even necessary to buff the cutlery in most cases, which is a distinct advantage when you have up to 200 place settings.
Learn more about related industries
You will also find our expertise in other reference objects