Miele: International Day of Women & Girls in Science blog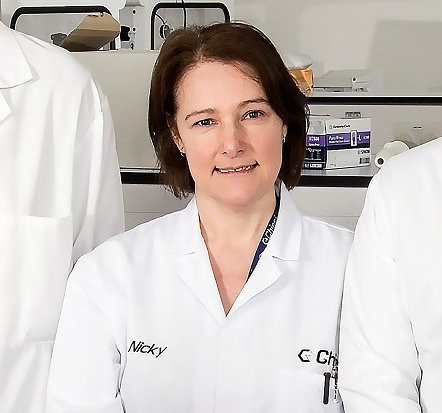 Follow your dreams and doors will open up: Celebrating a career in science
To mark International Day of Women & Girls in Science, Miele is shining a spotlight on the work of some of our scientific customers to inspire others who may be looking at a career in this diverse field.
We work with a wide variety of laboratory, medical and dental organisations throughout the country and it's fantastic to find out what people do on a day to day basis and learn more about their work.
We caught up with Nicky Acton, senior laboratory technician at international pharma firm Chiesi Ltd, based at their research and development site in Wiltshire. The team here works as a satellite to the firm's R&D centre in Italy, developing proofs of concept and carrying out bespoke research projects in the respiratory field of medication.
Nicky has worked in her current role for 10 years and is responsible for all maintenance and calibration of equipment within the site laboratories, everything from isolators to balances, and small hand held equipment . She also manages supplies and is involved in the purchase of new equipment, which is how she came to know the Miele team.
The site has recently expanded and Nicky has overseen the re-location of the reprocessing section to a new centralised area which better services the needs of the laboratories and the current team of 22. Miele assisted with the installation of the newest lab washer and also the relocation of the existing three.
"I've always worked with Miele products since my early days within the food industry," Nicky says.
"Miele is a gold standard for lab washers. I have experienced very few problems with them; they don't break down and are the work horses of the labs. The undercounter washers we have now are more than 10 years old and they're still in great condition and give great performance."
The lab has two G7883 models and a G7893. Last year they invested in a Slimline PLW 6111 to expand throughput and to allow for machine washing of pipettes, which was previously done by hand.
"The new machine gave us the opportunity to also buy new accessories to hold glassware for different functions, so we've been filling gaps we've found in our needs over the years. Our new set-up gives us more flexibility."
Varied career
Nicky has held a number of scientific roles over the years. Her interest in pursuing a career in science began aged 16 as she enjoyed and had a natural affinity for scientific subjects and realised that a science degree would open up work opportunities.
She chose to study Biological Sciences at the University of Plymouth to keep options open for a variety of roles and specialised in microbiology and cell biology.
"The mechanics of how a cell works fascinated me," she explains.
After university, her first job was for Unigate St Ivel, working on a project to introduce a new type of technology into the laboratory for the rapid detection of bacteria in dairy products. After this and other project work she became a lab manager aged 23 running microbiology and chemistry labs and then progressed to become a Training Manger and Laboratory Auditor for the company covering the many sites in the south of England.
Nicky had a career break to have her two children and began part time work again, this time in the Pharmaceutical sector, when her daughter was four years old. But what elements has she enjoyed most in her varied working life?
"I have enjoyed the fact that there is always something new to learn and that science has so many fields which cross over each other. Working in one area or subject does not prevent an individual working in or learning from another. An individual can specialise in one area or traverse many according to their interest, ability and lifestyle," said Nicky.
"In terms of my current role, I have been lucky enough to be involved at the cutting edge of R&D from working with universities exploring new concepts and seeing techniques develop to resolving unexpected problems with current products. I have met a diverse range of people in science and have been lucky enough to have worked with some fascinating and inspiring people.
"As this is an R & D lab, people are willing to try out new techniques and we have had equipment made for us if we didn't have what we needed for a particular task, which adds an interesting new element to my work."
Nicky says she has generally seen a good balance of both women and men in the companies she has worked for, as well as in her degree course.
She says: "When I worked in the food industry we would notice more women in the labs and more men in the production areas, the gender balance would vary with shift pattens and life style. In pharma, there were more men to begin with but we have recruited more females over the years and I have seen both men and women gain promotions equally without any bias.
"When I first became a lab manager I realise now that I was quite naïve, but the person above me was a very strong female and she helped me to develop. As you meet more people you learn from experiences they have had or problems they have solved. We have a young team on site and we learn from each other. The team will often question why we do things in a certain way and it's helpful to pause and think about the reasons for using certain techniques, rather than just doing things as they have always been done."
And Nicky has some sage advice for anyone looking to begin a career in science.
"Seeing how my own two children have grown up and began their working lives made me realise how every individual learns in their own way and there is not necessarily a 'right' way to get the job or career that you want," she says.

"Everyone has things they find easier than others and things they find more difficult than others, but there's always a way to do what you want to do and that doesn't need to be by a traditional route. You have to be open minded, no one has to follow a set path. If one door appears closed, find another way in and don't always assume that other people know better. Always look at what value you can provide as an individual. Talk to people and grow your network. Follow your dreams and doors will open up."