EasyLoad – Miele reinvents loading.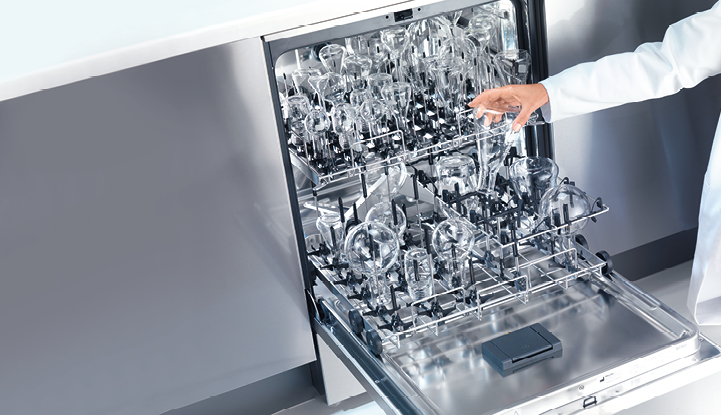 EasyLoad
Miele reinvents loading
The EasyLoad system makes reprocessing laboratory glassware considerably faster, simpler and more efficient.

The EasyLoad system is flexible and intuitive, helping to minimise the time is takes to create perfectly analytically clean glassware for your lab.
Go to products
Customer benefits

New injector system for all common injector modules and a large number of further load carriers
Optimum use of available vertical clearance
Particularly fast and simple arrangement of load
Thorough internal cleaning of glassware of all shapes and sizes
Secure hold and exceptional material protection during wash cycle
System components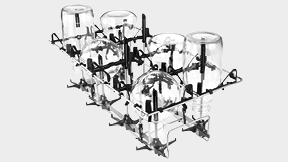 EasyLoad equates to efficiency and convenience:
New injector nozzles (3 diameters, 6 lengths)
New plastic holders and rests
New injector modules (8 - 32 injectors)
New support frame (for 8 - 32 injector positions)
Available for PG 8583 and PG 8583 CD, PG 8593
The use of the new injector nozzles and supports without frames is possible in combination with virtually all Miele laboratory load carrier systems.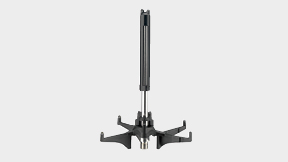 Even if a nozzle tip rests against the base of a glass, the new injectors still guarantee thorough cleaning. The new rest surrounds the injectors in the module or basket, keeping the glassware secure from excess movement while taking up minimum space within the chamber.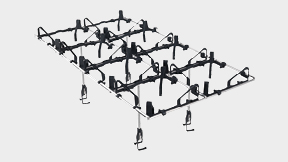 The new support frame provides additional hold. As and when required, it is placed on top of the injector module, providing a secure hold to even large items of laboratory glassware in a vertical and protected position.
Compatibility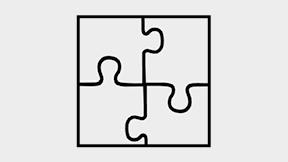 EasyLoad equates to efficiency and convenience:
Compatibility with entire product range. In particular the nozzles of the EasyLoad system can be fitted virtually seamlessly on all Miele lab washers:
| Laboratory Glasswashers | | Modules | Nozzles | Frames |
| --- | --- | --- | --- | --- |
| Current Series | | | | |
| | PG 8583 | | | |
| | PG 8593 | | | |
| | PG 8583 CD | | | |
| Previous Series | | | | |
| | G 7883 | - | | - |
| | G 7893 | - | | - |
| | G 7883 CD | - | | - |
| | PG 8535 | - | | - |
| | PG 8536 | - | | - |
| SlimLine Laboratory Glasswashers | | | | |
| | PLW 6011 | - | - | - |
| | PLW 6111 | - | - | - |
| Large-Capacity Laboratory Glasswashers | | | | |
| | G 7825 | - | | - |
| | PG 8527 | - | | - |
Brochure & Flyer