Invest in peace of mind: How a service plan can benefit your lab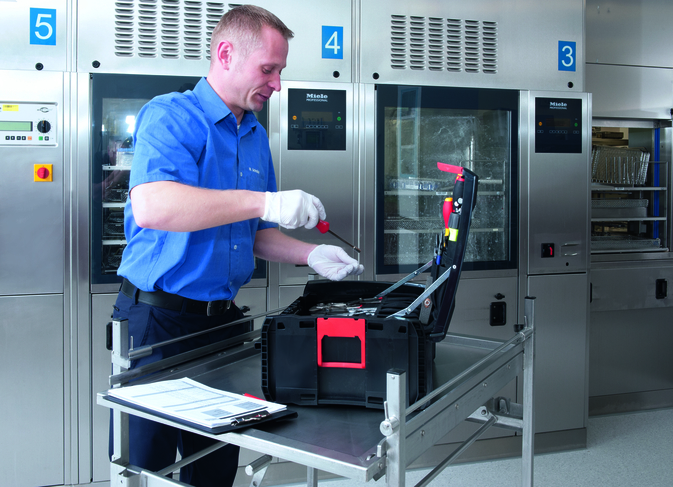 Miele is world-famous for its product innovation, reliability and longevity.
It's true that our products are built to last and our professional range is renowned for its value for money. But we also recommend that our laboratory customers should sign up to the benefits of a Miele Professional service plan.
We offer two levels of plan and there are numerous reasons why a subscription can benefit your organisation.
If you're thinking of taking out a plan or changing your level of service, here's what you need to know.
Choose what's right for you
Depending on the needs of your organisation and your budget, pick the plan that suits you.
Our preventative maintenance option includes call out fee, repairs/breakdowns, labour and end of year services. Whereas our fully comprehensive option includes all of the above, as well as all spare parts. Both offer the peace of mind that your lab machines are performing at their best and can be repaired as a priority, by a highly qualified technician, should a problem occur.
Maximise value
Regular services and technician checks will identify any potential problems with your machine before they occur and keep it working at its optimum capacity. Overall, this will increase the life span of your machines and allow you to enjoy the peace of mind that they are doing their job effectively.
A service plan also minimises downtime. Not only do regular services reduce the risk of breakdowns occurring, but should a problem present itself you can rest assured that a Miele technician can be called out quickly and will have the product knowledge and expertise to fix your machine as soon as possible. Should your appliance require a visit during the contract period, we fix 90% first time, minimising down time.
Continuous improvement
We have recently introduced a new element to our end of year services to assist with performance audits.
Thermal mapping using specialist equipment records a temperature profile of a full cycle on any laboratory glasswasher. A graph is produced showing temperatures and hold times for the assurance that your machine is performing at the required standards.
The task uses specialist Miele software which takes readings from calibrated test equipment probes, or RFID sensors placed inside the machine.
This service can also be carried out on a repair call or on installation.
A refreshing change
Your annual machine service is an ideal opportunity for product training for new team members, or refresher training for your staff. This is a perfect time to learn new hints and tips to help make your lab life easier, for example how switching up your regular wash programme can help with daily tasks. Your technician can also suggest any new products or accessories which can help improve your reprocessing routines.
Better budgeting
Our fully comprehensive service plan means you'll never have to worry about unexpected maintenance charges. All call outs and any spare parts are included in your regular annual fee.
For more information contact professional.service.contracts@Miele.co.uk or call 0330 160 6696.