Four ways DWK products help towards a more sustainable lab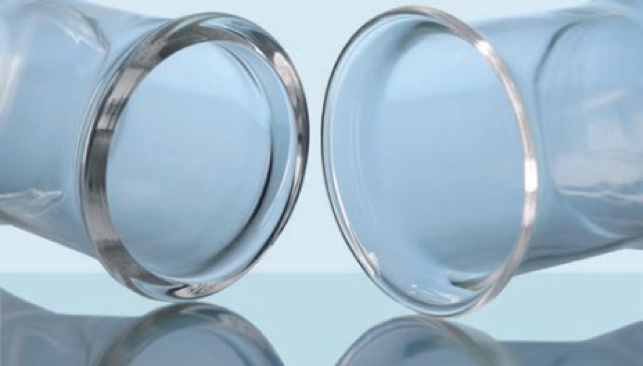 For more than 10 years, Miele and DWK Life Sciences (DWK) have enjoyed an industry-leading partnership that has developed best practice in laboratory glassware reprocessing.
The two companies work closely together in aspects such as product development, marketing and training with the aim of making customers' lab lives easier.
The brands often collaborate in trade events, offering product advice to visitors, and have even worked together along with Dr Weigert to develop the AK Lab glassware reprocessing guide – a publication which shares professional expertise with labs around the world.
A key area both companies support is sustainability, both in terms of manufacturing as well as daily laboratory practice.
We've already shared insights into key features that make Miele glasswashers so eco-friendly, and now here are four ways that DWK's DURAN® brand promotes a sustainable laboratory environment, inkeeping with the brand's motto "excellence in our hands".
Durability by design
Damage commonly reported in laboratory glassware is chipping in the neck, edge and thread regions of products. Careless handling can cause these damages and breakages to occur. DURAN® SUPER DUTY range of beakers, erlenmeyers and measuring cylinders offer reinforced rims for higher mechanical strength. As a result of this modification, the impact strength is improved, and the risk of accidental breakage is significantly reduced. This in turn increases the safety in the laboratory and helps to minimise the risk of injury. The longer life expectancy of these products means that they are more economical.
Details make a difference
Even laboratory labels can have multiple impacts on the environment. Labels are an essential consumable used throughout laboratories, but as it can be difficult to completely remove labels from glassware they are often placed in glasswashers still attached. This can result in a layer of labels obstructing the sump filter, preventing the glasswasher from working effectively. DURAN® YOUTILITY Identification Labels are a tear resistant, white polyester label that use a high performance, peelable adhesive. This allows the labels to stay on even under the most arduous conditions (even inside a Miele washer!) but will simply peel off when no longer required. This makes them ideal for use in fridges, freezers, autoclaves, water baths and glasswashers. They have a wide thermal performance range of −40 to +150 °C and are chemically resistant to many typical laboratory chemicals, and solvents. You can also make use of the label creator website, which is free and easy to use allowing you to design your own labels and to print them without the need for a label printer.
To cap it all…
While borosilicate 3.3 glass is incredibly durable and, if looked after appropriately can last many years, this is not often the case for the accessories that go with it. The caps used on laboratory bottles will need to be replaced more regularly than the bottles themselves, however, a range of caps have been introduced over the years to allow laboratories to choose more sustainable caps that will last longer in the lab.By choosing a more durable cap this will reduce the quantity being replaced and save laboratories money in the long run.
DURAN® Red GL High Temperature Screw Cap from PBT
With higher chemical and temperature resistance compared to polypropylene, this cap is made from polybutylenterephthalat (PBT) and can withstand temperatures of -45 to +180⁰C. This should be considered as an alternative if regularly washing and sterilising caps.
DURAN® Premium Cap
This cap is made from PFA thermoplastic, a pigment free polymer with extremely high chemical resistance and a wide temperature range from -196 - 200⁰C. These are the most sustainable plastic cap available when being used under extreme conditions.
DURAN® Aluminium Screw Closures
For those looking to move away from hydrocarbon based plastics such as plasticisers and phthalates there's the new aluminium closures. Two versions are available: an open top/aperture cap for use with a septum or stopper and a closed top with a high temperature PTFE coated cap liner. With a high temperature usage of up to +260 °C makes they're an excellent cap for depyrogensation or hot air sterilisation. They have high mechanical strength, are fully autoclavable and they fit all GL 45 bottles from 100ml to 25L.
Responsible manufacturing
DURAN® laboratory glass is made from natural, mineral raw materials.Production processes in DWK factories have been consistently optimised to ensure they are environmentally friendly during the manufacturing stage through the minimum usage of valuable resources. Electrical heating and advanced technology in melting units ensure that no pollutants are released during manufacture which could harm workers or people living nearby. In addition, energy demand is kept as low as possible. The latest waste gas purification equipment is used to avoid emissions which could pollute the environment. A significant investment has been made in an enclosed cooling water recirculation system to cut the amount of fresh water required to a minimum, helping to conserve vital water resources.