New large chamber laboratory washers boast eco-friendly technology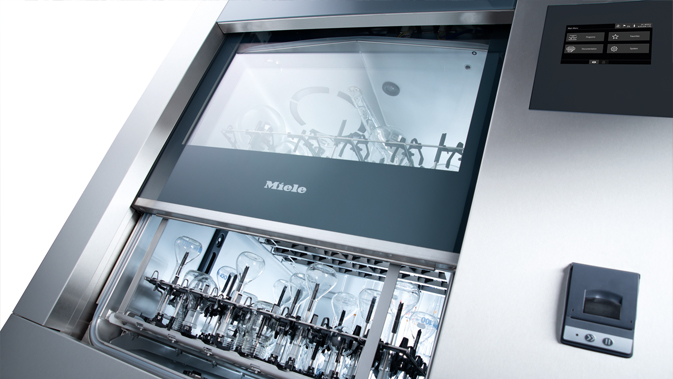 New large chamber laboratory washers boast eco-friendly technology
Miele's brand new large chamber laboratory washer provides the brand's largest load capacity alongside significant water and power savings.
Exclusive features of the PLW 86xx range include a variable speed circulation pump, which saves energy by slowing after the main wash cycle. Its combination of features makes the machine more than 50% more powerful than the previous PG 8527 large chamber model.
Separate recycling and pre-heating tanks (or combi tank on PLW 8615/6) help with economies. The recycling tank reuses final rinse water in a subsequent wash or pre-wash, saving water and the power used to heat it. The pre-heating tank ensures final rinse water is available at the required temperature, considerably reducing the cycle time to as little as 46 minutes including drying for the mini cycle. Overall, the machine uses up to 27% less water per wash than its predecessor of the same chamber size, with a 29% detergent and neutraliser saving.
The flush-fitted 7" control panel is designed to be intuitive and simple-to-use. Three-colour interior chamber lighting is another new feature which allows the wash status to be seen at a glance from a distance.
If space is an issue, the compact PLW 8615/6 is just 900mm wide – 250mm narrower than PLW 8617 – with the same sized 351 litre chamber and a multifunctional combi-tank.
Miele's Dr Bernd Eschweiler commented on the range: "We've already had a lot of interest from businesses and institutions such as universities who require high capacity reprocessing, especially those which have central washing areas.
"This range offers very significant savings on utilities, right from the first wash, which really mount up over time. Plus the EasyLoad accessory range makes them highly flexible – able to safely and simply accommodate items from 5 ml vials to 50 litre carboys."
He added: "Its environmental benefits are also proving attractive. As well as offering impressive energy and water savings, the machines are built from 93% fully recyclable materials."
Optional features include hot air drying with HEPA H14 filter, steam condenser and a printer.
This latest innovation complements Miele's laboratory washer range, which includes the SlimLine collection and underbench models. The PLW 86xx range is available to order now on an eight-week lead time. For customers' added peace of mind, as with all Miele machines, parts will remain available for 15 years after the item goes out of production.