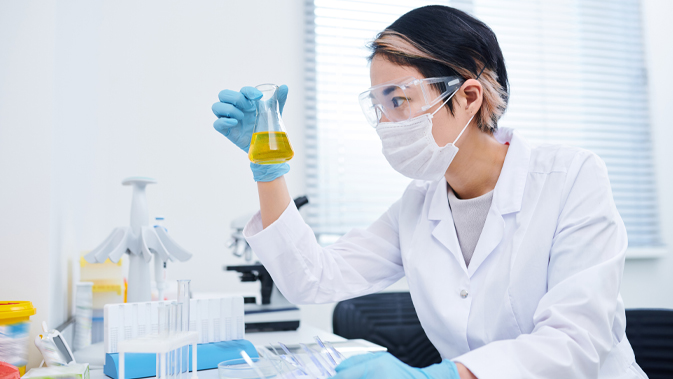 5 important discoveries made by women in science
For years, women have been underrepresented in science-related university courses and careers.
However, the number of women choosing to study core STEM subjects is starting to grow in the UK. Figures from UCAS show 24,000 women graduated from British universities with degrees in core STEM subjects in 2018, compared to 22,020 in 2015.
The advancement of women has been a core part of Miele's corporate strategy since 2016 with initiatives designed to promote equality and diversity within the workforce. This includes introducing measures to create family-friendly working conditions as well as professional support for female staff who show high potential.
In 2017/18, women made up 22.3 per cent of the total Miele workforce and held 23.3 per cent of management positions worldwide. In the UK's Miele Professional department, the balance is even greater, with a 50 per cent female team, including three out of the department's seven managers - Melissa Kershaw, Sarah Dawson and Emma McNamee.
Increasing the number of female staff in senior roles is a key priority for Miele, although there are no fixed targets as the company is committed to recruiting the best person for each job, regardless of gender.
February 11 is the International Day of Women and Girls in Science – a United Nations event which aims to inspire more girls and women to pursue an interest in science. To mark the occasion, Miele takes a look at some key discoveries made by female scientists:
Mary Anning – the palaeontologist behind vital dinosaur discoveries
Born in 1799, Mary Anning spent her life collecting and preparing fossils in Lyme Regis, making a number of key discoveries about prehistoric creatures. Her finds included the skeleton of the first ichthyosaur to be recognised, the first two plesiosaur skeletons ever discovered, the first pterosaur skeleton outside Germany and some fossil fish. Her work was also instrumental in the discovery that bezoar stones – now known as coprolites – were actually fossilised faeces. Although Anning's work was pioneering, she was often ignored by the scientific community because of her gender and she struggled financially for most of her life. After her death in 1847, her contribution was largely forgotten.
Elsie Widdowson – the nutrition expert who restored health to concentration camp survivors
After studying chemistry at Imperial College London, Elsie Widdowson teamed up with Professor RA McCance in 1933 and their scientific analysis of food and nutrition completely changed the way the world looked at nutritional values and the treatment of dietary deficiencies. Widdowson's work made important strides in demonstrating how health could be maintained on a minimal diet. She was involved in developing the dietary policy needed to reverse the effects of starvation suffered by former inmates of Nazi concentration camps during the Second World War and she investigated the effects of different types of bread on the recovery rates of malnourished children in Germany.
Dorothy Hodgkin – the biological chemist who discovered the structure of vitamin B12
Born in 1910, Dorothy Hodgkin graduated from Oxford University with a degree in chemistry before going on to carry out important research on biological molecules. In 1939, Hodgkin was asked to solve the structure of penicillin by the Australian pathologist Howard Florey and his colleagues at Oxford. She took on the challenge and succeeded in describing the arrangements of penicillin's atoms in three dimensions by 1945. This achievement saw her elected to the Royal Society in 1947. In 1957, Hodgkin discovered the molecular structure of vitamin B12 – work which saw her receive the 1964 Nobel Prize in chemistry.
Dame Anne McLaren – the reproductive biologist who paved the way for IVF
The advances made by Anne McLaren in genetics led to the birth of the first baby born using in-vitro fertilisation (IVF). Working with mice, she studied the impact of super ovulation on fertility. In 1958, she produced a litter of mice by developing fertilised eggs in tissue culture and then transferring the embryos into the womb of a surrogate mother. This technique was then used to develop human embryo transfer and the world's first test-tube baby was born 20 years later. Dame Anne also carried out vital research in the areas of contraception, reproductive immunology, DNA hybridization and chimeras.
Alice Ball – the American chemist who developed a treatment for leprosy
Alice Ball died at the age of 24 from suspected chlorine poisoning but in her short life, she managed to achieve some amazing things. She was both the first woman and the first African-American to receive a master's degree from the University of Hawaii in 1915 and she went on to become the institution's first female chemistry professor. Before her death on December 31 1916, she developed a technique for treating leprosy, which at the time was seen as an incurable disease. She created a method of modifying the natural ingredient chaulmoogra oil to create an extract could be injected and absorbed by the body. These injections became the most effective treatment for leprosy, also known as Hansen's disease, from the 1920s until the 1940s when sulphonamide drugs were developed.