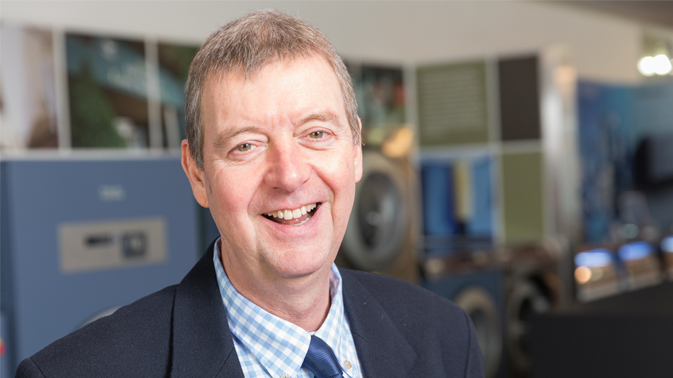 You're in good hands with our Miele Lab Team
Introducing the Miele Lab Team…
Whether you are a prospective customer or a long-term user of Miele glasswashers and washer-disinfectors, our lab team, Malcolm Peck and Nadine Bellamy-Thomas, is on hand to talk through your requirements and offer technical advice.
Malcolm joined Miele over 35 years ago as an engineer. Since then, his career has taken him through a variety of roles – including sales and account management – and the knowledge he has acquired along the way is now being put to good use in his current position as our Technical Specialist, Scientific and Medical. His strong technical background and hands-on expertise, complemented by experience in a customer-facing role, puts Malcolm in the perfect position to answer technical queries. Whether you want to know how something works, need advice on specifications, validation and troubleshooting, or simply the best programme and detergent to use for a particular application, Malcolm is just a phone call away.
Working alongside Malcolm is our National Account Manager for Medical and Decontamination, Nadine. Nadine joined Miele in 2016, having spent a large part of her career in various roles in the NHS. She then moved into medical supplies in customer-facing roles that included sales account management, training and, latterly, infection control. With experience of working in theatres, intensive care and neonatal units, and tissue viability, Nadine fully understands the importance of thorough cleaning and disinfection of equipment, which is essential to the day-to-day running of hospitals and laboratories. Nadine works closely with our network of partner suppliers and individual customers to determine a laboratory's exact needs and identify the best Miele solution, collaborating with Malcolm for technical support or if a tailored system is required.
Putting Miele to the test
A new glasswsher or washer-disinfector represents a significant outlay, and you need to be certain that you have chosen the best piece of equipment for your application. There is no better way than to 'try before you buy', and so Miele has established a test wash area at its Abingdon headquarters – as far as we know, the only such facility in the country. We're so confident in the performance of our washers, that we are more than happy to invite prospective and existing customers to come along with their soiled glassware and try the machines for themselves. When it comes to establishing the build quality and efficiency of a washer, there is no substitute for hands-on experience. Malcolm and Nadine will be on hand to offer advice and guidance, helping you to choose the best combination of washer and accessories for your particular laboratory and applications.