Equestrian Michaels & Beerbaum
Living for equestrian sports Success in business is complemented by many with laurels won in equestrian sports and this couple are amongst the best in show-jumping. In 2005 alone, Meredith Michaels-Beerbaum was the winner of the World Cup Final in Las Vegas, the Team European Champion and Rider of the Year, and also won the Grand Prix in Aachen and the Bambi media prize.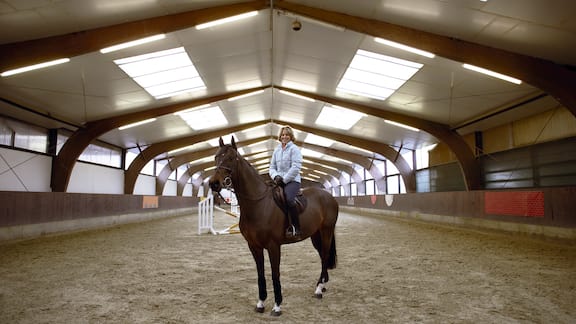 Elite home for special horses
The sight of the decorative thatched country house in the heart of the lush parkland gives visitors an initial impression of tranquil country life. But a glance at the adjoining stables and farm buildings paints a very different picture. Everything here has always been to do with horses. In November 1997 Meredith Michaels and Markus Beerbaum, who was later to become her husband, bought the riding stables that had belonged to the former World Champion Gerd Wiltfangs in Thedinghausen. Nowadays they run it together as a venue for championships, training and a high-end riding stables. In 1991 Meredith Michaels left the USA and joined the riding stables owned by Paul Schockemöhle in Mühlen, with the aim of further perfecting her already prestigious riding skills. Later she trained together with Markus Beerbaum at the stables of Dieter Graf Landsberg Velen in Balve, until her wish for her own riding stables could be realised.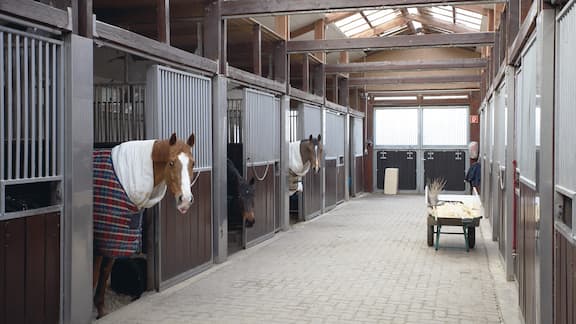 40 horses represent mountains of textiles to be cared for. Riding habits, horse blankets, saddle cloths, etc. must always be clean and available and present a whole range of challenges as far as wash procedures and machine performance are concerned. Michaels & Beerbaum are happy to rely completely on the professional technology of Miele.
Learn more about related industries
You will also find our expertise in other reference objects