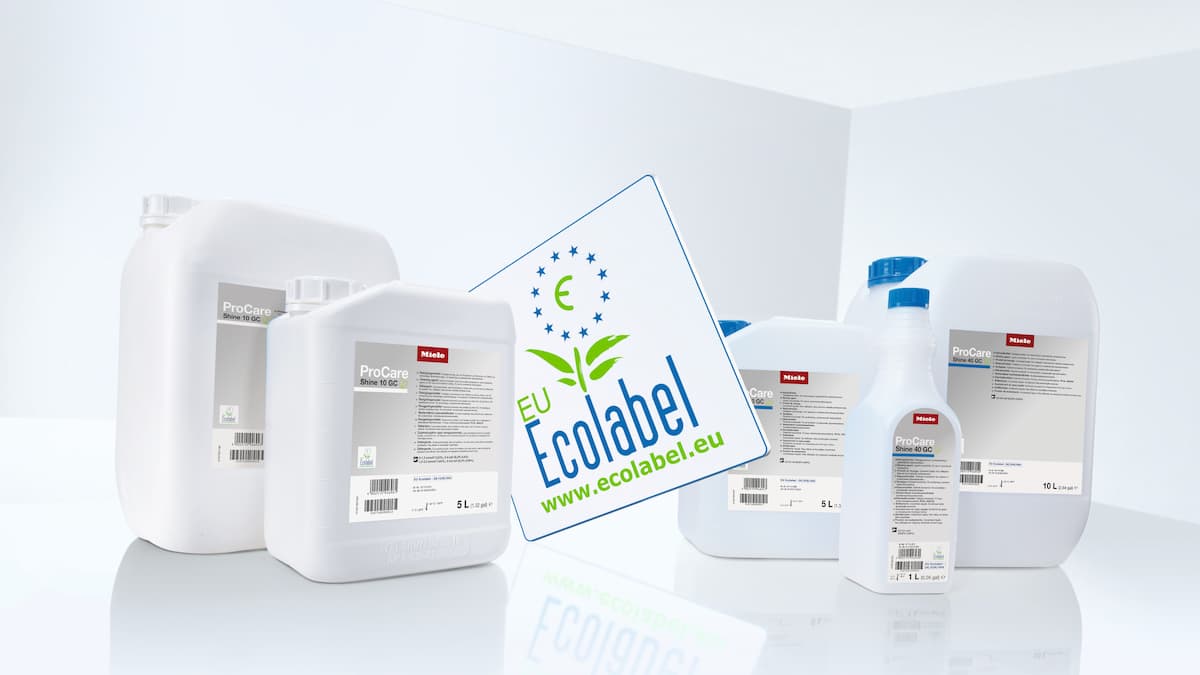 Chemical cleaning agents
Carefully formulated products: Detergents and rinse aid ensure spotless results and preserve the value of loads long-term.
Note
The use of tablets is only suitable for programme durations of at least 10 minutes.
Note
By using products with the EU environmental label in accordance with dispensing recommendations, you will be contributing towards reduced water pollution and a reduction in waste.
Learn more about our chemical cleaning agents for dishwashers
ProCare Shine
Cleaning agent and rinsing agent in Miele quality
Exploit the performance potential of your high-quality Miele Professional dishwasher to the full:
A range of completely new detergents and rinse aid has been developed for use in Miele dishwashers as part of the ProCare Shine series, and are guaranteed to be compatible with your machine. With their carefully balanced formulations, they form the basis of professional dishwashing and are not only impressively economical to use, but also create delightfully sparkling results.
Commercial technology for professional requirement
The highest level of technology
Thanks to innovative and robust commercial technology as well as application-specific programmes for requirements that extend far beyond the household area, Miele Professional machines are perfectly geared to commercial use. Numerous connection options and powerful heater elements enable short cycles and optimum cleaning results with maximum economy. Dispenser modules guarantee the efficient use of cleaning agents and rinsing agent, whilst the water preparation systems optimise the wash results.
Designed for perfect results
The ultimate in innovation
For more than 120 years, our motto "Immer Besser" has driven us to find unique solutions for you. The high level of innovation used by the global brand Miele has become virtually synonymous with practical products that are impressively economical to run and give perfect reprocessing results. The Miele Professional engineers invest a lot of time and energy in developing innovative features to make your daily work easier. For example, as well as perfect cleaning results the fresh-water system delivers a high standard of hygiene with simultaneous cleaning at two levels.