New Little Giants – The foundation for your success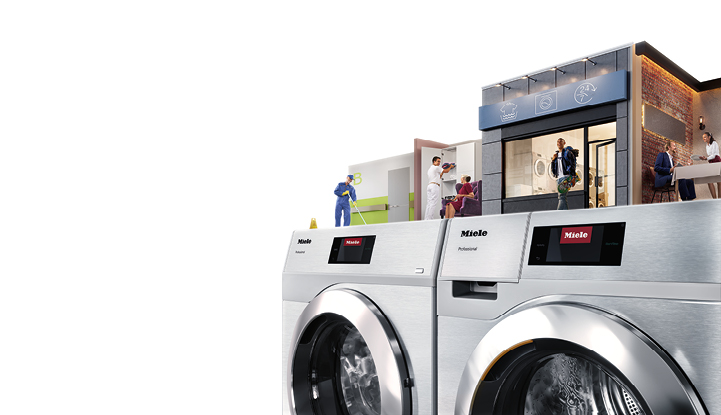 The foundation for your success
The new Little Giants
Discover the compact Miele washing machines and tumble dryers for commercial use – and discover innovative technologies for even greater cleaning performance, economy, user convenience and flexibility.
Go to washing machines
Go to tumble dryers
Customer benefits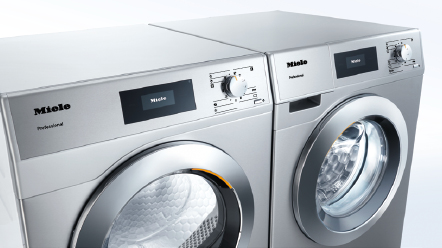 You can rely on Miele:
For the last 40 years, over a million Little Giants have helped hotels, care homes and a range of businesses to provide crucial services to their customers. The new generation of Little Giants combines advanced technology with German engineering for even better cleaning and hygiene performance while maintaining a small footprint.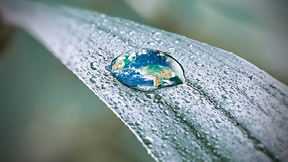 Engineered for precision and with short cycle times of just 85 minutes helps to conserve valuable water, electricity and detergent resources and saves money.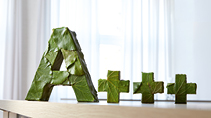 A+++
Absolutely exemplary: the highest energy efficiency class with excellent wash results and short cycle times.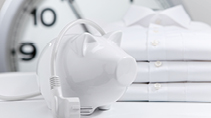 EcoSpeed
Intensive cleaning with reduced water consumption due to gradual changes in speed.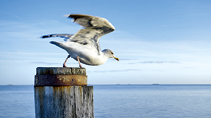 Economical and efficient
Miele Professional commercial laundry machines excel in performance while using less energy and water.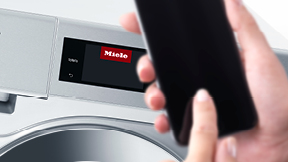 The new Little Giants innovative range of connection options opens up a range of smart functions that can easily be controlled from your smartphone.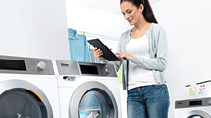 WiFiConn@ct
Excellent networking via WiFiConn@ct: connect via smartphone/tablet, retrieve status updates and control appliances.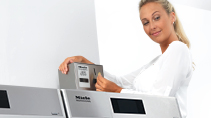 XCI box
The XCI box creates a wireless connection that allows your Little Giant to connect to payment systems, configure automatic dosing and create machine reservations.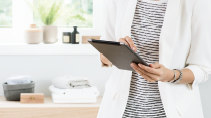 Stay fully informed at all times
In addition to the built-in WiFi function, a high-performance WLAN/LAN module is also available as an option. This allows the machine to be integrated easily into existing networks.
Greater convenience and flexibility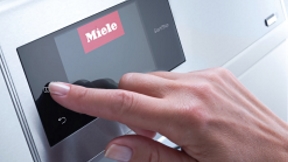 A variety of drum sizes and bespoke programmes mean ultimate usability for a wide range of laundry (or business) needs. The simplicity of the intuitive touch display and navigation in 32 languages makes operating the Litte Giants as effortless as possible.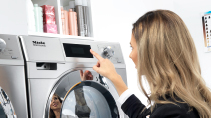 Simple and intuitive to use
From rotary control to full-touch colour display: the user interface on the new Little Giants is simple and easy to understand.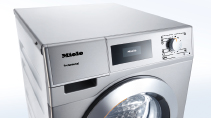 User instructions in a variety of languages
Digital display of operating instructions in 32 languages helps prevent operating error and loss of valuable downtime.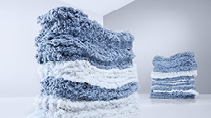 Professional programmes
Special high-performance wash programmes for a wide range of applications help to remove the most stubborn stains for a higher quality wash.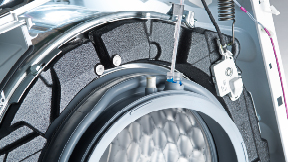 The heritage of Miele delivers not only durable and reliable machines with low running costs, but also outstanding cleaning quality. The Little Giants don't compromise the protection of textiles either as the carefully engineered components work together to deliver both a gentle and efficient laundry-care system.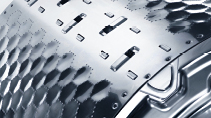 Efficient scoop rib technology
Fast, optimum wetting is achieved with specially designed scoop ribs.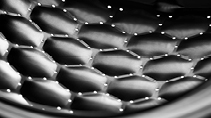 Patented honeycomb drum
The honeycomb pattern on the drum surface protects laundry perfectly during the washing and drying process.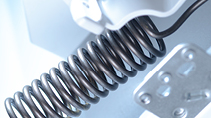 Long service life
Professional technology ensures excellent reliability and durability for the daily work routine.
Industries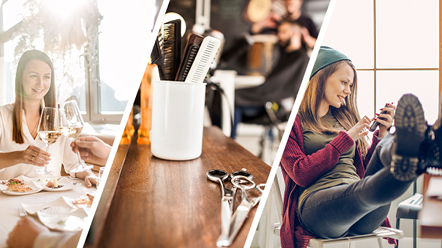 The right solution for your industry
No matter what industry you work in, relying on a supply of clean and hygenic laundry requires a powerful and systematic approach that produces perfect results first-time.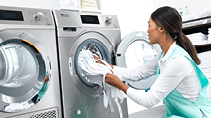 Hotels and restaurants
Brilliantly white tablecloths, fresh towels and soft and hygenic sheets - impecibly processed laundry is the best advertisement for any hotel or restaurant. Not only will it make your guests feel more at home but plays a big part in customer-satisfaction levels, helping to make them repeat customers.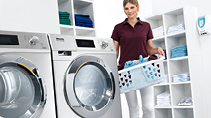 Care homes
The well-being of residents is of paramount importance in care and nursing homes. The care and attention of staff contributes just as much to a sense of well-being and feeling at home as hygiene, cleanliness and a careful treatment of personal garments.
Contract cleaners
Modern contract cleaning places huge demands on quantity output and flexibility when cleaning and disinfecting mops, cloths and other textiles. The correct machine type is essential to ensure competitiveness.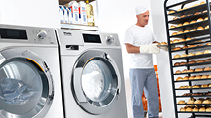 Small businesses & services
Whether you own a hairdressing salon, cafe or butcher's shop, providing excellent service and attention to your customers is paramount. Our machines provide the professional laundry solution so you can focus on other things.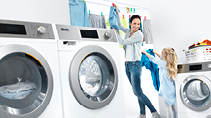 Housing associations
In laundry rooms used by a high volume of people demands on machines are high. Our Little Giants, with a robust design, longevity and reliability, easy to operate interface and wide selection of wash programmes are a ideal fit for the sector.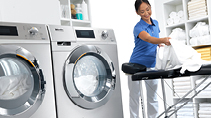 Wherever you work, we can help!
Alongside the industries presented here, the new Little Giants are also perfectly suited for use in spas, by rescue services, on marine vessels and in many other areas. In line with our brand promise "Immer Besser" ("Forever Better"), we will do whatever we can to find the best solution for you!
The new Little Giants
Performance
Convincing performance for commercial users.
Performance Plus
Uncompromising high-end solution for the most discerning.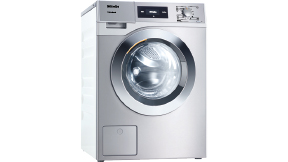 PWM 50x washing machines
High load capacity of 7 kg
High-level user convenience with rotary control, touch display and language selection
Patented honeycomb drum
Numerous special programmes as standard, e.g. for sports, spas, hotels, hairdressers, home furnishings, etc.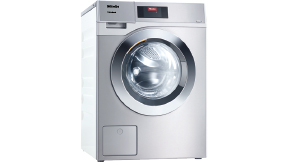 PWM 90x washing machines
Choice of load capacities: 6, 7 or 8 kg
Maximum user convenience with full-touch colour display and language selection
Patented honeycomb drum
Efficient connectivity with WiFiConn@ct
Numerous additional special programmes as standard, e.g. outerwear, various disinfection programmes, WetCare, special programmes, etc.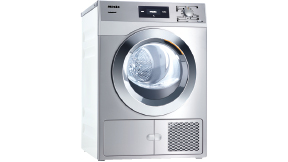 PDR 50x tumble dryer
Load capacity of 7 kg
High-level user convenience with rotary control, touch display and language selection
As vented or heat-pump dryer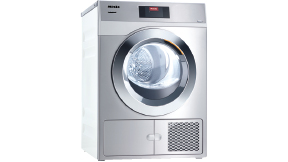 PDR 90x tumble dryer
High load capacity of 8 kg
Maximum user convenience with full-touch colour display and language selection
As vented or heat-pump dryer
Media
Contact us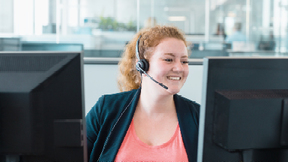 Contact us!
Any questions or do you need further information on our products?
Please use our contact form, send us an email or call us free of charge.
Or contact one of our numerous Miele Professional partners in your locality.
Locate a dealer