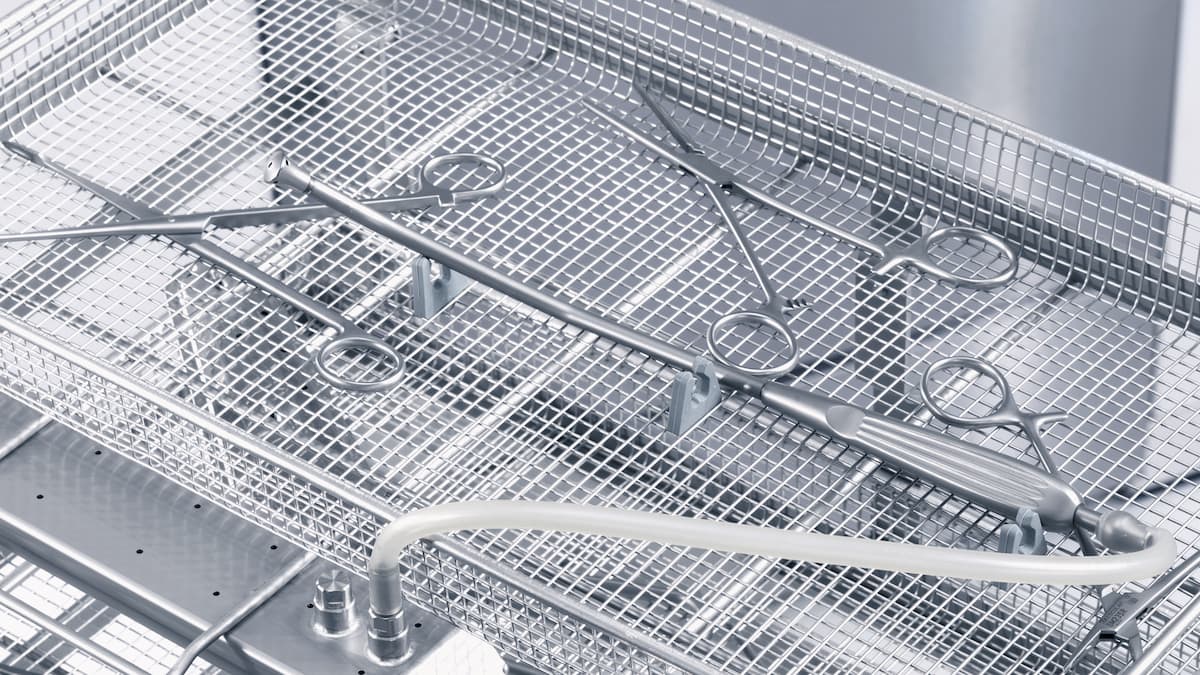 Professional medical technology
A clear decision in hospitals and surgeries
A holistic approach to instrument reprocessing - Miele Professional is setting milestones in the efficient and safe machine-based reprocessing of instruments. Surgeries and clinics profit from a four-stage solution from a single source which optimises both the process cycle and administrative work.
*By clicking on the link you will be redirected to the website of the Steelco Group. Steelco is a wholly owned subsidiary of the Miele Group and handles, among other things, the project business for planning and equipping the central sterile supply in hospitals.
Why Medical Technology from Miele Professional?
Robust and durable
Quality you can rely on
A demanding working day requires products you can always rely on 100%. To guarantee this reliability, all machines from Miele Professional undergo comprehensive quality tests and an extremely rigorous final inspection. Only once all the tests have been successfully passed in the factory are the machines released for dispatch or installation on site. The ongoing and stringent quality controls are an important part of the high quality standards that Miele Professional sets itself. These standards apply even to the production of the individual components and result in an outstanding production depth: metal processing, the manufacture of plastic parts, motor and pump development as well as electronics manufacturing. All the important production steps are completed in the company itself, so that Miele retains full control over the quality in all the different areas. 
Perfect sustainability
Outstanding efficiency and economy.
The highest level of performance together with outstanding efficiency and economy. The combination of these apparently contradictory claims is a typical characteristic of Miele Professional system solutions. Our machines and processes stand out thanks to their extremely low consumption of water, electricity and chemicals as well as to innovative programmes that achieve outstanding cleaning results whilst providing the utmost care for the materials the load is made from. Advanced technologies underpin the high efficiency claims for our products, such as system and resource savings. Thanks to the high quality of materials and manufacturing processes used, Miele Professional machines have a long service life – another advantage in terms of economy.
In good hands
Planning and installation – Miele from the start
Even before you install your new machine, Miele is at your side with comprehensive advisory services. This includes the calculation of current and future capacity requirements as well as in-depth economic considerations. And particularly in the case of larger-scale projects, with Miele as your strong partner you can benefit from its many years of experience. Our specialists support your planners and architects, create installation drawings, coordinate the different trades on request and carry out the liaising with other service providers, for example regarding the installation of the IT infrastructure or the functional furniture. 
Practical solutions
Cleaning, disinfection and sterilisation machines 
Miele Professional has been setting standards in the field of efficient and safe machine-based instrument reprocessing in clinics and surgeries for more than five decades. Washer-disinfectors from Miele Professional enable the safe and reproducible cleaning and disinfection of instruments used by doctors and surgeons. They are particularly gentle, protect materials and meet the highest requirements for an instrument cycle without any weak points. Furthermore, they can be used in all areas of medicine, while programme packages are available for specific target groups.
The right equipment for your application
Perfectly matching components
In order to ensure that medical devices are reprocessed safely and in a manner which retains their value, Miele Professional offers a wide range of components including upper and lower baskets, mobile units and inserts for a broad range of instruments. These components are the perfect match for the Miele Professional appliances and enable individual solutions for every requirement – including reprocessing anaesthetic instruments, MIS instruments, and components suitable for ophthalmology and gynaecology. Process chemicals for bedpan washer-disinfectors are also available and are ideal for use with our appliances.
Seamlessly reproducible process operations
Intelligent documentation software
Miele Professional offers flexible solutions for the documentation of instrument reprocessing. The documentation of reprocessing, including all relevant parameters, represents a clear quality benefit – and offers a wide range of opportunities to optimise both processes and costs. For example, Miele Professional offers the particularly time-saving Plug & Play solution via the DataDiary app for gap-free process documentation of instrument reprocessing. This collects process data automatically and enables reports to be generated via app on a tablet computer. Miele Professional also offers other solutions that are not controlled by apps.
A strong partner
Typical Miele – the service too
Miele Professional is synonymous with exceptional quality – not least when it comes to service. Blanket service coverage enables a response within 24 hours. Miele also offers a series of process checks performed at various times throughout a machine's life cycle. Specially trained technicians carry out process tests in accordance with legal requirements and standards as well as country-specific recommendations. And, thanks to on-board spares, first service visits result in around 90 % first-time fixes. It is no coincidence that Miele's customer service has been awarded top ratings for outstanding service for many years.