Catharina Ziekenhuis
During the course of extensive new construction and renovation work, the Catharina Ziekenhuis was equipped with a new sterile services department in 2010. It was important for the hospital that not only the appliances but also all the further services to do with the CSSD should be provided from the same source. At almost the same time, Miele Professional introduced its new System4Med as the system provider for central sterilisation.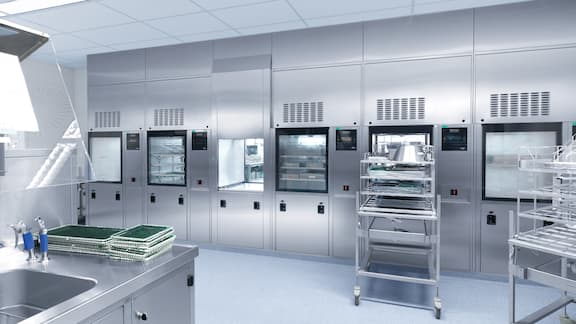 More performance and quality for the CSSD
"Gedreven door het leven – driven by life", is the motto of the Catharina Ziekenhuis, which was founded in 1973. With 696 beds it is not only the largest hospital in the region, but also the most efficient by far. In addition, the hospital operates as an academic teaching hospital. The high level of performance and efficiency of the Catharina Ziekenhuis is also due to its many treatment centres. The heart centre alone is one of the largest centres for interventional cardiology and heart surgery in the Netherlands.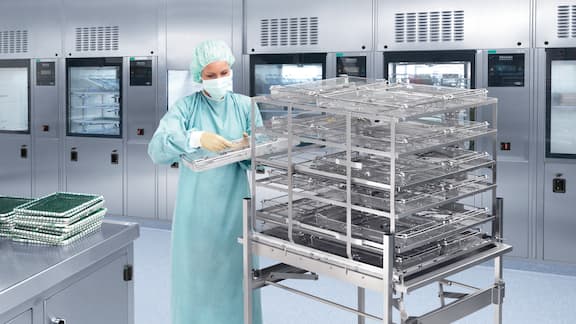 A new adipositas centre was recently opened and the oncology centre has been completely renewed and expanded. Patients are treated here by specialist doctors from a number of different disciplines. The experts from Miele developed a plan for the new build of the hospital's CSSD together with the Catharina Ziekenhuis. Covering an area of 800 square metres, 5 large chamber disinfectors, 1 large chamber system for cleaning and disinfection as well as 5 large sterilisers from Miele Professional were installed, as well as comprehensive functional equipment and accessories. Every phase in the building, installation and assembly work had to be planned in minute detail, in order to cause as little disruption as possible to the current reprocessing work being carried out.
Learn more about related industries
You will also find our expertise in other reference objects