Miele WMV 960WPS Prestige Washing Machine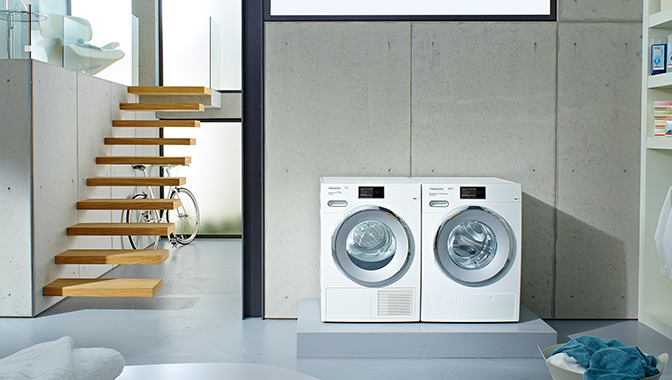 Featuring intuitive touch screen displays, the new Miele W1 Prestige Washing Machine (WMV 960WPS) and T1 Prestige Tumble Dryer (TMV 840WP) will take great care of your laundry including woollens, denim, cottons, sportswear, shirts, delicates and silk. You can save up to 10 of your favourite customised programmes, while the Miele Washing and Tumble Dryer Assistant function is also on board offering advice on the most suitable setting for the task in hand. If you have a few clothing types to wash or dry, simply select the different fabrics; up to three from a choice of 19 and the intelligent machines will put together a suitable wash and dry programme.
Miele WMV 960WPS Prestige Washing Machine - £1,999
Rated A+++ minus 40% for energy efficiency,* the new flagship W1 washing machine offers Miele's latest PowerWash 2.0 cleaning system, which uses a powerful spin and spray system on clothes for excellent cleaning results. A Quick PowerWash option is also available and takes just an hour to run a full A-rated wash, ideal when you are short on time but still want great washing results.
This 9kg, 1600 RPM machine can be used in conjunction with Miele's CapDos detergent capsules for gentle cleaning of specialist clothing types including sportswear, down, outdoor, woolcare, silkcare and reproofing. Simply add a capsule to the dispensing drawer and select the programme. When washing standard loads an innovative TwinDos two-phase detergent system releases Miele's basic detergent (Ultraphase 1) and detergent enhancer (Ultraphase 2), or the customers own choice of liquid detergent and fabric conditioner at the most appropriate point for the best results and will also save up to 30% on detergent consumption.
With 26 specialist wash programmes available, you can rest assured that the WMV 960WPS will take great care of your clothes. It is also possible to customise the programmes; Intensive ensures good detergency without extending the wash cycle; Eco reduces energy consumption while extending the cycle duration; Extra Gentle reduces mechanical action offering gentle care to reduce creasing; Extra Quiet reduces the noise while AllergoWash improves hygiene by extending the temperature holding time and using more water to thoroughly remove detergent residues, great for new parents.
The SoftSteam Honeycomb Drum used in conjunction with the Steam Smoothing option evenly injects steam at the end of a programme to gently smooth your clothes and reduces the need for ironing by up to 50%. Other features include an Express 20 minute fast wash, stain removal action, LED drum lighting, EcoFeedback and Miele's unique Waterproof Protection System, giving you a lifetime guarantee against flooding.
Miele TMV 840WP - £1,999
The only heat pump dryer on the market, which has an A+++ energy rating with a 9kg drum, the TMV 840WP uses a powerful, but efficient Heat Pump to achieve a reduction in energy consumption of up to 46% (compared to a Miele condenser dryer). It also offers energy consumption forecasts and information about filter saturation to ensure you can keep it working to maximum efficiency.
Featuring a host of sophisticated features, this tumble dryer takes gentle care of your clothes while allowing you to fit the laundry conveniently into your schedule. The PerfectDry system automatically sets optimum drying times based on the mineral and moisture levels in your clothes to avoid over or under drying. If you want to keep your laundry smelling great for longer, simply add a FragranceDos capsule, which fits in the door of the tumble dryer. During the drying process the warm air passes through the 'Flacon', transferring the fragrance onto the garments. The scent will last around four weeks.
A Steam Finish function removes creases by spraying water into the drum, which combines with hot air and drum rotation to gently stretch and smooth the fibres in your clothes. Other benefits include an Express cycle, Half Load, Extra Quiet and a Freshen Up function that livens up clean, dry clothes that haven't been worn for a while.
* On a programme that lasts less than three hours