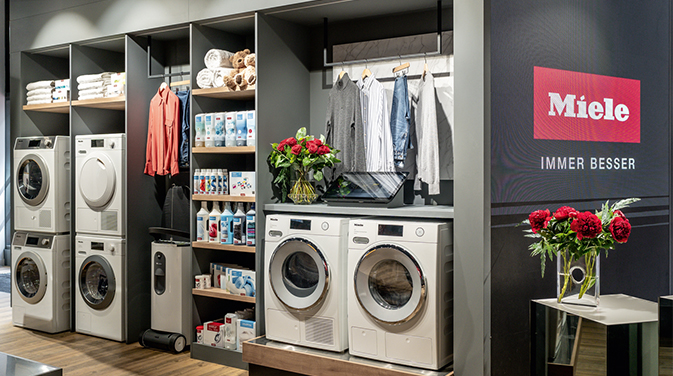 MIELE STORE TO OPEN AT BLUEWATER A SHOWCASE FOR ITS PREMIUM, SUSTAINABLE HOME APPLIANCES
With a 'Spin the Drum' Competition Offering a Chance to Win Major Prizes
19 April 2022 German manufacturer, Miele, renowned for its range of premium and sustainable home appliances, is to open a dedicated Miele retail store within Bluewater on 29 April. This will be the fourth Miele consumer store in the UK after London, Oxfordshire and Edinburgh. The purpose of the Miele store is to bring Miele's high-end products to life, with its expert sales consultants on hand to provide customers with the opportunity to fully explore Miele's most popular appliances live and experience the latest state-of-the-art home technology. Exciting activities on the opening weekend, 29 April – 2 May, will give visitors the chance to take part in a 'Spin the Drum' competition, offering the chance to win appliance prizes worth up to £1,999 each day.
John Pickering, managing director for Miele GB says, "We are thrilled to be opening a Miele store within Bluewater. Miele's mission is to create quality products that improve our customers' lives, that are designed, built and tested to last – many for up to 20 years. Our own Miele stores epitomise the superior quality of the Miele brand and provide the opportunity for our customers to feel, touch and see the value of our appliances. We are looking forward to welcoming Bluewater customers and helping them make informed decisions about buying new sustainable appliances and ensuring they get the absolute most out of them."
James Waugh, Centre Director at Bluewater, said: "We are delighted to welcome Miele's fourth store to our homeware line-up. With home appliances proving popular amongst our guests, we are confident that they will enjoy the premium, quality products, coupled with specialist advice from expert sales consultants, available at Miele."
Whether a customer is looking for a replacement washing machine, or a full suite of appliances for their dream kitchen, the new Miele store will be a destination of discovery where a range of sustainable appliances are on display, including laundry, cooking, dishwashers and floorcare. Highly trained and knowledgeable sales consultants are on hand to give demonstrations and help customers understand why Miele products are different and to help them choose the right products for them. They will cover everything from key product features and benefits through to quality of design and manufacturing processes. With future plans to host specialist workshops that help customers understand how Miele's innovative technology can enhance their lives, or how to get the very best out of their current appliances to make their lives easier.
The new Miele store at Bluewater will be managed by Simon Couzins who will be supported by a team of passionate sales consultants. The new store creates seven new jobs and is centrally located in the Upper Guildhall within Bluewater.
The opening festivities from 29 April – 2 May will see cookery demonstrations from Miele's lead home economist, Cesar Fernandez, who will be serving delicious pastries and home-made cakes along with specialist coffees from Miele's bean to cup machines. There will also be an exclusive in store 'Spin the Drum' competition. Visitors will be able to 'Spin the Drum' for the chance to win one of Miele's incredible prizes including a washing machine, dishwasher, tumble dryer and cordless vacuum cleaner along with £25 or £50 vouchers.
The new Miele store can be found at U109 Upper Guildhall, Bluewater Shopping Centre, Bluewater Pkwy, Dartford, Greenhithe, DA9 9ST and is open Monday – Saturday 10am – 9pm and 11am – 5pm on Sunday. Doors open at 10am on 29 April 2022.
For more information about Miele visit miele.co.uk