MIELE CELEBRATES OPENING OF ITS NEW EXPERIENCE CENTRE AT ST JAMES QUARTER, EDINBURGH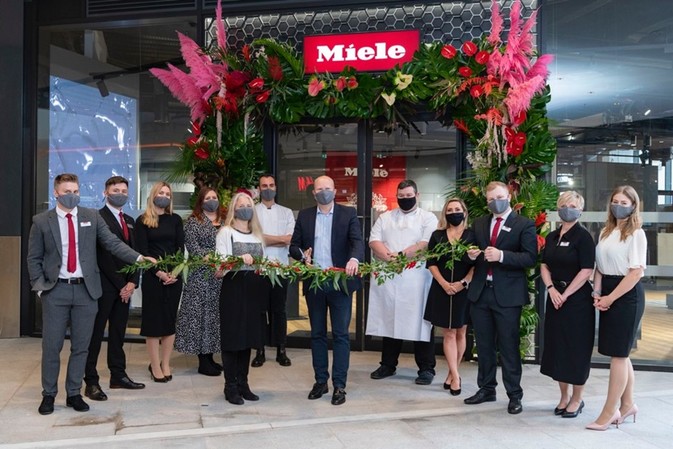 29 June 2021 Premium German appliance manufacturer, Miele has opened a new Experience Centre within the exciting new district of St James Quarter in Edinburgh. This is the third Miele Experience Centre in the UK after London and Oxfordshire, and the 100th worldwide. The carnival inspired opening featured a spectacular floral installation over the entrance to the new store created by Edinburgh-based Wild Flowers. Guests were treated to cookery demonstrations and 'street food' style treats and bites from the renowned and award-wining Scottish chef, Mark Heirs. An exclusive 'Spin the Drum' competition enabled 100 visitors to win one of 100 prizes including a washing machine, dishwasher, coffee machine and a vacuum cleaner as well as vouchers to use in store.
The purpose of the Experience Centre is to bring Miele products to life and to provide customers with the opportunity to fully interact with live appliances and experience new technology. Whether a customer is looking for a replacement washing machine or researching a full suite of appliances for their new dream kitchen, knowledgeable sales consultants and home economists can help guide them on the products that are right for them.
John Pickering, managing director for Miele GB says, "We have received an incredibly warm welcome to Edinburgh by local people who visited our new Miele Experience Centre. Our mission is to create quality products that improve our customers' lives, that are designed, built and tested to last – many for up to 20 years. We are looking forward to helping customers from all over Scotland make informed decisions about buying new sustainable appliances and ensuring they get the absolute most out of them."
The new Edinburgh Miele Experience Centre will be a destination of discovery, where a range of sustainable appliances will be on display including laundry, cooking, dishwashers and floorcare. Carefully curated interactive 'Discovery Classes' will also be introduced from September, to help customers to see and feel why Miele products are different. The classes will cover everything from key product features and benefits, quality of design and manufacture through to cooking and recipe demonstrations.
The new Experience Centre will be managed by Ewan Laing who will be supported by a team of sales consultants and home economists. The new store creates eight new jobs and is centrally located in the new St James Quarter, a vibrant new shopping and food destination in Edinburgh.
The new Miele Experience Centre can be found at 243 St James Crescent, EH1 3AD. Doors open at 9am on 24 June 2021.