Miele wins National German Sustainability Award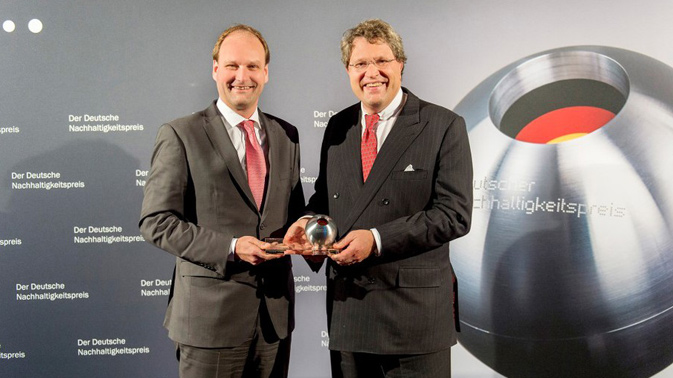 Product longevity sets standards in the industry
Gütersloh/Düsseldorf, December 1, 2014. – Miele has received one of Europe's most important sustainability prizes for its on-going sustainable corporate policies. Miele Executive Directors Dr Markus Miele and Dr Reinhard Zinkann accepted the award last Friday from North Rhine-Westphalia's Environmental Minister Johannes Remmel at a ceremony in Düsseldorf.
The Gütersloh-based domestic appliance manufacturer won the award in the 'large companies' category. The jury honoured in particular the company's extensive sustainability strategy and the longevity of its products. When questioned by the compere and co-initiator of the prize, journalist Stefan Schulze-Hausmann, Dr Markus Miele confirmed that Miele never entertains compromises when it comes to quality and results.
In the jury's explanatory statement, Miele's transparency in presenting its activities in its Sustainability Report were highlighted. The fact that Miele assesses the sustainability of its upstream suppliers and stands for 'high social standards well above the average' among employees added further weight to the Miele nomination. The durability of Miele domestic appliances, combined with excellent energy efficiency and low consumption 'sets an exceptionally good example for sustainability in its branch of industry and in society in general'.
The jury of the National German Sustainability Award consists of well-known experts from trade and industry, politics, research and civil society under the auspices of Professor Dr Günther Bachmann, Secretary General of the German Council for Sustainable Development.
The National German Sustainability Award, awarded for the seventh time by the eponymous foundation, counts among Europe's most coveted sustainability awards.
>>>
Guest of honour at the glamorous awards gala was the astronaut Alexander Gerst. Awards also went to the former German president Horst Köhler, the actor Colin Firth and his wife Livia for their social and environmental commitment and to the singer Nelly Furtado for her humanitarian work.