Miele Introduces New T1 Tumble Dryers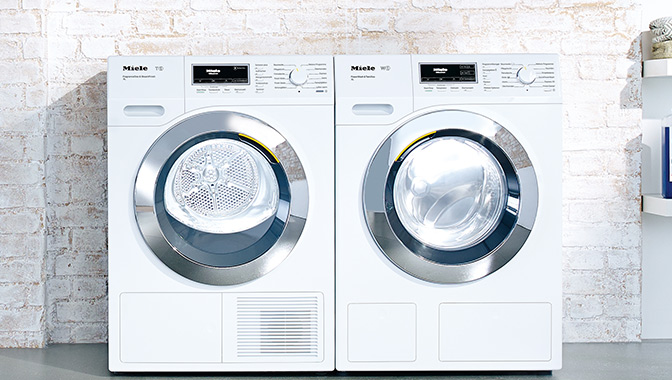 The German premium domestic appliance manufacturer, Miele is launching a new T1 tumble dryer collection. Available from March 2014, this new range of tumble dryers uses heat pump technology to deliver at least an A+ energy rating and also benefits from an A rating for condensation to help limit moisture being released into the air. Miele's new laundry collection, which includes the T1 tumble dryers and W1 washing machines have been developed over the last five years with a €100 million investment that includes a new production plant and equipment.
A new SteamFinish function (available on most T1 models) reduces the need for ironing and can also be used to refresh dry garments or items that need a quick smoothing. It works by spraying an aerosol created by passing water from the condensate container through a nozzle into the drum, where it turns to steam when exposed to the hot process air. This in turn removes wrinkles and stretches fabrics as they tumble.
The T1 series also includes Miele's exclusive PerfectDry function, which prevents under or over-drying, as well as the FragranceDos feature, which adds a pleasantly fresh fragrance to your laundry in a choice of Aqua, Cocoon and Nature Flacons that will last around four weeks.
Other benefits include, Miele's tried and tested PerfectDry system and the new honeycomb plus drum, which has larger hexagons, new drum ribs and a modified reversing rhythm to ensure improved drying and gentler fabric care. EcoFeedback is also now available on most T1 tumble dryers, which accurately calculates the energy consumption and duration of every programme, while a lint filter indicator ensures your filter is kept clean, helping to reduce consumption and cycle times.
Designed and tested to last 20 years, the new tumble dryers are available in two design lines, which coordinate with the new W1 washing marines; ChromeEdition with its chrome-plated door ring has a more classic look while WhiteEdition offers a more contemporary finish. Tumble dryers from both lines feature a see-through door, a rotary selector on the right-hand side and a centred display for a harmonious design.
There are four models to choose from:
Miele TKB440WP Tumble Dryer, ChromeEdition - Price Guide £1,099
Miele TKG440WP Tumble Dryer, ChromeEdition - Price Guide £1,299
Miele TMG440WP Tumble Dryer, WhiteEdition - Price Guide £1,299
Miele TKR350WP Tumble Dryer, ChromeEdition - Price Guide £1,499
Test drive our appliances at the Miele Experience Centre in Abingdon, Oxfordshire, or at the London Gallery in Cavendish Place W1. Call 0845 365 6610 to book an appointment or visit www.miele.co.uk/showrooms.