ACHIEVE PROFESSIONAL IRONING RESULTS WITH MIELE'S ERGONOMIC B 4826 FASHIONMASTER IRONING SYSTEM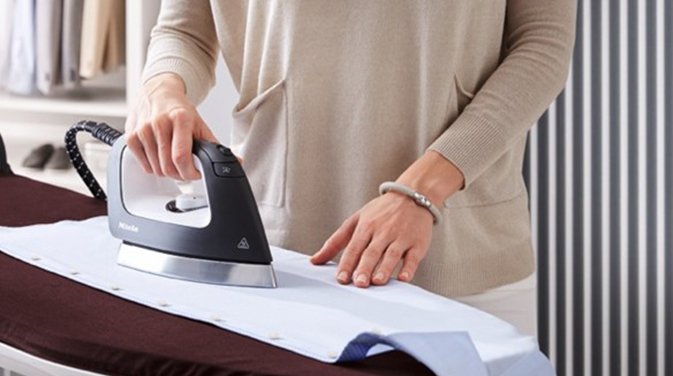 For expert ironing results and crease-free clothing, bedlinen and textiles from the comfort of home, premium domestic appliance manufacturer, Miele has launched the B 4826 FashionMaster Ironing System (RRP £1,699). This steam ironing system features Textdisplay and a 2-level ironing board for perfect results, every time. The 1-2 lift system is convenient and easy to set up as well as simple to store after use while the iron achieves professional crease-free results thanks to its 4.0 bar steam pressure and uniform steam distribution with its Miele honeycomb soleplate.
The Miele B 4826 FashionMaster Steam Ironing System is a solution to crease-free clothing every time. The Anthracite and Lotus White iron has a powerful 4.0 bar steam pressure with vertical steam, steam burst, continuous steam and a non-stick honeycomb soleplate for even steam. The 1.25 litre water container is easily removable for re-filling and should offer an hour's ironing without re-filling.
Starting off is easy, as the appliance guides users safely through the selection menu for language and water hardness. For hard water areas, the automatic descaler prolongs the lifespan of the FashionMaster too.
The all-in-one 1-2 Lift System offers variable height adjustment from 83cm to 102cm to suit all users with castors for easy movement. Added benefits include automatic descaling and automatic rinsing to remove mineral residue from the evaporation process as well as a CoolDown function and AutoOff for safety and peace of mind.
The fan power level 2 is ideal for convenient, strong suction ironing while the inflation and suction features on the active ironing board ensure the best use of steam and position of clothing. For even more ease of use, multi-layered items can be ironed in a single process with no need to turn the item over. It even copes easily with sequins, prints and delicate fabrics while darker items are ironed gently with no shiny patches.
With Miele's patented 1-2 Lift System, the whole appliance comprising iron, steam generator and ironing board are set up very simply. Just unlock and let it slide into a horizontal position. Easy, convenient and kinder on the back, too. What's more, the FashionMaster can be transported easily and taken away on holiday, business trips and more.
And for allergy sufferers and those with sensitive skin, the FashionMaster is also scientifically-proven to be effective against viruses, as the steam application kills 99.99% of viruses.