Miele Introduces Blizzard Its First Bagless Vacuum Cleaner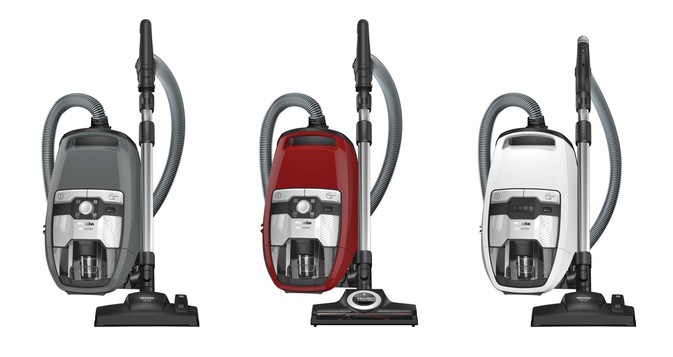 Miele Blizzard CX1, Excellence, Cat & Dog and Comfort Vacuum Cleaners - Price Guide from £300
Miele has introduced its first ever bagless vacuum cleaner that not only offers excellent cleaning performance for which the premium domestic appliance manufacturer is renowned, but does not create a billowing cloud of dust when emptied, making it ideal for allergy sufferers.
The stylish and innovative Miele Blizzard CX1 range uses an efficient floorhead, powerful streamlined suction and mono-cyclone, Vortex Technology for a quieter and superior clean.
Mono-cyclone, Vortex Technology differs from current multi-cyclone systems used by other brands. It is extremely powerful, with an air flow exceeding 100km/h, which only passes through one single and larger cyclone. With a multi-cyclone system, the air travels through a series of small cyclones wasting power and causing a high noise level. It is also virtually impossible to control the power on this type of system, as it needs to operate at a constant high speed to maintain the cyclone. The new Miele CX1 offers four power settings for convenient, precise control and quieter operation.
The Blizzard sets new standards for hygiene, benefitting from a unique filtration system that is great for those who suffer with household allergies. After the particles have been drawn into the vacuum cleaner, it uses horizontal cycles through the Vortex Technology and an integrated Gore® CleanStream® filter to separate the coarse and fine dust. The heavier particles drop to the bottom of the emptying container, while the finer dust is taken into the separate, pleated Gore® CleanStream® filter, which also features a clever sensor controlled ComfortClean self- cleaning system.
When it is time for the filter to be cleaned, an orange light will appear and the vacuum cleaner will automatically switch itself off to perform a five second clean before restarting on the power setting it was previously set to. Around every six months the filter will need to be removed and washed to help keep performance levels at a high standard. This is indicated by a red light and the filter can be easily removed from its chamber, rinsed under water before being allowed to dry.
The CX1 also benefits from a lifetime HEPA filter. This can retain up to 99.999% of even the smallest particles, which results in discharged air that is cleaner than normal room air and the vacuumed bacteria, allergens and mould spores remaining safely within the filter, which lasts the lifetime of the CX1. The emptying container offers a Click2open mechanism, which opens the flap at a full 180° meaning the coarse dust and dirt falls directly into the bin, without producing a fine dust cloud, as the finer particles are safely stored inside the vacuum.
Other highlights across the complete range include a new EcoComfort handle with integrated Dusting Brush for maximum convenience, multi-function rotary dial controls for selecting the optimum power lever for the task in hand, 1200W, foot operated comfort cable rewind, two litre capacity and integrated cleaning accessories for easier storage and accessibility. Blizzard is currently the only bagless vacuum cleaner to have integrated cleaning accessories.
The CX1 Cat & Dog model benefits from a Turbobrush for dealing with stubborn hair and dirt, and the top of the range CX1 Comfort features RF handle controls for convenient power selection and a Parquet Twister Floorhead for a gentler but efficient clean of delicate wood surfaces.
The new Miele Blizzard CX1 Bagless Vacuum Cleaner is endorsed by IBR® Laboratories and has received the seal of approval from the British Allergy Foundation.
Miele Blizzard CX1 Excellence – Price Guide £300
Miele Blizzard CX1 Cat & Dog – Price Guide £350
Miele Blizzard CX1 Comfort – Price Guide £400
All Miele cylinder vacuum cleaners are rigorously tested for the equivalent of 20 years use. If they do not meet this standard; they do not leave the factory.