Miele Introduces New Washer Dryer Collection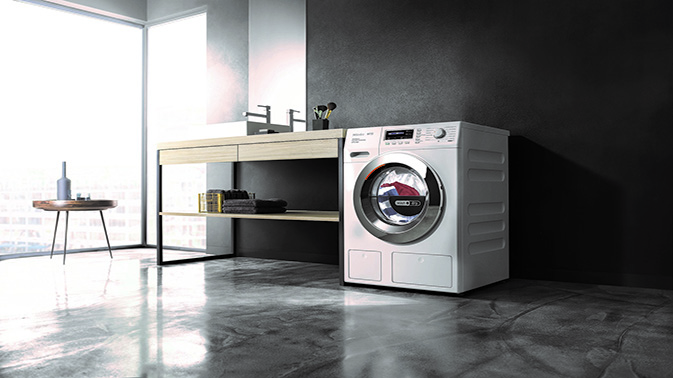 Miele WTZH130 WPM Washer Dryer – Price Guide £2,099
For over a hundred years, the German premium domestic appliance manufacturer, Miele has led the way in laundry technology and is pleased to introduce two new washer dryers that can wash and dry 4kg of laundry in less than three hours or 5kg in less than four hours.
Using the same innovative technology from the current Miele W1 washing and T1 tumble dryers, the new WT1 washer dryers provide uninterrupted washing and drying making them an excellent choice for those who do not have the room for separate machines, but still require the functionality of both. In under three hours, customers will be able to easily wash and dry 4kg, for example a king size duvet, king size sheet and four pillowcases without the need to move between machines with the WTH120 WPS Washer Dryer.
Highlights of the washer dryers include; Miele's integrated TwinDos detergent dispensing system and CapDosing programme. Miele TwinDos automatically releases the right amount of detergent and fabric softener at the optimum time in the selected wash cycle for professional cleaning results. This can also reduce detergent consumption by up to 30%. An open system, TwinDos offers users the chance to use their own detergent or take advantage of Miele Ultraphase 1 detergent and Ultraphase 2 detergent enhancer to ensure that both whites and coloureds are thoroughly cleaned for excellent results.
Miele CapDos uses precisely portioned capsules that release special-purpose detergents for wool, sportswear, outdoor, down and silk, making it easier to wash delicate or specialist items. Other washing features include ProgrammeManager allowing customisation of cycles, Stains Option, Delay Start, 1600RPM and impressive A-ratings for the wash and energy performance.
Miele's PowerWash 2.0, which delivers the best washing results in the shortest amount of time possible is also on board. PowerWash 2.0 uses a precise load dependent circulation pump combined with a special drum rhythm as well as Spin & Spray technology. This helps to ensure an even more economical wash for both full and smaller loads. Spin & Spray uses multiple short spins bursts in the main wash for better wetting and drenching of the laundry, which allows the water level to be reduced even further, saving energy but without compromising on performance.
When the wash programme has finished, each model benefits from Miele's patented honeycomb drum with Thermo Spin, which tumbles the garments in a current of hot air while the spin speed is gradually increased. This reduces the water content in the laundry before the actual drying cycle begins, saving on time and electricity. Drying options include Freshen Up that refreshes briefly worn items, FinishSteam, gently smoothing freshly washed clothes and reducing ironing times by up to 50% and a Steam Smoothing option where the laundry can be smoothed at the end of the washing or drying process.
The Miele WT1 Washer Dryer Collection consists of:
Miele WTH120 WPM Washer Dryer – Price Guide £1,999
7kg washing/ 4kg drying
Miele WTZH130 WPM Washer Dryer – Price Guide £2,099
8kg washing/ 5kg drying
This model can wash and dry 5kg of laundry in under four hours and includes Miele TwinDos system and App control.