EasyLoad - Make daily tasks simpler with Miele's new EasyLoad accessories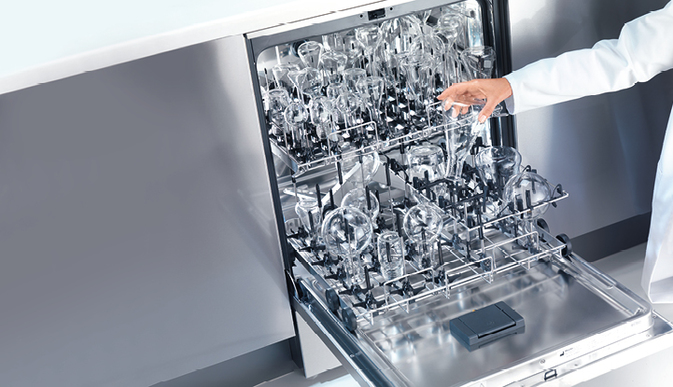 Make daily tasks simpler with Miele's new EasyLoad accessories
Most laboratories load their lab washers a couple of times a day on average, but this can be many more times for labs with a high volume of throughput.
So at Miele we are constantly innovating to help make our customers' daily working lives easier.
Our latest collection of accessories for our under-bench washers, EasyLoad, is designed to be fast-to-load, helping to save valuable research time. The collection also has the added benefit of being , flexible and robust. Here are five ways that EasyLoad can improve your lab's washing routines.
Any glass, anywhere
The new injector design on EasyLoad means any item of glassware can be placed over any injector, without the need to manually adjust heights.
Water is pushed out through the sides of the injector tip, as well as vertically, so items are cleaned effectively even if glassware is resting on the top of the injector.
This saves loading time and makes it much simpler to train staff on operation.
Secure by design
The bases of the injectors are robust and sturdy, and new optional frames help keep larger or delicate items of glassware held securely in place. The material is also designed to protect the glassware from any damage during the wash process.
Simple to order
EasyLoad is so flexible it has just three options to choose from: two, three, or four injectors wide, depending on the size of glassware you need to wash. It really is that simple!
Retro-fitting
All EasyLoad accessories can be used with your existing Miele PG model glasswasher baskets. Just clip them in and you're ready to go.
Convenient customisation
Each EasyLoad rack features alternating short and tall injectors. But if this isn't quite right for you, we can customise them to your preferred ratio of tall and short. Just let us know when you place your order.