Identify and reduce day-to-day stress in the lab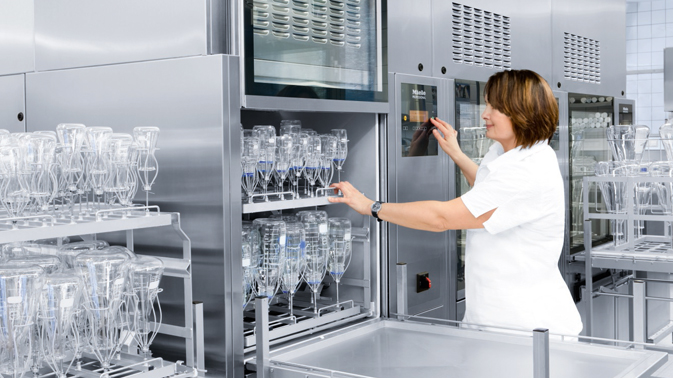 Our workplaces can often be a source of stress, particularly in a highly regulated environment such as a laboratory, with the added complications that the global pandemic has brought to our working lives.
Stress affects everyone differently, but it can lead to a variety of symptoms and behaviours that may impact your physical health and manifest in your home and family life, as well as at work. You may find yourself feeling irritable, over-burdened or anxious, or notice that you're finding it difficult to sleep at night, or eating more or less than usual.
If you are experiencing severe stress in the workplace, consider speaking with your HR manager or seeking advice from Mind, the mental health charity.
To mark Stress Awareness Day we've produced a guide to some simple ways that Miele products and functions can reduce your day-to-day stresses and ultimately make your lab life easier.
Analytically accurate results
With a Miele glasswasher you can be confident of reproduceable cleaning results every time that will leave your equipment hygienic and residue-free – ensuring that research is not compromised by lingering contamination on your beakers, flasks or test tubes.
Selected models include the capability to print wash cycle data for your records.
On installation, the Miele team can carry out IQOQ, to our own stringent parameters, or to include your own bespoke requirements where necessary, for ultimate peace of mind.
Service to rely on
If there's an issue with one of your glasswashers, it can be an anxious time wondering if it can be repaired and when.But, with a Miele service plan you can minimise any risk of downtime with a rigorous annual service and rest assured that a highly skilled engineer will be with you as soon as possible, in the event that a problem occurs.Our team repairs 94% of issues on the first visit.
Ergonomic benefits
Bending and lifting delicate glassware when loading and unloading a machine can cause discomfort and even risk of injury when handling heavy items.Miele machines are designed for the easiest possible loading technique, to avoid discomfort and irritation when carrying out daily tasks.
Control panels are also designed to be intuitive and easy to use, to minimise mistakes or frustrations when programming the machines.
Ready and waiting
Having to wait for glassware to be cleaned when you need it can be an unnecessary annoyance in your working day.
By investing in a Miele glasswasher your glassware can be left to wash and dry at the end of the working day, or set to clean first thing in the morning, ready for when it needs to be used.Large load capacity in our SlimLine and new PLW 86xx ranges mean you can fit a multitude of glassware into each wash – all kept safely in place with our modular loading and accessory systems which can be tailored to the requirements of your lab.
Doing your bit for the planet
Global warming and environmental damage can leave us all worrying whether we are doing enough to protect our planet.By using a Miele machine you can be confident it has been designed for minimal impact on the environment.
For example, our PLW 86xx models use up to 27% less water per wash than their predecessor of the same chamber size, with a 29% detergent and neutraliser saving.The machines are built from 93% fully recyclable materials.
And our new Little Giants range of washing machines and dryers – ideal for laundering lab coats on site – require 22% less water and 28% less energy than their predecessors.