How a Miele laboratory washer can help protect your staff wellbeing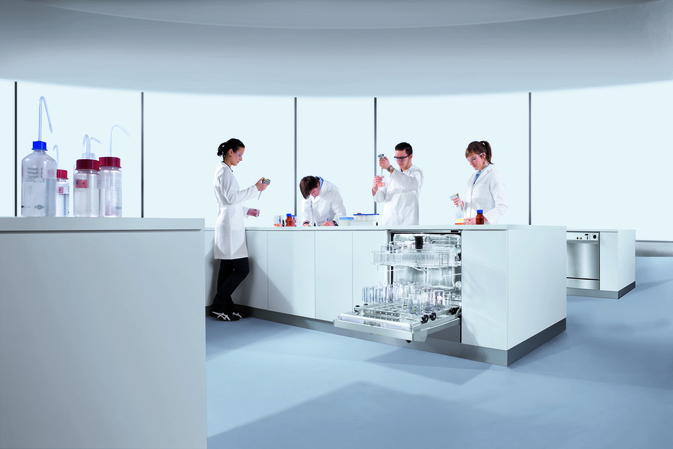 Staff are the beating heart of any laboratory, but working in a strictly regulated environment isn't always easy.
By investing in purpose-built equipment designed to meet the robust demands of lab life, you can not only improve safety, but alleviate a number of day to day stresses in the workplace.
Here are five ways that Miele laboratory glasswashers can improve staff wellbeing.
Reduced risk of injury
Machine washing is much safer than washing glassware by hand, as it reduces risk of breakages which can in turn cause cuts to skin, or tear gloves, resulting in chemical burns.Machine washing will also allay anxiety caused by washing very delicate or stubbornly stained items by hand.
Ergonomic design
Miele laboratory washers and accessories are ergonomically designed for comfortable loading to reduce the need to bend or lean when inserting or removing items to or from the machine.This reduces risk of strain injuries or musculoskeletal problems associated with repetitive physical tasks.
Speed up reprocessing
Lab operatives can be sure that items they need are reprocessed quickly and efficiently in a Miele washer, so that they can be ready when they are needed.The selection of pre-set programmes suit a wide variety of needs and bespoke options are perfect for more unusual requirements.Countdown timers and colour coded lighting on specific models are handy for at-a-glance timekeeping.
Peace of mind that research is not compromised
Contaminants on glassware used in research labs can lead to unexpected results, wasting time and potentially creating misleading anomalies.No matter how carefully an item is cleaned by hand it's almost impossible to ensure all traces of dirt or residue are eradicated.
An automated glasswasher can not only minimise any risk of errors and speed up research tasks, but also extend life of your equipment.
Protecting the environment
With every new laboratory model that Miele produces, we make improvements to their eco-credentials – reducing consumption of power, water and chemicals.
You can rest assured that a Miele product is kind to the environment and in normal circumstances uses less water like for like compared with hand washing.