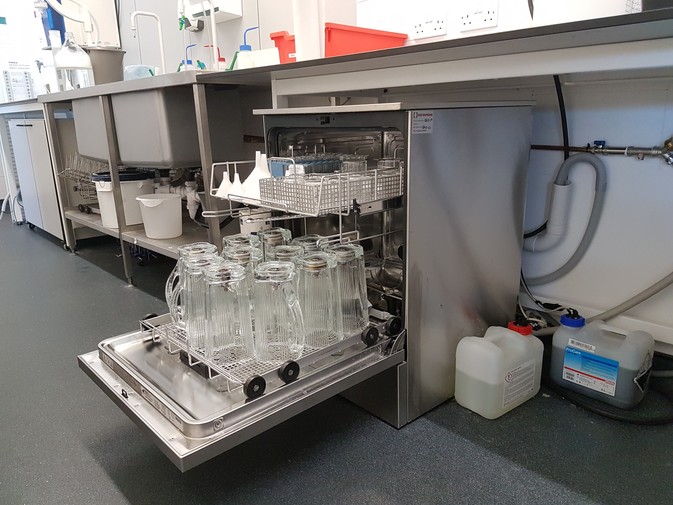 R-Biopharm - Biotechnology: Diagnostics for food and feed analysis
Client: R-Biopharm, Glasgow
Sector: Biotechnology: Diagnostics for food and feed analysis
What they needed:
The client had ongoing problems with an existing machine from a different supplier, which was affecting the efficiency of their lab. They contacted Miele via their website, needing a fast and efficient solution for processing large volumes and varieties of glassware.
Product purchased: PG8583
How Miele Helped:
Miele account manager Nadine Bellamy-Thomas visited the site to give bespoke recommendations.
Miele partner CAS Duncan provided a quotation and pre-installation site survey to check services.
CAS Duncan recommended a different electrical breaker was required to control the machine, and recommended that the machine should tap into both hot and cold water supplies (rather than just cold) to improve speed and wash quality.
Advised on after-sales support and supply of Pro Care detergent.
Installed machine within three weeks of original enquiry.
Provided staff training on operation and maintenance.
What the client said:
Nadine contacted me via email after I got in touch via the Miele website, and offered to visit the site to get an accurate picture of what we needed. I was really impressed that she offered to travel so far, and it was much appreciated to get some face-to-face advice.
We need to process a variety of glassware, including general volumetric flasks of various sizes, Duran bottles, beakers, funnels, blending jars and glass adapters. Nadine was able to recommend the right machine and accessories for us to wash our glassware effectively.
The standard accessories were ideal for our needs, and the best thing is that we can now organise our washes according to the glassware. With our previous machine, we could only have baskets and spray arms, or the injectors, so we had to choose to do a 'normal' wash or a 'tall' wash.
Now with the Miele machine we can have half and half, injectors and spray arms. That's really good for us in terms of upping our throughput, as we have no half loads.
The standard wash is very fast too – around 34 minutes. It means we can easily wash our glassware when we arrive in the morning, after it has been rinsed overnight, and it's quickly ready to use.
The machine is very easy to operate, with touch screen controls. It only takes around half an hour to train staff on how to use it.
We couldn't be happier with the product and the service, it really makes Miele stand out. From our experience with Nadine through to her handing over to service partner CAS Duncan, it has been totally professional with excellent communication. Come the end of the warranty we will be taking on a service contract with CAS Duncan, which is very important to us after the problems we experienced with a different machine.
While the Miele machine is more expensive than some alternatives, you get what you pay for. The quality is there and it has been well worth it already, in just a few weeks.
We would absolutely come back to Miele with any future needs. Dealing with them has been a breath of fresh air.
Jonathan McGeehan, Senior Research & Development Scientist