Miele Professional
Solutions for small businesses
Laundry stained with fat, flour and oil as well as bulky load items can soon pose a significant challenge. So it's good if you, in turn, can rely on a professional solution when it comes to laundry care and dishwashing.

Undercounter tank dishwashers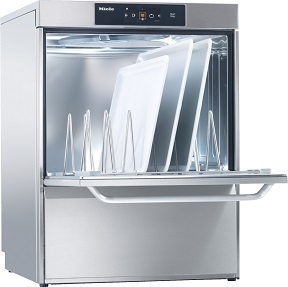 Perfect for use in bakers' and butchers' shops
With an increased chamber depth of 65 cm, the PTD 704 undercounter tank dishwasher is ideal for bulky items measuring up to 40 x 60 cm. It allows bakers or butchers to achieve optimum results when cleaning trays, catering containers, transport baskets or boxes alongside dishes in a suitable rack or load carrier. This model can be installed as a freestanding unit or under a worktop. Two spray arms each for the main wash and the rinse cycle guarantee excellent results. A quadruple filter system continuously cleans the suds solution, and no residues can collect in the hygienic chamber due to its cove-cornered design.
Go to PTD 704 undercounter tank dishwashers