Miele Professional
Solutions for small businesses
Laundry stained with fat, flour and oil as well as bulky load items can soon pose a significant challenge. So it's good if you, in turn, can rely on a professional solution when it comes to laundry care and dishwashing.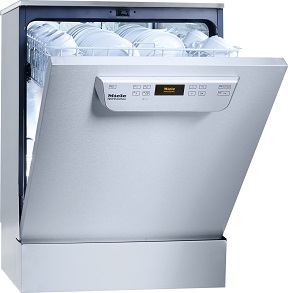 Perfect for use in cafés and bistros
Each café and bistro has its own demands on dishwashing, reflecting the range of food and beverages served, the number of tables and, not least, the layout of the premises. With their tailored programmes, short cycles, loading versatility and ease of installation, fresh water dishwashers deliver perfect results every time.
Efficient: Value-for-money solution for up to 40 cycles per day
Powerful: Up to 456 plates per hour in lower basket and further items of crockery in upper basket
Hygienic: High final rinse temperature of up to 70°C
Fast: Short programme cycles taking as little as 5 minutes for 2 baskets
Convenient: Connection for automatic dispensing of liquid detergents
Professional: Compliant with Machinery Guideline for commercial use
Go to fresh water dishwashers