Miele Professional
Solutions for small businesses
Laundry stained with fat, flour and oil as well as bulky load items can soon pose a significant challenge. So it's good if you, in turn, can rely on a professional solution when it comes to laundry care and dishwashing.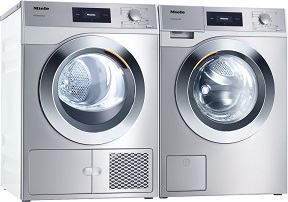 The ideal solution for persistent soiling and more than three cycles a day
With the Little Giants, Miele Professional offers an ideal solution for cleaning the heavily soiled textiles used by small businesses. This presents a huge challenge to commercial laundry machines. Thanks to their robust construction and durability, Miele Professional machines are particularly suitable for large amounts of laundry. Thanks to process technology tailored to meet these challenges, such as a longer pre-wash and main wash, additional rinses and special programmes for textiles soiled with grease or flour as well as towels and gowns, Little Giants have been the workhorses in small businesses for many years.
Many special-purpose programmes, for example for dealing with laundry soiled with grease and flour as well as towels and gowns
Washing and drying in only 86 minutes
Designed for 30,000 programme cycles
Compliant with EU Machinery Directive for commercial use
Go to Little Giants washing machines
Go to Little Giants dryers